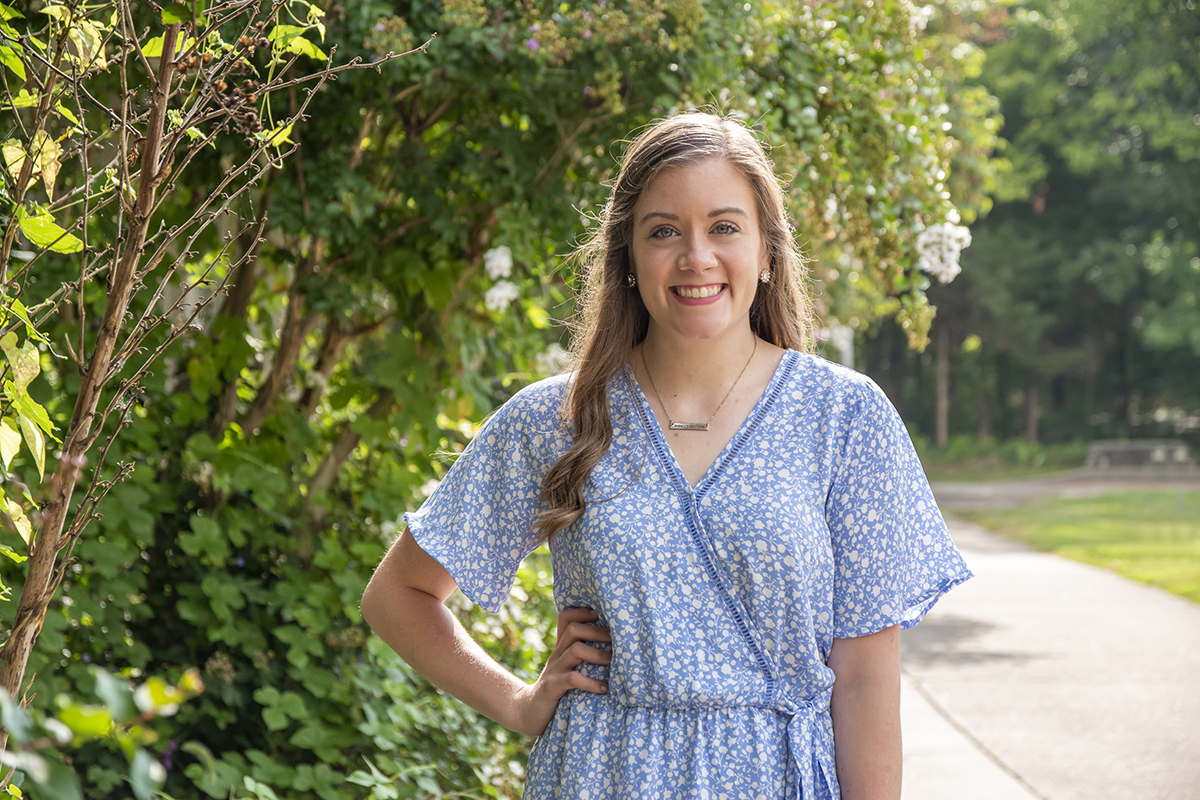 Taylor Hartke, a Teutopolis, Illinois native, is a senior majoring in Agricultural Communications. Hartke is the recipient of the 2021-2022 College of Agricultural Sciences Leadership Scholarship. In earlier years, Hartke received the  School of Agricultural Sciences Leadership Scholarship.
What do you enjoy most about being an SIU student?
I enjoy the opportunities SIU strives to provide its students. Regardless of your interest, major, or career path, there are opportunities to gain valuable experiences both inside and out of the classroom. SIU, its faculty, and staff are committed to supporting students and providing them with the necessary tools to be successful both now as well as after graduation.
Why did you choose the major that you did?
Growing up, I had the privilege of being raised on my family's diversified grain and livestock farm. This immediate involvement in the agricultural industry allowed me to develop a deep passion and appreciation for agriculture. Through various leadership roles in organizations like 4-H and FFA, I built upon the foundation of being raised in agriculture and discovered my passion to communicate about it. Collectively a variety of experiences and opportunities have led me to be pursuing a degree in Agricultural Communications with the ultimate goal of serving the farm, the farmer, and the consumers. I plan on utilizing my knowledge from being raised in production agriculture to bridge the gap that lies between producers and consumers by generating consumer trust and cultivating understanding.
How would you describe your favorite(s) professors/staff/admin at your college?
Committed. I'm very grateful for the commitment they have to my success both inside and outside of their classroom. Regardless of the time of day or how busy their schedule is, they make time for me, and they value my perspective as a student.
Did you benefit from a scholarship? If so, how?
I am extremely grateful for the financial support I have been gifted. The generosity of donors has provided me with some of the most amazing experiences to learn and explore a variety of opportunities. Their generosity has lessened the financial burden that paying for college can be ultimately providing me with ample time to focus on academics while maintaining high levels of involvement across campus and in my community.
Are you involved in any student organizations and, if so, in what capacity?
I am grateful for the involvement I have been able to have across our campus through a variety of student organizations as well as employment opportunities. I am currently serving as President of Sigma Alpha Sorority, which is a professional agricultural sorority, as well as President of our Collegiate Farm Bureau Chapter, Financial Chair of Agricultural Student Council, an Agbassador, a Saluki Ambassador, and a member of the Agriculture Education Club, ATA, and Collegiate FFA. I also serve on the national scale as an Agriculture Future of America Student Ambassador.
What would you say to encourage donors to give back to SIU?
Your donation is an investment. You have the power to invest in the next generation of leaders across a variety of professions and industries. I am extremely humbled to have received such support and know that it serves as encouragement going forward as I strive to make a difference in the lives of others as I know that I will encounter challenges. Regardless of if you personally know a student or not, you become an integral role in their success both educationally and beyond.
What is a fun fact about you that you would like to share?
For my siblings and me, being part of the Saluki family started prior to stepping foot on campus as students. We were raised rooting on SIU and our frequent visits started at homecoming in 1999. My siblings and I, a set of quadruplets, were 5 months old and our mom marched as an Alumni of the Marching Salukis. My parents, David & Korrie Hartke, are both proud SIU Alumni. My mom received her degree in Radio/Television and my dad in Animal Science.
They, in fact, met at SIU!
Although my brother, Dustin, decided trade school would prepare him best, my brothers Alex and Garrett, as well as myself are all Salukis. Alex graduated in May 2021 with his degree in Agribusiness Economics and Garrett and I are seniors. Garrett is a Crop, Soil, and Environmental Management major, and I am an Agricultural Communications student. All three of us have worked in different capacities on campus while also being highly involved in a variety of RSO's. In fact, a large majority of my aunts, uncles, and cousins have chosen SIU to pursue their education as well.