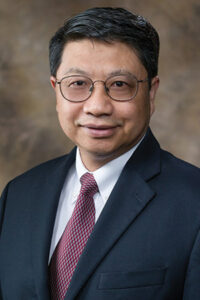 This is a season of renewed hope and new beginnings, especially for the SIU College of Engineering. After a diligent search, Dean Xiaoqing "Frank" Liu was appointed as the new dean for the SIU College of Engineering in June 2020.
Liu was the professor and department head of the Computer Science and Computer Engineering Department at the University of Arkansas and held the college's Rodger S. Kline Leadership Chair.
Meera Komarraju, SIU's provost and vice chancellor for academic affairs, said Liu brings several strengths to the position.
"Dr. Liu brings teaching, research, and administrative expertise spanning two universities that would benefit our students, staff, and faculty," she said. "He has a strong track record in promoting student enrollment, engagement and success as well as faculty development and research productivity."
Extensive Experience
Liu also served as chair of the University of Arkansas' Computer Activities Council, playing a leadership role in the governance of information technologies. Before joining Arkansas in 2015, Liu served as interim department chair and associate department chair in the computer science department at the Missouri University of Science and Technology.
Liu is an established scholar in service computing, software engineering, cyber argumentation, cyber manufacturing and applied artificial intelligence. He has participated in 29 sponsored research projects with $8.8 million in funding as principal or coprincipal investigator or faculty participant.
He has published 156 referred journal and conference papers and book chapters. Liu received his Ph.D. in computer science from the Texas A&M University in 1995.
Excited for the Opportunity
Liu said he is excited for the opportunity to serve as dean.
"The college is in a time of significant transformation. I appreciate the confidence given by the chancellor and provost and the trust given by the faculty, staff and students in my ability for leading this transformation," he said. "I look forward to working with campus leadership, faculty, staff and students in the college and related disciplines to move this college to its next level of excellence."
The SIU College of Engineering holds fast to a unique tradition of access and opportunity, inclusive excellence, and top-tier research. The faculty encourage creativity within a climate of outstanding student success-focused teaching. The college's five departments offer a wide range of courses and promotes opportunities for students to participate in activities outside the classroom including research, design competitions, service-oriented projects and leadership development activities.
Growth Opportunity and Reorganization
Dean Liu's plan is to build a larger and higher-ranked college that is recognized for student success, excellent academic programs, strong research and a diverse and inclusive learning and working environment. The college has significant growth opportunities. The demand for engineering talents is strong. The student-faculty ratio in the college is low, which indicates that we have significant capacity for growth. The college is building strong academic programs with excellent faculty to educate and train our students to meet the demand. It will strengthen and develop clusters of excellence of teaching and research with national and international reputation.
The college is being transformed to achieve growth through both expansion and organic growth and is being expanded with additional programs, such as computer science and mathematics. The College of Engineering will become College of Engineering, Computing, Technology, and Mathematics due to the recent expansion in the campus reorganization.
Enrollment Turnaround
Enrollment management has been Dean Liu's top priority since he joined SIU. The college developed an enrollment turnaround plan under his leadership and has been implementing this plan and is making excellent progress on enrollment growth for fall 2021. Still in the middle of the recruitment cycle, the number of complete applications grew 43% and number of admitted students grew 44.9% for fall 2021 compared to 2020. The number of complete applications is the highest since 2018 and the number of admitted students is the highest since 2017. To achieve this, the college revamped its recruitment process to improve its effectiveness, built an effective recruitment team, launched a digital marketing campaign, and reached out to high schools and community colleges. The college hosted many webinars, engaged prospective and admitted students through phone calls, emails, and webinars, hosted open houses, academic showcases, virtual tours, and campus visits.
If you would like to learn more about the SIU College of Engineering, visit siuf.org/engineering.