Foundation Board Member Joins Chancellor Lane at St. Augustine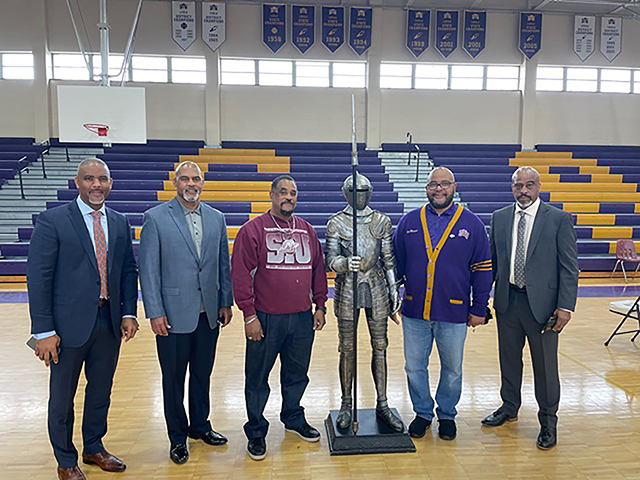 By Jeff Wilson
Talk to anyone around campus at SIU, and one topic is on everyone's mind – enrollment.
Chancellor Austin Lane has spearheaded a fervent recruitment plan, which aims to raise enrollment as early as this fall. So, when the chancellor approached Oyd Craddock about a visit to his high school, Craddock was excited to help.
"St. Augustine is an African-American, all boys Catholic high school in New Orleans," said Craddock, an SIU alumnus, Saluki Hall of Famer, and SIU Foundation board member. "Both St. Augustine and SIU played a major role in my life."
On March 19, Chancellor Lane, Craddock, and Todd Bryson, SIU's interim associate chancellor for diversity, made the trip to New Orleans and spoke to St. Augustine High School students.
"Chancellor Lane affirmed my emphasis on the value of an out-of-state experience and how it helps you grow as a person," Craddock said. "It was clear he really connected with them. There was a buzz among the students, and there have already been at least six applicants."
From philanthropy to campus involvement to recruitment and retention, every alumni and university supporter can make a major difference. "I wanted to have a hand in growing enrollment and raising awareness of SIU," Craddock said. "It was a very special trip for me."
Craddock attended St. Augustine in the 1970s and, along with four other members of his senior class, was recruited to play football at SIU.
"We had just won a state championship and were able to visit SIU," he said. "It's such a beautiful campus, and there was a great social environment. We had a lot of fun and had some great football teams. I only wish we had been able to win a conference title."
Craddock led a stout Salukis defense in the late-70s. He was inducted into the Saluki Hall of Fame in 2004. He earned his bachelor's degree in management from the College of Business.
"I worked for IBM for 31 years, and I was able to get started there with the assistance of the SIU Placement Office. They helped me with my résumé and interviews, and the director sent a letter of recommendation to IBM and other companies," he said. "From start to finish, I had a wonderful experience at SIU."
Two of the longest-tenured faculty members at St. Augustine are also Salukis. Tyrone Payne, '81, and Darren Dixon, '85, spoke to the students during the visit.
"SIU previously had a special connection with St. Augustine. Many student-athletes from my era attended SIU," Craddock said. "This trip was an opportunity to reignite a relationship."
St. Augustine commemorated its 70th anniversary this spring, and it's been quite the celebration.
In February, two of the school's alumni faced off in the Super Bowl. In March, its basketball team won the state championship, and its marching band was featured on "60 Minutes."
Four St. Augustine graduates were nominated for Grammys, including PJ Morton, who won for Best Gospel Album. Jon Batiste, a St. Augustine alumnus, won an Oscar and Golden Globe for Best Original Score.
"Plus, the Saluki football team beat Southeastern Louisiana University," Craddock said. "SIU left a strong impression on the students at St. Augustine."
Engage with us on LinkedIn, Facebook, Twitter and Instagram.