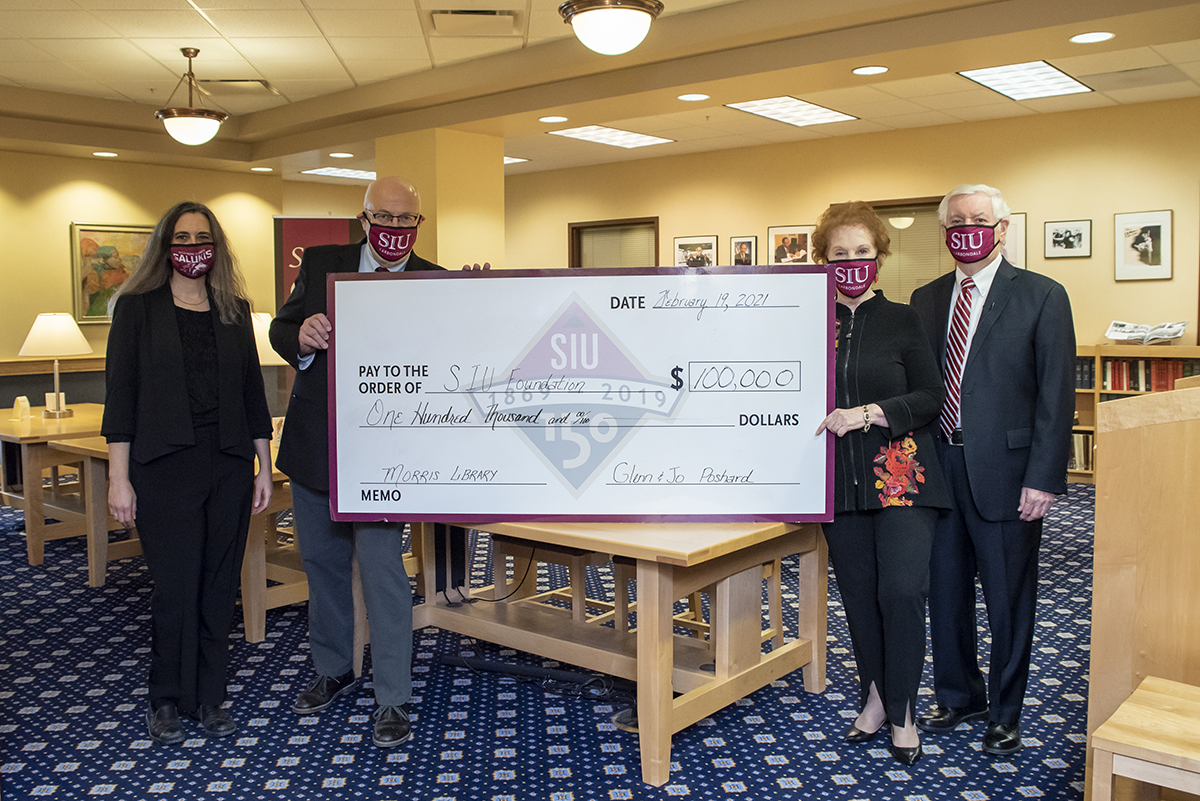 Glenn and Jo Poshard's philanthropic spirit has touched countless people around the region. With their recent donation to Morris Library, the Poshards decided to honor four people who touched their lives.
Their $100,000 donation will name four rooms in the library's Special Collection Research Center. They will be named after Dr. Paul Sarvela, Dr. John Haller, Dr. Duane Stucky, and Paula Keith. Each left a lasting impression on the Poshards.
"When we sat down to determine our planned giving, we began to think of the people in our lives that made a powerful impact," Glenn Poshard said. "Jo and I served 8 ½ years as the president of the SIU system, and during that time, we worked with wonderful people. We determined we want to give back to this great university and honor the people with whom we worked."
Dr. Sarvela was a tenured professor at SIU and served in many different roles within the SIU system. He worked as acting and interim chancellor of the Carbondale campus for four months until his untimely death in November of 2014.
"I will always remember Dr. Sarvela's booming laugh," Glenn Poshard said. "He would come through the back door of the Stone Center, bellowing out loud with laughter. He was always so happy."
Dr. Haller is an emeritus professor and served for 20 years as vice president of academic affairs for the SIU system.
"I talked him into delaying retirement," Glenn Poshard said. "He is such an accomplished man. He has published over 40 books and is still the most prolific researcher I know."
Dr. Stucky is the senior vice president for financial and administrative affairs and worked closely with Poshard.
"In some of the most difficult financial times higher education has faced, Bain Corporation ranked SIU in the top 15 percent of the best financially managed public universities in America," Glenn Poshard said. "That was due to Dr. Stucky's leadership."
Keith was a part of the SIU System Office during Poshard's tenure and continues in that role today.
"As administrative assistant, Paula Keith not only handled the day-to-day affairs of the President's office, she was an integral part of our leadership team and participated in every important decision we had to make," he said.
The lasting impacts these individuals left on SIU and the Poshards made them clear choices for this honor.
"When Glenn was president, there were many hours of focusing on projects and goals to move SIU forward," Jo Poshard said. "These four people and their staffs cared deeply about each other and SIU."
A lifelong connection
Glenn Poshard first came to SIU in 1966 as a student. It was then that he first fell in love with Morris Library.
"Fifth-five years ago, I was a 21-year-old starting at SIU on the GI Bill, and I opened the doors to this library, and I was floored. It was so beautiful," he said. "It was one of the greatest buildings I'd entered in my young life."
Years later, as president of the SIU system, worked to expand and renovate the library.
"I'm so proud of what all the people who worked with us have done to make this one of the greatest libraires in the state of Illinois" he said.
By naming rooms in the library, the Poshards have ensured that their legacies and the legacies of those who helped them, and SIU will be properly honored.
"This is a wonderful day for the library and for special collections," said John Pollitz, dean of Library Affairs. "I am so impressed with Dr. and Jo Poshard and how they have always supported the community and the library. What is so honorable is that the Poshards are thinking of others instead of naming themselves. That is the mark of true humility"
Giving back is at the heart of the Poshards' mission, and they hope their gift will inspire others.
"I would encourage others to give back to SIU," Glenn Poshard said. "There are multiple naming opportunities in this library. How inspiring to make way for your future generations to see your generosity and commitment."
Quotes from honorees
Dr. Duane Stuckey:
Dr. Poshard is an extraordinarily special man. He is a talented leader but he always remembers the ordinary people and each one of the people who work with him.
Paula Keith:
It has been an honor to work with and be a part of an administration under Glenn and Jo's leadership.
Dr. John Haller, Jr.:
It is humbling that Dr. Poshard would pick other people to recognize when he and Jo have done so much. They are the ones who should really be recognized. I worked with six SIU Presidents and Dr. Poshard is the finest of them all.
Debra Sarvela and daughter Kristin Sarvela:
I was so touched when Dr. Poshard called and asked if it would be okay to honor my late husband, Paul Sarvela. It touched us deeply.
To learn more about how to give to Morris Library and the university, visit siuf.org.