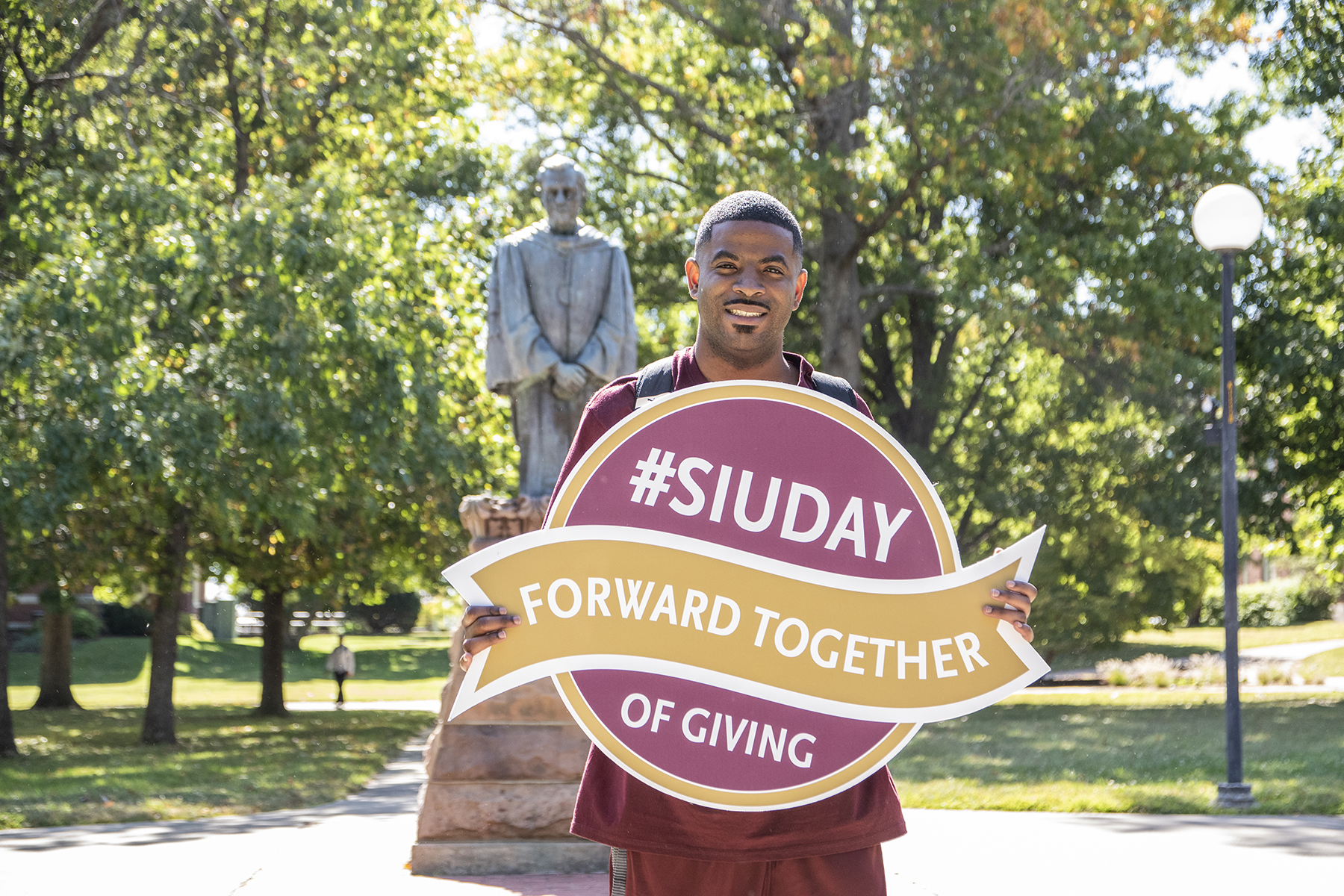 CARBONDALE – The fifth annual SIU Day of Giving is going fully virtual.
Each year the SIU community comes together for a 24-hour Day of Giving. Supporters are encouraged to visit siuday.siu.edu on Wednesday, March 3, and make a gift of any size. Donations can be directed to any college, unit, program, or initiative of the donor's choice.
Normally, the day features an in-person celebration, but because of the constraints brought on by COVID-19, that tradition had to be put on hold. Instead, the SIU Day of Giving will be livestreamed from 8 a.m. to 4 p.m. on the SIU Alumni Association Facebook page, facebook.com/siualumni.
"Like so many things during the past year, we've had to adjust our approach," said Matt Kupec, CEO of the SIU Foundation. "We're not sitting on the sideline. We're adapting, and we expect to have a very successful Day of Giving."
The livestream
Kupec, who will host the livestream, will kick things off at 8 a.m. During the eight-hour event, he'll be joined by Chancellor Austin A. Lane, a parade of college deans, development officers, program directors and others.
"We're going to discuss many of the exciting things happening around campus," Kupec said. "Watch a lot or watch a little, we'll be live all day. I'm looking forward to some very engaging conversations."
Every college and school will have a time slot, as will many programs and units, including Saluki Athletics, Morris Library, Touch of Nature Environmental Center, the Paul Simon Public Policy Institute, and more. For a full livestream schedule, visit siuf.org/siuday.
The livestream will be hosted at WSIU, which has partnered with the SIU Foundation to bring a full schedule of Day of Giving content to alumni and donors. Viewers on Facebook are encouraged to ask questions in the comments section. Some of those questions may even become part of the broadcast.
COVID-19 safety protocols will be in place. The on-camera subjects will be separated by plexiglass, while masks will be worn at all other times. Only a limited number of people will be allowed in the studio at a time to maintain social distancing, and the set will be sanitized between segments.
"Safety is of the utmost importance to us," Kupec said. "We're taking great effort to ensure no one is put in harm's way."
Other than the Alumni Association's Facebook page, the livestream will also be available at siuday.siu.edu.
How to give
On March 3, all gifts can be made at siuday.siu.edu. Once there, choose an area to support and make a gift.
Each gift will be featured on the Donor Wall, although donors can choose to give anonymously. A ticker on the homepage will keep track of the overall total. Last year, the SIU Day of Giving raised more than $1.6 million.
"It's really simple to make a gift," Kupec said. "All the options are right at your fingertips, and there's so many worthwhile choices. The most difficult part can be deciding where to give."
There are four trophies handed out at the end, which recognize the academic and non-academic units that raise the most funds or receive the most individual gifts.
Last year, the College of Liberal Arts received more than $197,960, making it the academic unit that raised the most funds. The School of Medicine had the highest number of individual gifts for an academic unit at 285. Among non-academic programs, Saluki Athletics received the most in-total donations at $139,301. The Balancing Education, Experience and Reality Scholarship, supported by the Carbondale '80s & 90s Facebook group received 815 individual gifts and earned the trophy for a most gifts raised by a non-academic unit.
Get involved
Other than making gift and watching the livestream, there are a few other things alumni and donors can do to support the cause.
Simply using #SIUDay on social media and sharing posts from the SIU Foundation and other units on campus is a great way to show support. It's also not too late to become an SIU Day of Giving ambassador by signing up at siuday.siu.edu. Ambassadors get special Day of Giving updates and are encouraged to share their own Day of Giving message with others.
"The Day of Giving is all about interaction," Kupec said. "We want to show people the power of philanthropy and showcase the incredible infrastructure of support that keeps SIU strong."