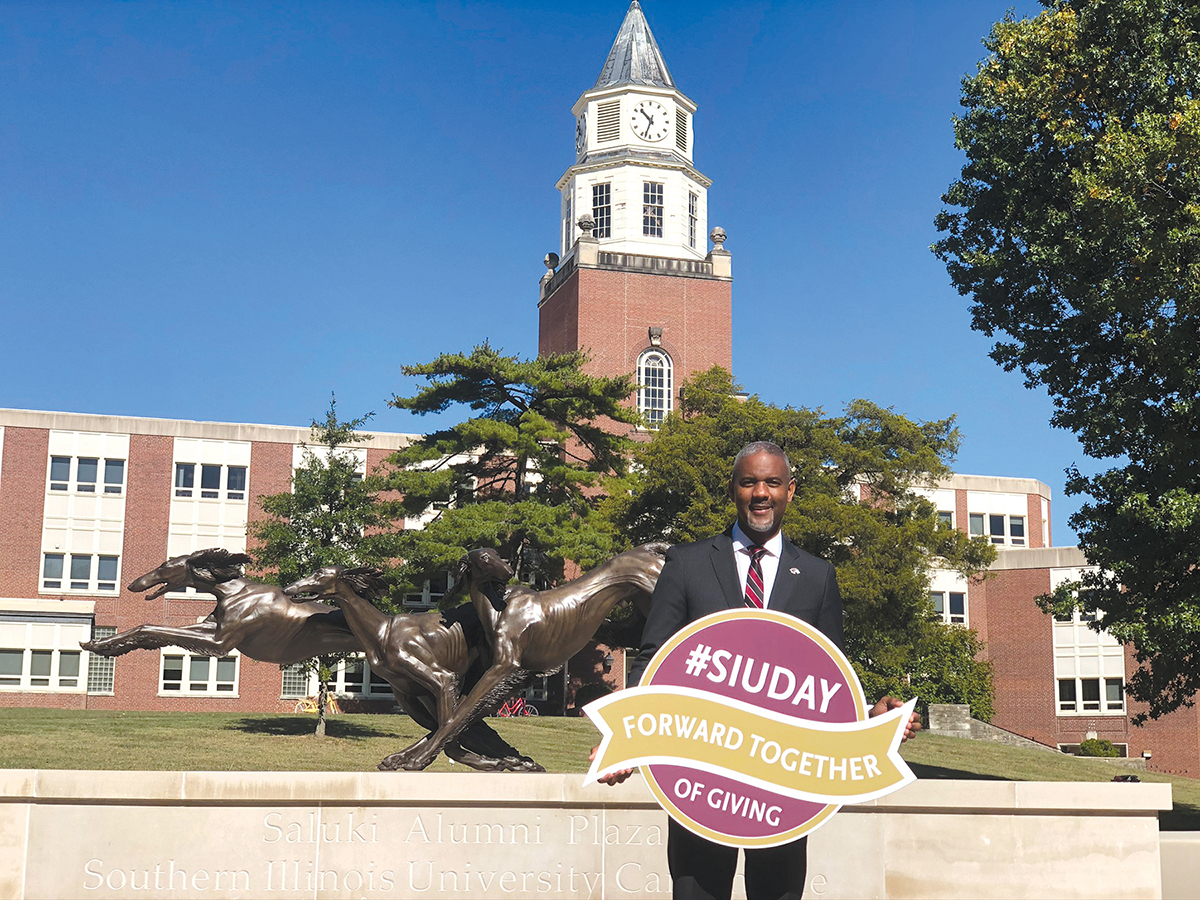 You don't need me to tell you how challenging the past year has been. We're all acutely aware of the hardships caused by the global pandemic.
Let's rewind the clock one year. The 2020 SIU Day of Giving took place just before COVID-19 took hold of our country. Through the support of our generous donors, we raised more than $1.6 million – a truly incredible number.
Weeks later, our everyday lives were jolted into unfamiliar territory. Since then, we've adapted and adjusted our lifestyles to combat this terrible virus. Beyond those affected directly by it, COVID-19 has impacted the lives of every American in other ways, and Salukis are no different.
Students have struggled to stay in school, pay their bills, and make ends meet. The university has invested millions in personal protective equipment, increased cleaning and sanitizing efforts, and upgraded technology to support remote operations. Saluki Athletics has lost enormous revenue while seeing costs rise.
Now, nearly a full year later, we're still battling the ramifications of the pandemic, but relief seems to be in sight. As vaccinations are rolled out and life begins to gain a semblance of normalcy, we are looking ahead.
Coincidentally, it's brought us back to the SIU Day of Giving, and it's time for us to move forward together.
On March 3, I'm asking all Salukis to visit siuday.siu.edu and donate. It doesn't matter if it's $5, $50 or $500. Each year, thousands of Salukis join the cause and make the Day of Giving special, and every dollar makes a difference.
Gifts can be made to a general scholarship fund or the unit of your choosing. Support your college or school, an initiative that's close to your heart, a program or group you are connected with, a fund you find important, or any other of the many options at siuday.siu.edu. Gifts can also be made via the payroll deduction form.
If you can't give on March 3, you can still support the Day of Giving by using #SIUDay on social media and following the Day of Giving livestream on the SIU Alumni Association's Facebook page at facebook.com/siualumni.
As we reach this milestone and reflect on the year behind us, there's no doubt better days await. The SIU Day of Giving is one of those days, and I can't wait to feel the excitement it brings.
I'm proud to be a Saluki, and I know you are too. Together we can show it. Together is how we move forward.
With Saluki Pride,
Chancellor Austin A. Lane