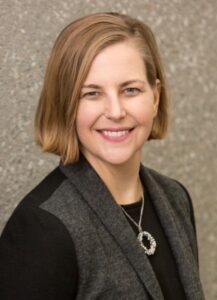 SIU FOUNDATION
CARBONDALE – After an extensive, nationwide search, Gretchen Wagner has been selected to serve as a consultant for SIU's University Museum.
Wagner, an experienced museum professional and adjunct professor at Webster University in St. Louis, joined the museum on Feb. 1 and will serve in this position for 15 months. This hire represents a collaboration between the museum and the SIU Foundation, which played a vital role in filling the position.
"We are very excited to welcome Gretchen Wagner as a consultant to work with our staff to map the future of the University Museum," said John Pollitz, dean of the University Museum. "This venture represents a commitment to the stability of the museum."
Wagner will meet with staff, donors, and regional stakeholders. She will guide the museum as it expands its offerings, raising awareness of SIU's status as an artistic and cultural leader in the region.
"The SIU Foundation is stepping up in its role as an accelerator," said SIU Foundation Board President David Delaney. "By helping bring in Ms. Wagner, we expect to further raise the already stellar profile of the University Museum."
Many highly qualified professionals were considered, but Wagner's immense experience was overwhelming.
"Ms. Wagner comes to us with a deep knowledge of art history and a rich experience in a wide variety of public and university museums," Pollitz said. "We are thrilled that someone of Ms. Wagner's credentials will be working with us."
She most recently worked as director and curator at The Horsemen Foundation in St. Louis. Before that, Wagner served as the Andrew W. Mellon Foundation Fellow for Prints, Drawings and Photographs at the St. Louis Art Museum. She has also worked with the Pulitzer Arts Foundation in St. Louis; the Museum of Modern Art in New York City; the Tang Teaching Museum and Art Gallery at Skidmore College in Saratoga Springs, New York; Williams College Museum of Art in Williamstown, Massachusetts; and Madison Museum of Contemporary Art in Madison, Wisconsin.
In these roles, she has conducted research of hundreds of pieces, curated numerous exhibitions, and established relationships with artists, peer institutions, trustees, and donors.
"We have some major exhibits planned for the next few years and at least one major donation of artwork on the horizon," Pollitz said. "Ms. Wagner will help us reach out to the community and regional school districts."
Wagner and Pollitz will be featured during the SIU Day of Giving livestream at 11:40 a.m. Wednesday, March 3. The livestream will be available on the SIU Alumni Association Facebook page. To make a gift to the museum on the Day of Giving, visit www.siuday.siu.edu.
For more information about the University Museum, visit www.museum.siu.edu. The complete schedule of spring 2021 event can be found at the museum's Facebook page.