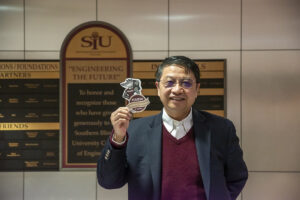 With a new year, it is a time of new beginnings, especially for the SIU College of Engineering. After a diligent search, Dean Xiaoqing "Frank" Liu was appointed as the new dean for the SIU College of Engineering in June 2020.
Liu was the professor and department head of the Computer Science and Computer Engineering Department at the University of Arkansas and held the college's Rodger S. Kline Leadership Chair. The department is within the university's College of Engineering.
Meera Komarraju, SIU's provost and vice chancellor for academic affairs, said Liu brings several strengths to the position.
"Dr. Liu brings teaching, research, and administrative expertise spanning two universities that would benefit our students, staff, and faculty," she said. "He has a strong track record in promoting student enrollment, engagement and success as well faculty development and research productivity."
Extensive experience
Liu also served as chair of the University of Arkansas' Computer Activities Council, playing a leadership role in the governance of information technologies for the university. Before joining Arkansas in 2015, Liu served as interim department chair and associate department chair in the computer science department at the Missouri University of Science and Technology.
Liu is an established scholar in service computing, software engineering, cyber argumentation, cyber manufacturing and applied artificial intelligence. He has participated in 29 sponsored research projects with $8.8 million in funding as principal or co-principal investigator or faculty participant.
He has published 156 referred journal and conference papers and book chapters. Liu received his Ph.D. in computer science from the Texas A&M University in 1995.
Excited for the opportunity
Liu said he is excited for the opportunity to serve as dean.
"The college is in a time of significant transformation. I appreciate the confidence given by the chancellor and provost and the trust given by the faculty, staff and students in my ability for leading this transformation," he said. "I am looking forward to working with campus leadership, faculty, staff and students in the college and related disciplines to move this college to its next level of excellence."
The SIU College of Engineering holds fast to a unique tradition of access and opportunity, inclusive excellence, and top-tier research. The faculty encourage creativity within a climate of outstanding student success-focused teaching. The college's five departments offer a wide range of courses and promotes opportunities for students to participate in a wide range of activities outside the classroom including research, design competitions, service-oriented projects and leadership development activities.
Spotlight on School of Engineering Students
Below are highlights from interviews from a sampling of students who are pursuing a degree within the College of Engineering: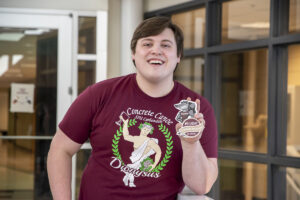 Scott Kasper, Senior, Riverton, Illinois
Kasper, a recipient of the University Excellence Scholarship and a scholarship from the SIU College of Engineering, says his interest in civil engineering began in high school where he took some low-level courses in engineering. But, his real interest began when he came to SIU and met the faculty within the college.
"The SIU College of Engineering really reached out to me and encouraged me. At larger universities, I know I would not be on a first-name basis with a chair of a department like I am here. The college just promotes a true community spirit where we are all in this together," Kasper said.
He says that one of his biggest influences during his studies has been the chair of civil engineering, Dr. Sanjeev Kumar.
"Dr. Kumar, from day one, has made himself so approachable and helpful. He never made me feel like just a number. I really have appreciated his help," Kasper said.
Kasper currently has an internship at Shawnee Professional Services in Benton, Illinois, and has plans on getting a master's degree in civil engineering at SIU College of Engineering. His professional aspirations are to become a professional civil engineer in water resources.
Kasper recognizes that his focus on his studies would have been much more challenging had he not received his scholarships.
"To receive a helping hand from donors has lifted a huge weight from my shoulders. I encourage other donors to continue to give to students like me in the College of Engineering. In my opinion, it could not be a better use of their money because they can literally change the course of a young person's life," Kasper said.
To learn how you can donate to the SIU College of Engineering, visit siuday.siu.edu on March 3.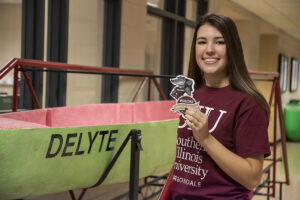 Jessica Kurpius, Senior, Genoa, Illinois
Kurpius, a SIU Chancellor Scholarship recipient, said that when she was taking a tour of the SIU campus during her senior year in high school, that something special clicked inside of her. Kurpius had applied and was accepted at several other universities besides SIU, including University of Illinois, Marquette and Purdue, but SIU was the only one that fit her personality and dreams perfectly.
"I just knew this was the place for me because it felt right in my heart," she said.
Kurpius said her aptitude for math steered her toward the engineering field. She also said the influence of being around other students who were engineering majors helped her change her undecided status to pursue a degree in civil engineering.
"The College of Engineering just has so many activities and clubs where several dedicated students really fuel the interest level," she said.
Kurpius serves as president of the Concrete Canoe Club and is proud of the club's achievements.
"The ASCE Concrete Canoe Competition provides civil engineering students an opportunity to gain hands-on, practical experience and leadership skills by working with concrete mix designs and project management. It also increases awareness of the value and benefits of ASCE membership among civil engineering students and faculty in order to foster lifelong membership and participation in the Society," Kurpius said.
SIU's Concrete Canoe Club competed at the National ASCE Concrete Canoe Competition in 2015, 2016 and 2018. In 2018, SIU students won first place in the technical paper competition, while the concrete canoe and steel bridge teams both took second in their respective competitions.
Kurpius encourages donors to give to the student organizations such as the Concrete Canoe Club.
"Donations make a huge difference in our clubs' activities and opportunities. We need help with paying for the necessary material and the travel expense. A donation of any size helps so much," she said.
Kurpius is graduating from SIU in May of 2021 and will start a new job in Kansas City at Burns and McDonald, a full-service engineering, architecture, construction, environmental and consulting solutions firm.
To learn how you can donate to the SIU College of Engineering, visit siuday.siu.edu on March 3.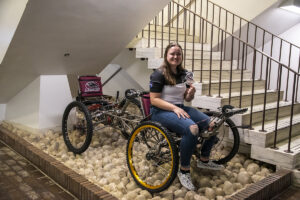 Ally Bires, Senior, Gillespie, IL
Bires said her love of engineering came from when she was a small girl working alongside her father.
"We were always spending time building things together, so engineering, especially mechanical engineering, came as a natural extension from when I was young," she said.
Bires is a walking ambassador for the College of Engineering and is very supportive of the college.
"This college has given me a future by providing me with scholarships, opportunities and so many contacts," she said. "It has great programs and faculty members go out of their way to give students everything they need to know to go out and be successful in the workforce."
Bires spent the last two years working as a calling supervisor for the SIU Foundation. She understands the importance of philanthropy and of lending a helping hand, especially to registered student organizations, such as the Rover Design Club.
"We learn so much by building a rover. The entire machine cannot be built using any pre-fabricated parts other than the shocks and pedal shafts," she said. "Our team looks forward to the opportunity to participate in the annual NASA Human Exploration Rover Challenge at the U.S. Space and Rocket Center in Huntsville, Alabama. Design teams from 70 high school, college and university teams from all of the world come to race their rovers and it is a really exciting competition."
She encourages donors to give to such student groups as the SIU Rover Design Team.
"We need so much material, and we also need funds to travel. It is an opportunity for a donor to really change the course of young people's lives by donating to the SIU College of Engineering," Bires said.
To learn how you can donate to the SIU College of Engineering, visit siuday.siu.edu on March 3.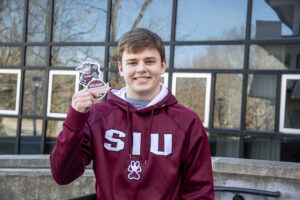 Brock Ward, Junior, Downs, IL
As a senior in high school, Brock Ward was accepted into several universities, such as University of Illinois, Saint Louis University and SIU Carbondale. Ward said that he chose the SIU College of Engineering because of several factors – distance from home, the beauty of the campus and the offer of the SIU University Excellence Scholarship.
"Everything just fell in place for me. The affordability, the beauty surrounding me and the personalized and friendly approach the faculty has shown me really made a positive impact," Ward said.
Ward is a member of the college's Leadership Development Program (LDP). The SIU College of Engineering is one of very few STEM colleges (science, technology, engineering and mathematics) in the nation that offers a technical leadership program. The SIU Leadership Development Program provides a direct bridge from leadership training to a career as a technical leader. Founded in 2006 by Dick Blaudow, an engineering alumnus and chairman of the board of Advanced Technology Services in Peoria. Blaudow and his wife, Brigitte, established the program as a way to help develop the next generation of America's technical leaders.
Bruce DeRuntz, professor of technology at SIU and director of the College of Engineering's Leadership Development Program, says the program truly transforms these students into leaders.
"To be successful, these students know they have to prepare for success. It's great to watch the transformation happen in these students as they go through the LDP program," DeRuntz said.
Ward joined the group in December of 2018 and says the group gives him a place to practice leadership skills, project management and real-world experience.
"I am enjoying the connections I am making in both the group and in the community," he said. "Recently we got to go take a tour of Southern Illinois Healthcare to try out their surgery automation machines. It was very cool. LDP also connects students to a wide variety of internship opportunities."
Ward hope that donors will give back to his college during the upcoming SIU Day of Giving.
"I think if a donor has some money to give back to SIU, I can't think of a better place to make an investment into young people that are motivated to make the world a better place," Ward said.
To learn how you can donate to the SIU College of Engineering, visit siuday.siu.edu on March 3.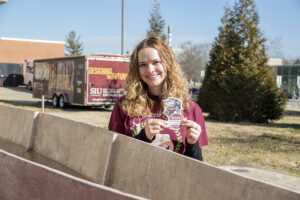 Audrey "Claire" Waldon, Junior, Olive Branch, MS
Waldon's sister attended SIU in 2014 but Waldon insisted she was not going to follow in her sister's footsteps and attend the same university. However, as Waldon saw the support her sister received during her time in Carbondale, it became a natural progression that Waldon would fall in love with SIU as well.
"Everyone here is like family. The professors are so supportive and the RSOs really connect students to one another and they help ignite their passions," said Waldon.
Waldon is a recipient of the Chancellor Scholarship and she also serves as the ASCE Chapter President. She says she enjoys being involved, especially with the SIU College of Engineering's Concrete Canoe team.
"One of my favorite memories is coming back to Campus Lake's shore after doing a test run with our concrete canoe. In the sandy area by the boathouse, we got to see baby turtles hatching from their eggs. It was a fantastic experience that I will never forget," said Waldon.
Waldon hopes that donors will give back on March 3 for the SIU Day of Giving, especially the College of Engineering.
"SIU serves as a door to opportunity for so many students. When donors give, they are truly investing in our future."
To learn how you can donate to the SIU College of Engineering, visit siuday.siu.edu on March 3.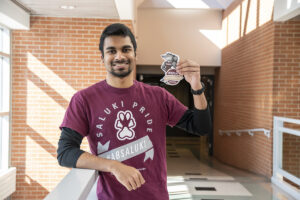 Nelson Fernandes, Junior, Chicago, IL
Nelson Fernandes, a junior majoring in mechanical engineering has big plans for his future. He minors is in continuous improvement sustainability and he is specializing in energy engineering.
"I am a senior mechanical engineering undergraduate at Southern Illinois University Carbondale with a focus in energy engineering, sustainability, and continuous improvement. At SIU Carbondale, I am the program manager for the SIU Green Roof Team, which is my project to transform the SIU Green Roof, originally an urban horticulture research facility, into a multidisciplinary innovation hub," he said. "Here, students from all fields of study can bring their research projects to life. Presently, we are especially focused on Renewable Energy projects. We are improving the space through low-cost engineering projects to jumpstart and bring awareness of the research opportunities.
"Our team members from SIU Carbondale and other universities gain hands-on experience while modeling the way for other innovative students to work on multidisciplinary projects like renewable energy technologies which is a growing field of study in our university's curriculum."
Fernandes said he first learned about the SIU College of Engineering while he was working on a science project in high school.
"I became connected to Dr. Koc, who was the chair of the department, who connected me to other SIU professors to help me in my project to make material that turns greenhouse gases into oxygen and liquid hydrogen. He was very kind and welcoming," Fernandes said.
Fernandes is the first recipient of the Applied Energy Boost Scholarship, and he gives Dr. Mondal credit for encouraging him to study at SIU College of Engineering.
"Dr. Mondal showed me he truly cares about me and students like me. He and the entire faculty are sincere in their desire to help students and they are willing to work with us," Fernandes said.
Fernandes hopes donors give back to SIU College of Engineering during the SIU Day of Giving and beyond.
"Finances are critical to help projects we are working on continue to grow. We have the right people, but we could use the financial help," he said.
To learn how you can donate to the SIU College of Engineering, visit siuday.siu.edu on March 3.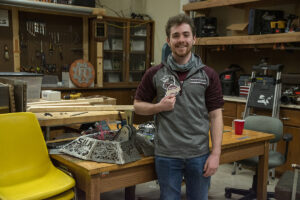 Grant Berger, Senior, Murphysboro, IL
Grant Berger is majoring in computer engineering and is a recipient of the SIU Dean's Scholarship and serves as president of the SIU Carbondale Robotics Team.
"This club has about 40 active members and gives students a lot of hands-on experience. It gives students from the College of Engineering the opportunity to design, build and test real working robots built to specific specifications," Berger said.
Having grown up in Southern Illinois, Berger says his exposure to SIU came at an early age. He spent summers attending camps at SIU and attended many basketball and football games throughout the years.
"You can definitely say maroon is in my veins. I love it here," he said.
When asked what he likes the most about the SIU College of Engineering, Berger said that he appreciates the early hands-on experiences he has gained during his undergraduate years.
"There are many places that won't allow students to get into labs and do hands-on experiments until they are a senior or else are in graduate school. I have really appreciated getting into the labs early on and also appreciated how helpful the professors are in this college," he said.
Berger recognizes how his scholarship made a difference in his college career.
"College is expensive, and I am not sure how I would have paid for my education had I not received the dean's scholarship. It allowed me to focus on my schoolwork. I am forever grateful," he said.
Berger hopes donors will give to the college's RSO during the upcoming SIU Day of Giving.
"It would be fantastic if we were able to purchase newer equipment. The equipment in our college is starting to show its age, and it can negatively affect your data. It is critical we have good equipment so we can compete with other universities," he said.
To learn how you can donate to the SIU College of Engineering, visit siuday.siu.edu on March 3.