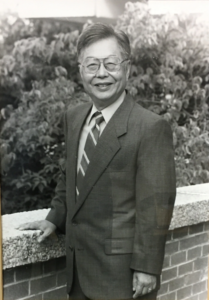 Juh Wah Chen, a principal architect of the modern SIU College of Engineering, passed away Saturday, Feb. 6, at 92 years old. In memory of Juh Wah Chen, the family asks for support of the scholarship in his family's name. The scholarship is awarded to students in the School of Engineering each year and will allow his legacy to continue in perpetuity. Make a gift online at: https://salukifunder.siu.edu/project/24974
Chen joined the SIU College of Engineering faculty in 1965, beginning at 34-year career at the university. Starting as an assistant professor, he rose to the rank of full professor and eventually the chair of the Department of Thermal and Environmental Engineering. He later became associate dean of the college before being named dean in 1989. He retired 10 years later.
During his tenure as dean, he led the college through a major building expansion and engineering program accreditation. He founded an engineering conference with National Chen Kung University in Taiwan and the Technical University of Ostrava in Czech Republic, where he received an honorary doctorate in 1999.
"I remember riding on the train from Chicago to Carbondale with Dean Julian Lauchner, who was a bit of an exaggerator at times," he said in a 2016 interview. "Trying to lure me from my position at Bucknell University in Pennsylvania, he told me great stories of SIU's College of Engineering, about its facilities and the campus. It was only when we arrived in Carbondale when the dean confessed that the buildings were still under construction.
"Nevertheless, because my wife had attended SIU earlier and received a master's degree in chemistry, I already had a special place in my heart for both the community and the college. We moved our family to Carbondale, where we raised them in a little home on Skyline Drive. I saw the opportunity for growth Dean Lauchner laid before me, and I was up for the challenge."
In retirement, Juh Wah Chen and his wife, Han Lin Chen, maintained a strong connection to the university. They established a Juh Wah and Han Lin Chen Endowed Scholarship Fund to provide undergraduate scholarships, assistance to young faculty members, and funds for external activities such as sponsoring guest speakers. The fund complemented the couple's two existing scholarship endowment funds to the college.
"SIU is our entire life," Juh Wah Chen said in 2016. "We have always done the best we can for SIU and the College of Engineering. For us, money is of secondary importance. We live a simple life, and we don't like to see things go to waste. If we can help and contribute, then we will. We just want to see SIU become sustainable, and we want to help move it forward."
Juh Wah Chen is survived by his wife, four children and three grandchildren. Services will be provided by Walker Funeral Home in Carbondale is in charge of services, and a full obituary can be found at www.walkerfuneralhomesandcrematory.com.