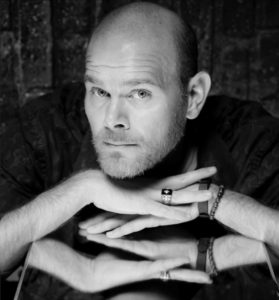 By Jeff Wilson
Adam Rowe '02 has worked on some of your favorite TV shows, even though you probably haven't seen his face.
Working as an art director on "The Good Place," "Dexter," "Criminal Minds," "Mad Men," "House M.D." and "Parks and Rec," Rowe gives viewers a glimpse of his creative vision. In 2019, his hard work was rewarded with an Emmy for his work on "Rent: Live."
"Winning an Emmy is more than a dream," he said. "I spent the next day thinking 'What happened? I can't believe it!'"
Wondering what an art director does? Rowe explains it as "the hub of the art department and the extension of the production designer."
"The art director is often in charge of time, money and space," he said. "How long will it take to build a set? How much will it cost, and where will we build it? When it comes together, it's very rewarding."
The road to SIU
After a stint studying engineering at the University of Wisconsin Platteville, Rowe started considering changing majors and switching colleges. His two older sisters had attended SIU Carbondale.
"I had been down to Carbondale a number of times for parent weekends," said Rowe, who grew up on farm outside of Grand Ridge in LaSalle County. "I proudly wore a Saluki sweatshirt when I was 10."
He reached out to SIU and was connected with Ron Naversen in the Department of Theater. While Rowe wasn't sure a theater degree would lead to many job opportunities, Naversen convinced him.
"Ron educated me on the possibilities. He spoke about a designer who worked on 'Sesame Street' and some other career pathways," Rowe said. "Plus, SIU offered the most flexibility as far as accepting my existing credits."
It was also Naversen who encouraged Rowe to apply for scholarships. He eventually received the Archibald McLeod Award.
"I was honored to get it, and I felt a sense of pride and togetherness with the others who were awarded," Rowe said. "The money helped me avoid more student debt, and it saved me interest on a loan. I had two jobs while on campus, so receiving a scholarship kept me from needing a third."
One of those jobs was a resident advisor position in Mae Smith Hall.
"It was the fifth floor – the same floor my sister had been on," Rowe said. "It was predominately the freshman football team. My floor only caused one fire drill, and that was because someone nuked their Pagliai's pizza in tin foil."
Rowe also acted as a defendant in the School of Law's mock court proceedings and gave campus tours to prospective and incoming students.
"I loved the woods surrounding Carbondale. I remember walks in snow, rain and sunshine from Mae Smith to the theater department," he said. "I love Faner Hall and its crazy, weird architecture. I went back on a few occasions to speak to students about the entertainment industry and also was invited as a designer to work for the McLeod Summer Playhouse."
Life after SIU
After earning a bachelor's degree from SIU, Rowe received his master's in theater and set design from the University of Illinois.
"I'm proud to be Illinois-educated," he said. "From Illinois, I went to Colorado, New Mexico, Florida, Indiana and eventually California working as a painter and assistant designer. Through an SIU connection, I was enticed to go to Los Angeles."
Once he got on his feet, he found himself working as an assistant on the AMC drama, "Mad Men."
"That TV show was about the best schooling I could get," Rowe said. "It got me hooked on TV. I spent a large portion of my TV career bouncing between scripted and live events. They are still both theater to me."
For someone who spent time as a teenager mowing lawns and listening to the soundtrack for "Rent" on CD, winning an Emmy for working on the live TV version of the play was a dream come true.
"That was my dream job," Rowe said. "I could never have imagined I would be a part of bringing that show to the national stage on Fox. I had previously worked with Fox, but I was so proud to collaborate with that studio to make something so impactful. That will have a very special place in my heart."
To learn more about Rowe's career, visit his professional website www.curiousdoor.com.
To learn more about how to support scholarships like the one that helped him reach his goals, visit www.siuf.org.
Engage with us on LinkedIn, Facebook, Twitter and Instagram.