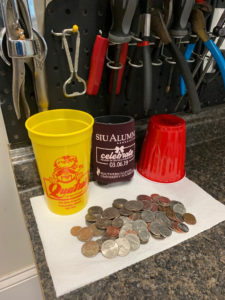 By Rebecca Renshaw
Greg Horrell of Chapel Hill, North Carolina, had not been back to SIU since he graduated in 1991. It was only when the Carbondale in the '80s and '90s (the B.E.E.R. group) was established on Facebook that he reconnected with his alma mater.
"It was all the old stories in the group about how much fun we all had that pulled me back in," Horrell said.
During the 2019 SIU Day of Giving, members of the group made 1,100 donations totaling more than $50,000, enough to endow two Balancing Education, Experience and Reality scholarships. The group earned a trophy for having the most individual gifts made for a non-academic unit.
Horrell made the trek from North Carolina to Carbondale last spring to participate in the trophy presentation. He took home a weekend full of memories, a Quatro's cup and a koozie from the SIU Alumni Association.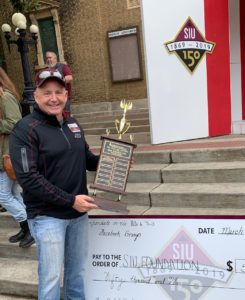 "Every time I pull in the garage and see that cup, it reminds me of the good times at SIU and makes me smile," he said.
Last September, Horrell started dropping his change into the Quatro's cup for the B.E.E.R. Scholarship. Eventually, the cup overflowed, and he added two red solo cups to contain the six months' worth of coins.
"My daughter took the coins to the bank machine and texted me that it was a perfect coin dump at $187 dollars," he said. "I started in 1987. I've been asking myself, 'What are the odds that it would be $187 even?'" Horrell said.
Fellow group member Jim Raffensperger recently challenged donors to add their graduation year onto any gift they make during this year's SIU Day of Giving, which is Wednesday, March 4.
Horrell already planned to throw in an extra $100 to the $187 he saved in his Quatro's cup.
"Jim made me want to add $.91 more, so count me in for $287.91," he said.
Horrell has a new challenge for the rest of the group between now and the Day of Giving in 2021.
"What if just 40 percent of the group put their loose change in their Quatro's cups for the next year? Could we raise $500,000 for B.E.E.R.?" he said.
That may sound like a lofty goal, but if the B.E.E.R. group has proven anything it's that its members' love for SIU, Carbondale's iconic pizza joints and giving back shouldn't be underestimated.
Support the Balancing Education, Experience and Reality scholarship on SIU Day of Giving March 4 at: https://siuday.siu.edu/giving-day/22291/department/22318