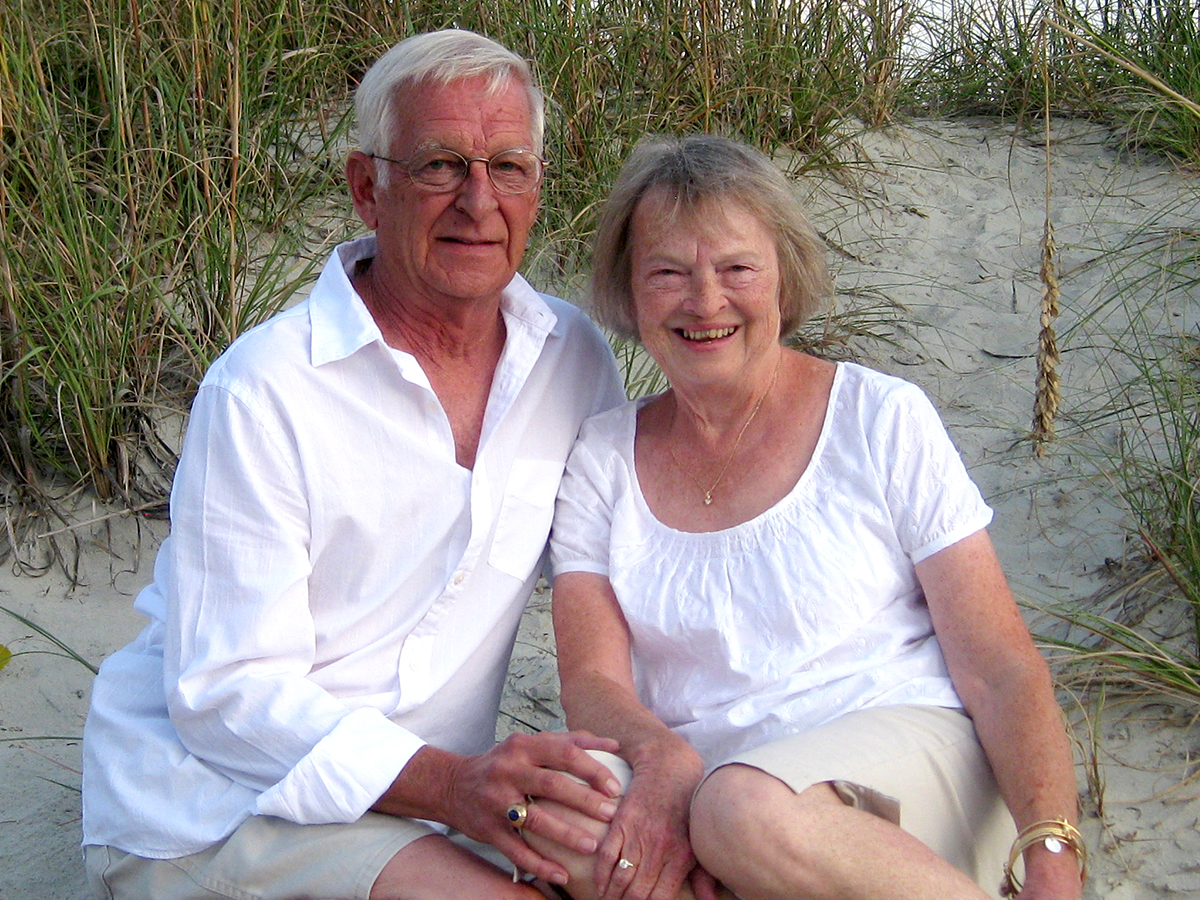 By Rebecca Renshaw
Beth Mueller had been looking for a way to honor her parents' love of Southern Illinois University Carbondale and the surrounding region for several years, but nothing seemed to resonate – until she heard J.D. Tanner, director of SIU's Touch of Nature, speak about the multi-purpose bike path project at a meeting last fall. Part of the project includes a kids' pump track, where children of all ages and abilities can enjoy bike riding at Touch of Nature.
"J.D.'s enthusiasm about that project is contagious. When I heard him describe the potential, what a bike path of this size could mean to the university and region, and how it could help foster a love of the outdoors for young people, I knew this was the perfect opportunity to honor my parents," she said.
Mueller, sister Amy Frerichs and brother Jason Rausenberger were raised in southern Illinois and are all proud graduates of SIU. They recently established a gift of $35,000 in honor of their parents, Alan and Pat Rausenberger, to fund a children's pump track at the Touch of Nature multi-purpose bike path project. Mother Pat Rausenberger passed away in 2013, and father Alan Rausenberger still lives in the Carterville home where they raised their children.
Jason Rausenberger thinks the project will be a great addition to southern Illinois.
"This will be a really neat place for Southern Illinois, and will give families a great new outdoor activity," he said." Growing up, we all spent a lot of time together outdoors. Doing things like this has always been a great way to hang out with my dad, whether it was him coaching our softball and baseball teams as kids, teaching us how to water ski on Crab Orchard Lake, golfing at Hickory Ridge or just hanging out on the houseboat with my parents' dock friends."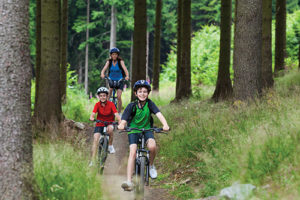 Mueller said the reason they chose to donate to the Touch of Nature's bike path project, most specifically to build a kids' pump track, is to honor their parents' love for children.
"My mother was a second-grade schoolteacher at Streator Elementary School and Carbondale Winkler and Parrish elementary schools for several years and she related to children so well. She especially loved her grandchildren. She was the kind of grandmother who was quick to get on the floor and read a book to her grandkids in funny voices or spend hours blowing bubbles and enjoying their giggles," she said.
Mueller fondly recalls coming into her 18-month-old daughter's bedroom well past bedtime, where she would find her mom reading from a stack of books. Her mother would say, "Just one more book and we'll quit."
The Rausenberger family grew up staunch supporters of SIU and attended many Saluki sporting events.
"Our dad is a business owner in Carbondale, and all three of us kids attended SIU. It's just part of who we are as a family, so it comes naturally to want to help the university and the region," Mueller said. "My hope for SIU is that we find a path forward that celebrates this fantastic research university and also recognizes the unique surrounding physical environment SIU and southern Illinois offer."
Tanner is leading an initiative to expand Touch of Nature's Park and Trail System to over 30 miles of a natural-surface trail. Currently, there is no designated mountain biking trail in southern Illinois, with the two closest being in St. Louis and Indiana.
The trail system would attract outdoor recreation enthusiasts from across the country, increase Touch of Nature's role in student recruitment and retention and establish the park as an economic driver for southern Illinois. Tanner believes such a bike trail could attract up to 55,000 people each year and bring $7 million in consumer spending to the region.
"We're so thankful to everyone who shares in our mission – like the Rausenberger family," Tanner said. "I hope people will see the value in the economic boost that this will bring to southern Illinois."
Frerichs is looking forward to the project's completion and says it will hold a special place in her heart.
"I'm so excited to see this come to life. Family meant everything to my mom, and it does to my dad too. My mom would spend hours on our deck in the summertime, watching my girls race their bikes on the trails in our little patch of woods, across the bridge over the creek, exploring our own little forest. I guess you could say that we had our own little kids' pump track, so this will be really special to me," she said.
Engage with us on LinkedIn, Facebook, Twitter and Instagram.