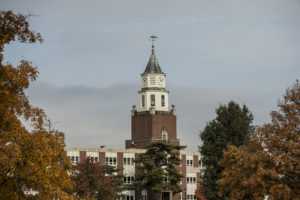 By Rebecca Renshaw
In Bob Barrick's life, everything has been earned. But it has also been founded on his educational experience at SIU.
To give back, Barrick has donated $250,000, including $100,000 for scholarships, to make a difference for future students. His gift will benefit SIU's Enrollment Management office. He's also committed another $150,000, which is yet to be allocated.
"SIU holds a soft spot in my heart," he said. "It contributed to my success in life. If I can help one or two others in life, then that's what it is all about."
Barrick grew up in Lincoln, Illinois, and had family living in Marion. After a short stint at Bradley University, he decided to come to Southern Illinois.
Barrick was the first in his family to earn a four-year college degree, graduating from SIU in 1962 with a degree in marketing. He worked his way through college as a soda jerk at Thompson Woods.
At the time, ROTC service was mandatory for all male students, so Barrick spent three years on an American base in Japan doing financial work after he graduated.
"I was away from home for three Thanksgivings, three Christmases, and three New Year's. I was extremely homesick by the time those three years were up," he said.
After his service, Barrick worked for oil companies across the Midwest, ending up in Detroit. Over the years, he has expanded his investment in oil companies through his business, Barrick Enterprises.
"I worked my butt off. No one gave me anything," he said. "College education is very important. I want to help open the door to get others to go to college. It'd be great to help some kid from Lincoln go to college."
Barrick, 79, is acutely aware of his good fortune and hopes his gifts to SIU will help others experience a life as fulfilling as his own.
"Life is short. I've been blessed more than I should," he said. "If God lets me get out of bed, it's time to do something nice that day. You can't just lay at home all day.
"When I talk to the big guy upstairs, he's been pretty fair to me."
Engage with us on LinkedIn, Facebook, Twitter and Instagram.