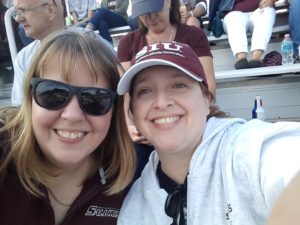 By Jeff Wilson
SIU made a lasting impression on Kimberly Omelson, and now, she plans to leave her mark on the university.
Omelson, who graduated in 1993 with a bachelor's degree in English, has planned an estate gift that will benefit the College of Liberal Arts and Morris Library.
"You don't have to have a lot of money in order to make a difference," she said. "Sure, we'd all love to donate $1 million to our alma mater, but that's not going to happen for the majority of us."
Her uncle, Albert Hall, attended SIU in the 1960s, and the scholarships Omelson creates will be named after her and her uncle.
"I'm single, and I have no children. My parents and grandparents have all died. My only sister died and did not have children," she said. "If I didn't have a will and make my own estate plans, the State of Illinois would determine who benefits from my estate when I'm gone."
Choosing SIU made sense to Omelson because of her great memories from Carbondale. She joined the Sigma Sigma Sigma sorority and made lifelong friends. One of those memories is when she brought her mother to Founders Day in 1990.
"My mom saw a lot that day – her daughter being acknowledged by her sorority for academic achievement. She saw I had great friends. She saw that I had something that made me truly, genuinely happy," Omelson said. "She was diagnosed with breast cancer later that year and died in May 1991. So, she didn't see all of my college career, but she saw the aspect of it that meant the most to me – my sorority and my sisterhood."
Through estate planning, anyone can be a philanthropist, and the SIU Foundation is ready to help anyone make the greatest possible impact.
"It's kind of moving to know I'm going to be able to help a kid in the same boat I was in so many years ago," Omelson said. "Philanthropy is pretty incredible."
To learn more about estate planning, visit siufgiving.org or call 618/453-4900.