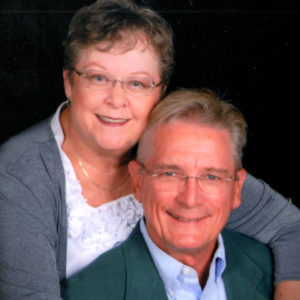 By Jeff Wilson
Dan and Kathy Wheeler's passion for Southern Illinois University may only be eclipsed by their passion for education.
"SIU is part of the family," said Kathy Wheeler. "We know it's the primary resource for students from southern Illinois to get a higher education and become teachers. That's where our hearts lie."
The couple has established the Bryan-Peak Endowed Scholarship, which benefits students in the College of Education and Human Services. The name of the scholarship honors the couple's maternal grandparents, Robert and Edith Sellars Bryan and Alexander and Marvel Klasing Peak, as well as Kathy's mother, Lou Ellen Peak Reagan.
Both families have strong ties to the region, university and education profession. The Bryans were from southern Illinois and lived most of their lives there, and the Peaks spent their adult lives in Herrin. Lou Ellen was born in Herrin, worked as a school secretary at Southside Elementary and Herrin Junior High School and was a graduate of SIU's Vocational Technical Institute.
Dan Wheeler graduated from SIU in 1971 with a bachelor's degree in social studies, and Kathy Wheeler completed much of her master's program at SIU.
"Nobody in my family had ever gone to college before," said Dan Wheeler. "I received a small teacher's scholarship and worked at the university post office. I had to work pretty hard, so I didn't take full class loads."
Kathy Wheeler, a southern Illinois native, was an undergraduate at Murray State in Kentucky, but returned home during breaks and the summer. Through mutual friends, she and Dan were introduced. In June of 1967, they were married.
"I fell in love with Danny at Morris Library," she said.
When they decided to help future educators, their affinity for SIU made a scholarship the obvious choice.
"We see SIU as continuing to be very important for the southern Illinois area," Dan Wheeler said. "We wanted to think about something that will last beyond our lifetime. I have a blessed life and career because of SIU."
Teachers & advocates
After a stint in the Army, Dan Wheeler began his teaching career at St. Mary's Catholic School in Herrin. He has also taught middle school in Christopher, Illinois, Fort Lauderdale, Florida, and Gwinnett County, Georgia.
Kathy Wheeler taught English for a decade at her alma mater, Herrin High School. She has also worked with the National Education Association, National Society of Public Relations Association and as trainer and advocate for teacher's associations across the country.
"Public education and those who provide it are crucial to America and our way of life," Kathy Wheeler said. "Everybody gets to come through the door. People we're supporting with this scholarship will do the best they can with whoever walks through that door. It's so valuable to who we are at heart."
The Wheelers are acutely aware of the issues that teachers can face.
"Teaching is an undervalued profession," Dan Wheeler said. "People that go into it, and stay in it, are very dedicated. For us to be able to promote the profession and help those who want to be a part of it, that's a special thing."
For more information on how to support student scholarships, visit foreversiu.org.
Engage with us on LinkedIn, Facebook, Twitter and Instagram.