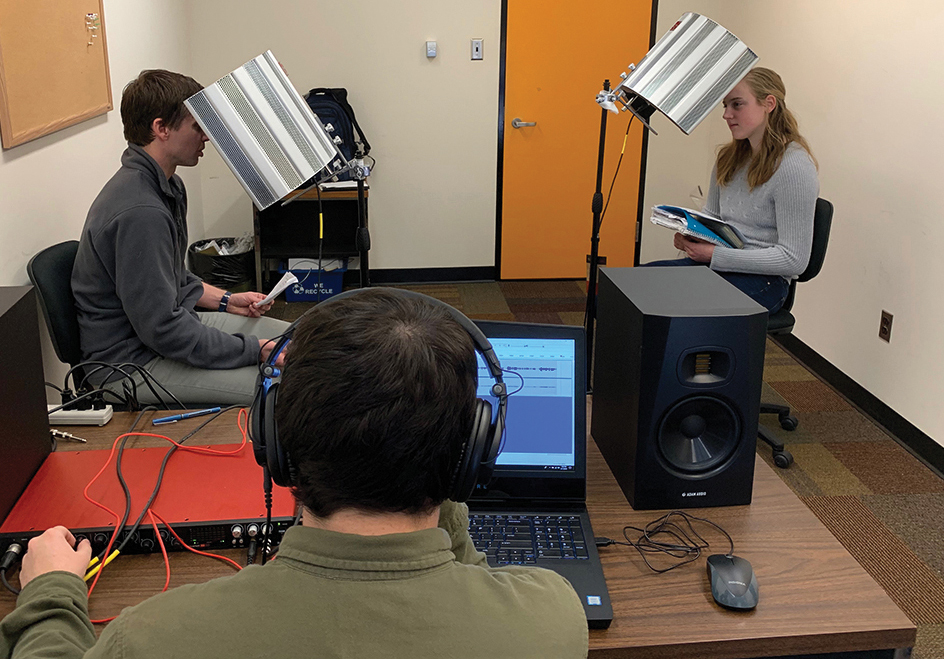 By Rebecca Renshaw
It's hard telling students in a creative writing class to be innovative if they are limited to methods taught only in the pre-internet era. That's what English professor Pinckney Benedict was forced to do without the necessary technology at hand. When Benedict learned his department received a $7,500 grant from the SIU Foundation to purchase podcasting equipment last spring, he was thrilled.
"The money did not just help. I have no idea what I would have done without it," Benedict said. He was scheduled to teach two podcasting classes last spring with minimal equipment. "It was going to be tough putting together the program, so the funds utterly changed what we were able to do."
Benedict, a Princeton graduate who was taught by such greats as Joyce Carol Oates, long ago realized that captivating fictional writing is not just for the standard page. He believes writing using the latest technology is the next step and that podcasting is a growing outlet.
"Our stories should be tellable across the spectrum of technology and time," he said.
The foundation's funding resulted in two of Benedict's students, who took his podcasting class last spring, to win awards for their creative works in the prestigious Missouri Review, one of the country's oldest and respected literary magazines.
Miller Audio Prize
Mandi Jourdan, a third-year MFA student in creative writing from Vandalia, Illinois, won first place in the prose category of the Missouri Review's Miller Audio Prize. Jourdan is extremely grateful to the foundation for the equipment it provided.
"Before we received the grant from the foundation, we were working with just one microphone in a corner of a professor's office," she said. "Without the podcasting equipment, I simply would not have won first place."
Will Holcomb, also a third-year MFA student in creative writing from Kirksville, Missouri, received runner-up from the Missouri Review in the humor division.
Holcomb says that he came to SIU because he was looking for a workshop environment, and he heard great things about the SIU program.
"I am working on projects here that I never thought I could get near. Professor Benedict has been critical to my success. Without him, there would not be much of a fiction writing program at SIU. This entire podcasting experience is extremely worthwhile, and I have to thank everyone for giving me this experience," Holcomb said.
Donations Transform Education
Benedict encourages other donors to help, regardless if their donations are large or small.
"While the foundation's grant of $7,500 is certainly not a million dollars, it transformed the writing program here at SIU. We are doing things now we could never have done before, winning prizes we could never have received without it, and it has pushed us into new territories, such as podcasts and 360 film making," he said.
In fact, based on the success from this initial foundation grant, an English department alumnus recently made a gift to launch a technology fund for the department, encouraging the continued use of more innovative technologies to teach writing and 21st century storytelling.
"I would encourage everyone to give a relatively modest gift to whatever fuels their passion. For me, personally, that $7,500 gift changed the direction of my research and my teaching," Benedict said.
Want to learn how you can contribute?
If you would like to learn how to give, please visit siuf.org.
To listen to the one-minute trailers for the winning podcasts, visit anchor.fm/siuc-mfa-podcasting.