Nearly 300 donors contributed to $25,500 SalukiFunder campaign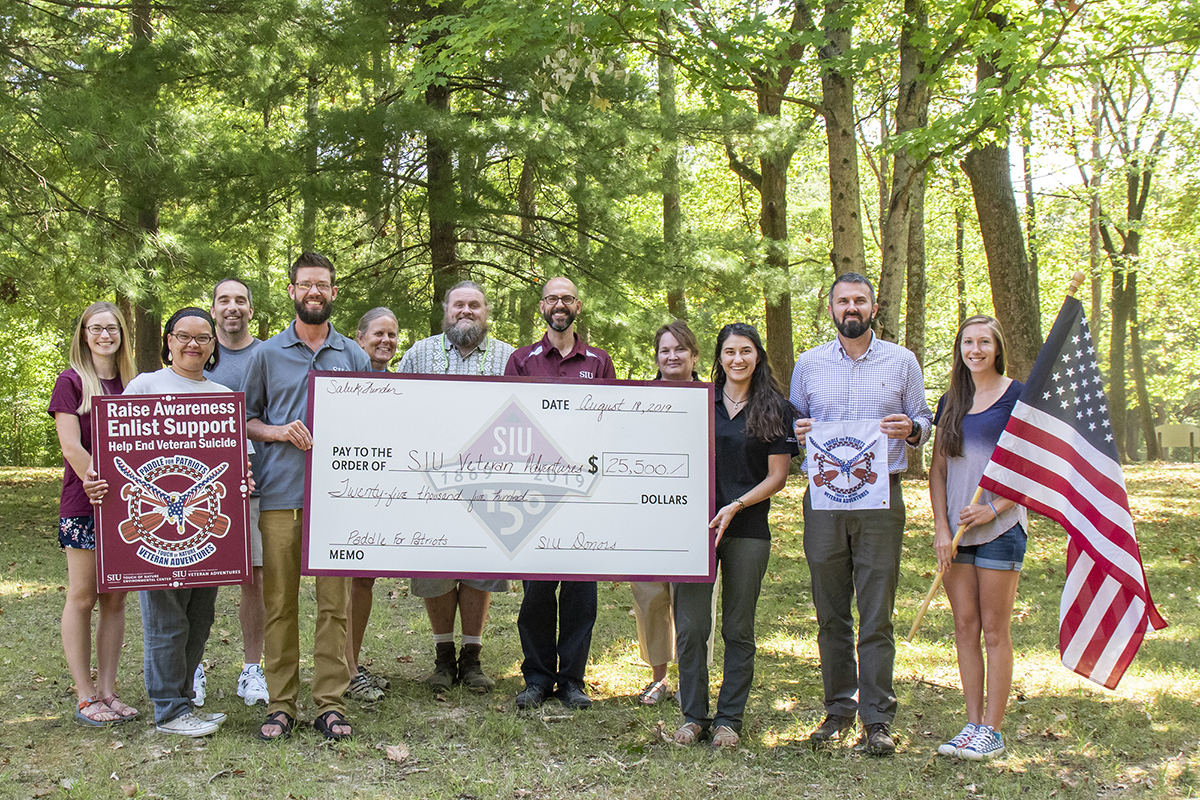 By Jeff Wilson
Every journey has three parts – a beginning, middle and end.
With the presentation of a $25,500 check to the Veteran Adventures program at SIU's Touch of Nature, it would be easy to assume a journey that began months ago had officially ended. Instead, it's just another step of an ongoing process.
"If it wasn't for this money, we'd have to rely on volunteers to run the program," said Touch of Nature Director J.D. Tanner.
The funds were raised by Greg Nejmanowski, an SIU alumnus, Touch of Nature graduate assistant and Veteran Adventures coordinator, who hosted a Paddle for Patriots SalukiFunder campaign while kayaking down the entire Mississippi River. Now, he's working on putting that money to good use.
"We're in the process of planning our events," Nejmanowski said. "Not only do we provide the experience, we also provide food, transportation, necessary permits and guidance during each Veteran Adventures event."
Two events are already planned. The first is a sporting clay event Oct. 26 at Rend Lake Shooting Complex in Whittington. The second is a pheasant hunt Nov. 30 at Wayne Fitzgerrell State Park. These events are open to all active military personnel and military veterans. For more information on these and future events, follow Veteran Adventures on Facebook.
"Greg's journey represents his passion for outdoor education and serving veterans," Tanner said. "His success speaks to the quality of outdoor education that SIU provides."
Nejmanowski began his journey in May at Itasca State Park in Minnesota and finished in early August in the Gulf of Mexico. Along the way, he met some alligators, new friends and inspired 289 donors to support his cause.
"A lot of people touched me during this process," he said. "I've been inspired by those that supported my trip, supported the cause and supported veterans."
Preparing for the excursion was just as taxing as the trip itself, even with support from the Touch of Nature staff and Wilderness Systems, an outdoors company that supported Nejmanowski from the beginning.
"Just as much went into the planning as the paddling," he said.
Tanner and Nejmanowski were both thankful for the donations, but both are equally aware of the continued need for support.
"We encourage anyone interesting in contributing to take a look at what Touch of Nature has to offer," Tanner said.
To support Veteran Adventures, email veteranadventures.siu.edu or call Nejmanowski at 618-453-1121.
Engage with us on LinkedIn, Facebook, Twitter and Instagram.