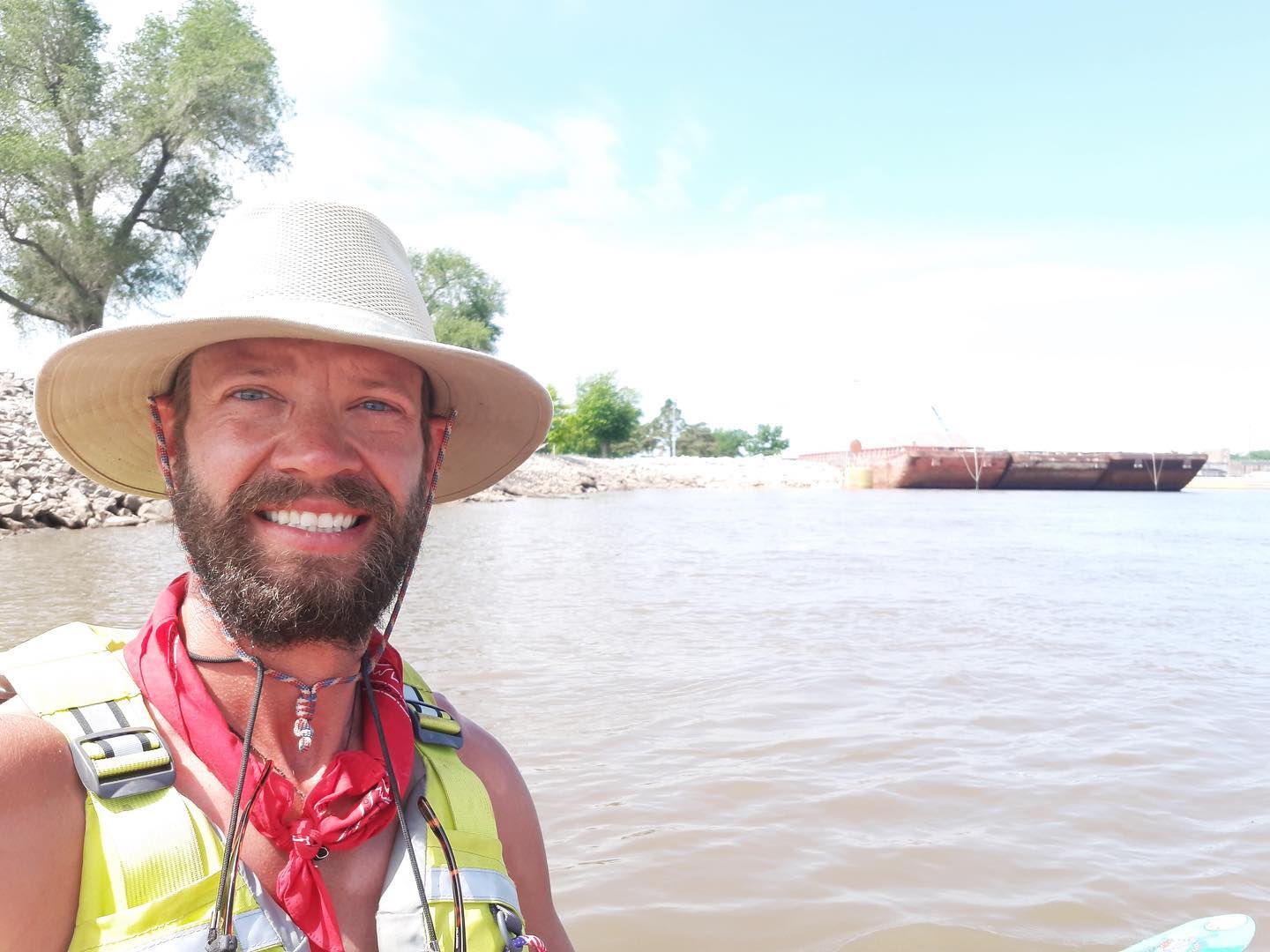 By Jeff Wilson
Nejmanowski reflects on his journey, the power of the great outdoors
Seventy-three days and a handful of alligators later, Greg Nejmanowski's kayak trip down the Mississippi River was over.
He dropped his kayak in the water in May at Itasca State Park in Minnesota, and it came out earlier this month in the Gulf of Mexico. The trip, called Paddle for Patriots, is a fundraiser for the Veteran Adventures program at SIU's Touch of Nature. The goal is to raise $25,000, and there's still time to donate at https://salukifunder.siu.edu/project/15565.
"It's been worth it," said Nejmanowski, an SIU alumnus, Touch of Nature graduate assistant and Veteran Adventures coordinator. "This trip has inspired me to continue helping vets, to serve those who served us."
Other than a couple of close calls with recreational boats – including one instance when he thought he was going to have to abandon ship – Nejmanowski said the trip went well. Floodwaters complicated things a bit and forced one of his planned events to be moved from Grand Tower to Chester, but he said the high water also led to less river traffic.
"It went smoothly, but it was hard," he said. "Had I not had an inspiration, a passion, it would've been much harder."
The expedition started slowly, but picked up steam as he passed St. Louis. From that point on, it was mostly open water. Nejmanowski set up camp each night on sandy beaches, largely in areas inaccessible by land because of the flooding.
"It was kind of nice living on the minimum, and the simplicity of it," he said. "So much wisdom comes from simplicity."
Making a few friends along the way
The vast majority of the time, Nejmanowski was by himself. He did, however, have run-ins with a few alligators and several people along the way, including one particularly special family.
"It's such a rush being in the water with an alligator, at their level," he said. "They're not really all that interested in you, but they will come check you out."
As he neared the final section of his trip, he met the Leedom family in Louisiana. It wasn't a planned meeting. They saw Nejmanowski walking by the river and asked if he needed a ride. The father, wife and son took Nejmanowski back to his kayak and along the way, they struck up a conversation.
"I told him what I was doing, and come to find out, the father was a Vietnam veteran," Nejmanowski said. "He told me to take his number and call him if I needed anything. The next day I needed some water, so I called, and ended up having lunch at their home."
The Leedoms asked to be notified when he was about to finish his trip, and Nejmanowski obliged. They were waiting at his final stop to help him celebrate.
"The kindness of humans, ya know?" Nejmanowski said. "We're now friends for life."
The healing power of nature
After more than two months on the river, Nejmanowski entered the final stretch of his trip. He took the Atchafalaya River through southern Louisiana to the Gulf of Mexico.
"It wasn't something I could see for a long time," he said. "I basically went around some trees, and then boom, there's the Gulf of Mexico. It was so beautiful. There was the prettiest sunset that night."
Nejmanowski is a firm believer in the healing power of nature. His kayak trip only strengthened that belief.
"Being outdoors has great therapeutic benefits," he said. "That's what Veteran Adventures is all about, and I wanted to put it on the map."
The program offers outdoor activities to veterans, including hunting, hiking, backpacking trips, whitewater rafting and more. The program is funded through grants and private donations, and it recently lost a large state grant.
Through Paddle for Patriots, Nejmanowski hopes to not only fund Veteran Adventures, but bring awareness to the scourge of veteran suicide. According to a 2016 report by the U.S. Department of Veterans Affairs, an average of 20 veterans die each day from suicide. That's approximately double the suicide rate of non-veterans.
"I feel empowered as an individual," Nejmanowski said. "This trip inspired me to learn more about what nature and outdoor experiences can do to improve people's quality of life."
For more information about Paddle for Patriots and Veteran Adventures, search for Paddle for Patriots on Facebook or visit veteranadventures.siu.edu.
Engage with us on LinkedIn, Facebook, Twitter and Instagram.