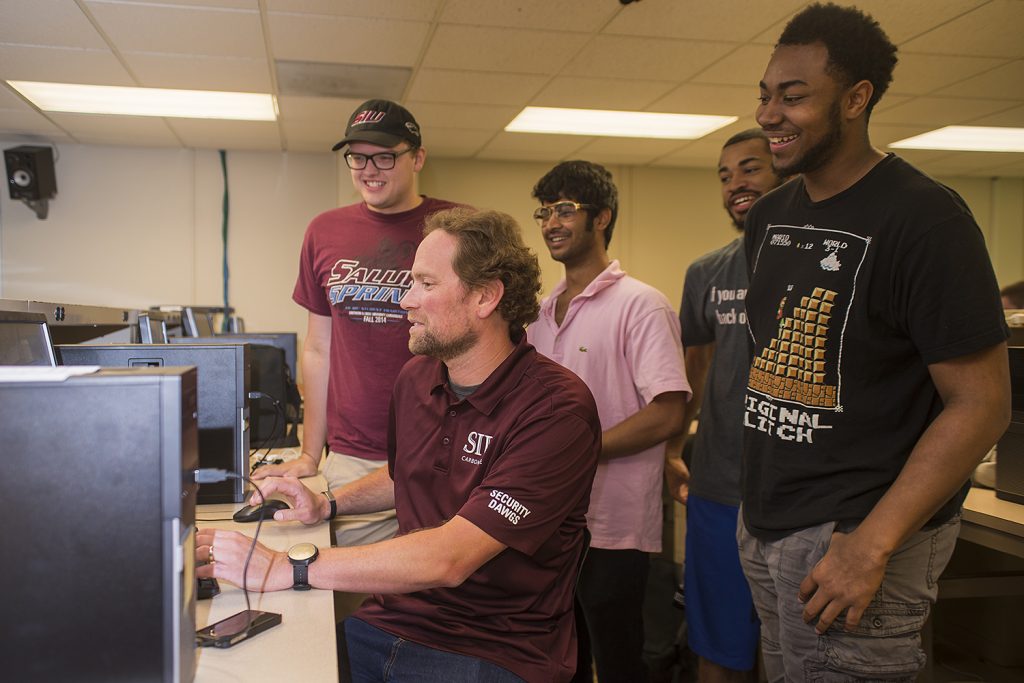 Welcome to a series of stories celebrating SIU's 150th anniversary.
A growing number of attacks on computer networks worldwide has increased demand for university graduates with expertise in cyberdefense and cybersecurity, areas that barely existed just a decade ago.
This call comes as no surprise, as cyber criminals now show increasing new levels of ambition and sophistication – from multimillion-dollar bank heists to overt attempts at disrupting large networks that support production efforts for critical utilities.
SIU has responded to this demand by offering a specialization in cybersecurity through its School of Information Systems and Applied Technologies, and students typically have jobs lined up before they graduate because of high demand.
A point of pride for the program is the Security Dawgs cyberdefense team, a student organization that gives students hands-on experience through participation in cyberdefense and cybersecurity competitions. The team consistently earns first- or second-place honors in the state's annual college cyberdefense competitions.
Despite these strengths, the program is in need of financial support to help educate tomorrow's cybersecurity experts and industry leaders, according to Tom Imboden, associate professor of information systems technologies.
"Investments in equipment and opportunities will keep SIU students in the forefront of the industry," he said. "For example, we received a grant a few years ago to acquire a remote-access solution that allows SIU to host virtual machines with curriculum content. This gives our students all of the software needed to provide an environment where students can complete lab exercises for the information technology courses they are enrolled in."
Upkeep to the servers is essential, but costly.
"Our servers are now five years old and need to be upgraded," Imboden said. "New servers cost around $6,000 each, and they come with an annual fee of $3,000."
The Security Dawgs also need support getting to, and participating in, competitions.
"Typically, the team has only three weeks' notice informing them they are invited to compete in the state or regional competitions," Imboden said. "Ensuring that we have transportation and lodging for 10 students is a challenge. These competitions help put SIU, the program and our students on the map."
To learn more about the information technologies program, visit isat.siu.edu/. To learn more about the needs of the College of Applied Sciences and Arts, visit http://foreversiu.org/colleges-units/applied-sciences-and-arts.php.
Engage with us on LinkedIn, Facebook, Twitter and Instagram.