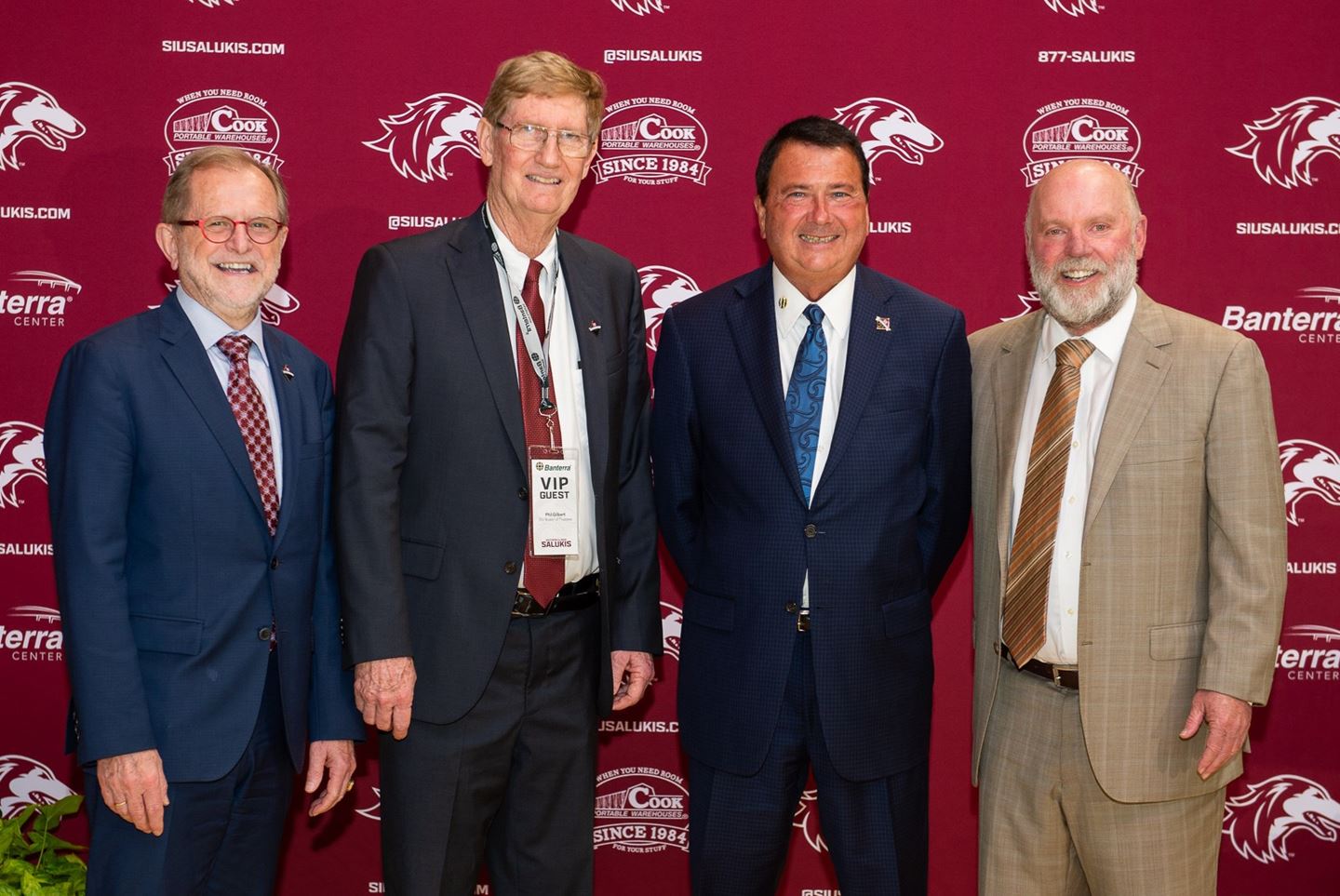 CARBONDALE, Ill. — Southern Illinois University Carbondale and Banterra Bank, the region's largest, locally-owned bank, announced a 10-year naming-rights agreement that will rebrand SIU Arena as Banterra Center.  The multi-million-dollar agreement, which includes a 10-year extension option, annual payments plus an affinity program, offers up to $10 million for SIU, with a $4-million guarantee for the first 10 years.  The partnership is the largest corporate naming-rights agreement in SIU's 150-year history and the first naming right for the 55-year-old arena.
In addition to signage, advertising and promotional opportunities, the agreement includes exclusive rights to an SIU Athletics-branded affinity debit card through Banterra Bank.  Profits from the debit card initiative, which is still in development, will go to a newly established Banterra-SIU Scholarship Fund.
"The partnership represents Banterra's commitment to the success of the university, our athletics program and the region," said John M. Dunn, SIU chancellor. "We're deeply grateful for Banterra's generous financial commitment, which includes scholarship support for student-athletes. The Banterra Center will continue to be at the heart of our men's and women's basketball programs, attracting fans, community members and many others who support Saluki athletics."
The naming rights partnership comes at an exciting time for SIU Athletics following SIU's recent announcement of hiring men's basketball coach, Bryan Mullins.
"We've sponsored SIU Athletics for 10 years, because we know the value of having this university in our region and the number of passionate, loyal Saluki fans among our four-state footprint and beyond," said Jeff May, president and CEO of Banterra Bank. "We're proud to have our Banterra name on an iconic facility such as SIU Arena, to take our partnership to an entirely new level with SIU Athletics, and to have an ongoing reminder that our company truly takes care of our communities."
SIU Athletic Director Jerry Kill led the efforts to get SIU's first corporate naming-right partner in the university's 150-year history.  His said the partnership with Banterra serves as a strong example of future naming-right opportunities for SIU's athletic venues.
"As we sought out a naming rights partner, it needed to be a company that aligned with our core values and had the brand power to take us to the next level," said Kill. "I knew after our first meeting with Banterra's leadership that this was a group that we wanted on our team. Both Saluki Athletics and Banterra are going to make the most of this partnership to benefit our students-athletes, customers and fans."
Working alongside Kill and the entire athletics administration is Saluki Sports Properties, which played an integral role in helping Banterra elevate its relationship. As the university's athletics multimedia-rights holder and local Learfield IMG College team, Saluki Sports Properties oversees athletics' corporate partner program and has worked closely with Banterra Bank over the past ten years.
The community can expect to see updated signage with a new Banterra Center logo on arena exterior, interior, and marquee sign as well as other marketing efforts for traditional and digital advertising, promotion and business development, Kill said.  The marketing efforts will begin immediately following the May 16th announcement.
Press Conference Opening Remarks
Chancellor John M. Dunn
"This is an exciting day for SIU and SIU Athletics. Banterra Bank, like SIU, is one of the region's largest employers. They understand the economic needs of Southern Illinois and the role that SIU plays in this region. Banterra has been a committed partner to SIU Athletics, but taking the support to a naming-rights level speaks to its commitment to the success of the University, our Athletics program and the region. As we all know, SIU is celebrating its 150th anniversary this year with the themes of Saluki tradition, Saluki pride and Saluki promise. This commitment represents all three. The tradition of community support has made a positive difference since SIU's founding in 1869. The pride in the University and its athletic programs today and the promise for a strong future are made possible by supporters like Banterra Bank. We are deeply grateful for Banterra's contribution and the example set as the largest corporate naming-rights partner for the University. We especially appreciate not only the long-term financial commitment as part of this partnership, but the agreement to benefit a Banterra-SIU scholarship program for our students as well."
Jeff May, President and CEO of Banterra Bank
"On behalf of Banterra I want to share with SIU and our attendees here today that our company is excited about partnership. For Banterra, this is more than a marketing or naming opportunity. SIU is a critical economic engine for the region. The main reason our Banterra board chose to do this, we saw this decision as an investment in the positive influence on our region's economy and its growth. We are all citizens of Southern Illinois. I heard a lot of mayors' names, but Cindy and I always call ourselves citizens of Southern Illinois because we know everybody in every town. A successful athletic program should drive student enrollment, grow the University and expand the economy regionally, and that's our goal. Banterra has supported SIU Athletics for more than 10 years as a sponsor with Saluki Athletics. We want to take that commitment to a higher level. This naming rights agreement is a 10-year arrangement with a 10-year option. It has the potential for the school to earn $10 million, with a guaranteed $4 million contribution the first 10 years. The thing I like best about this agreement, with annual payments to the scholarship fund, is an SIU-branded Banterra Visa debit card. A good chunk of the proceeds of theses funds will go to a newly funded scholarship for students-athletes and students here at SIU. This new card will be linked to the Banterra checking accounts and we'll also launch it with the new student-design accounts later this year with a significant portion of the profits of this account going to the scholarship fund. It's an excellent opportunity for all the Saluki fans in the region to support the University. We see a lot of potential in this. Banterra has been supporting our communities for 40 years and we have 40 branches in the region, and I would say the majority of our team members and our customers are SIU fans. We are proud to have Banterra brand this iconic facility — the SIU Arena that is now called the Banterra Center. This partnership started many months ago and probably wouldn't have happened if it wasn't for Jerry Kill. It was his leadership, his character, his vision for SIU and its athletic program to convince Banterra to make an investment of this size. He is also the reason we are confident, from a long-term perspective, this has a lot of value for us in the region."
Jerry Kill, Director of Athletics
It's a tremendous day for the Salukis. I will tell you that when I approached Jeff the first time, he fell out of his charge and thought I was crazy. I am crazy, so that's kind of how that worked out. You have to think about this a little bit. We struggled here a little bit from enrollment, to being successful on courts and where we want to be as Salukis. We want to be in the big time. You think about what Banterra Bank has just done for us, just think about it, I call it blind faith. Jeff and I have a good relationship. We laugh about it all the time, we might have gotten this done in two days, right? We just shake hands and trust each other because I think we're similar people. Banterra Center makes us big time. I get tired of the mid-major. We're the big time. What they have done in blind faith, for Saluki Athletics, our University, our region, is remarkable. I can't wait, with the hire of Bryan Mullins, that's a good hire now (applause), with this arena packed, you will remember this day. This is what I call momentum. Remember this day, Banterra Bank is giving us the opportunity, when we look down the road 10 years from now, I guarantee you this day will be the difference in Saluki Basketball (applause). I thank Banterra's team, what they've put into this and the hard work they have done, it's been a long year to get this finished. I thank our team, because I really didn't do too much except ask the question, I had a great team, and there's so many involved it would take too long to mention them all. It's a team. I want to emphasize that, too. We're a region. We have our mayors here today — it's going to take a team — and Banterra has jumped out there with us. We need everybody to jump in there with us. They have made a commitment and an investment in our University and our region to make our region the best it can be. This is more than a historical moment for me, this is our future. Jeff – I can't thank you enough, and I can't thank the people of our region enough, and all I ask for you to do is appreciate what these people have done for us today. They have started a legacy here at Southern Illinois.
About SIU Arena
SIU Arena's construction began in 1962, and was completed in 1964 at an original cost of $4.3 million.  The 8,284-seat, multi-use facility received a $29.9 million renovation that was performed in phases over a 15-month time span and completed in 2010.  The arena is home for SIU Saluki men and women's basketball, as well as ongoing events and it has a rich history of providing memorable concerts to the region.  This vast list of concerts ranges from Ella Fitzgerald to Elvis, Fleetwood Mac to Garth Brooks, Van Halen to The Temptations.  Family events have included performances such as Harlem Globetrotters, Ringling Bros. & Barnum & Bailey Circus, and Sesame Street Live.  The arena is also used for SIU graduation, youth basketball camps, high school tournaments and other ongoing events.
About Southern Illinois University and Saluki Athletics
Excellence on the field of competition and in the classroom is the standard at Southern Illinois University and Saluki Athletics, which provides 17 intercollegiate sports for men and women. All sports compete at the NCAA Division I level within the Missouri Valley Conference (MVC), except for football, which belongs to the Missouri Valley Football Conference (MVFC), and men's swimming & diving, which competes in the Mid-American Conference (MAC). The proud Saluki tradition includes many former professional athletes, 50 Olympic athletes, and recent NCAA post-season appearances by men's basketball, football, softball, men's swimming & diving, men's and women's golf, and men's and women's track & field. SIU leads the MVC with 98 Academic All-Americans all-time. For more information, call 877-SALUKIS or go to www.SIUSalukis.com.
About Learfield IMG College
Learfield IMG College unlocks the value of college sports for brands, fans and universities through the representation of collegiate institutions, conferences and arenas. As a fully integrated sports marketing and solutions platform, Learfield IMG College provides access to licensing and multimedia sponsorship management, including publishing, radio, digital and social media; fan engagement, ticket sales and professional concessions expertise; branding; campus-wide business and sponsorship development; and venue technology systems.
About Banterra Bank
Banterra Bank  began as a single bank in Ridgway, Illinois in July of 1975.  Today, Banterra has nearly $2 billion in assets and is ranked in the Top Ten Percent of U.S. Charter Banks and Top Five Percent for Illinois Charter Banks, according to asset size.  Banterra has 40 locations in Illinois, Indiana, Kentucky, Missouri, and Arizona.  In addition to offering a variety of personal and business banking products, Banterra provides services nationwide through specialty lending divisions including Aircraft Finance, Machine Tool Finance, Corporate, Transportation and RV and Marine Lending.  Banterra also offers Banterra Insurance for auto, home, life, business and Banterra Investment services. For more information, call 866-BANTERRA (226-8377), or go to www.banterra.com.
Watch Announcement