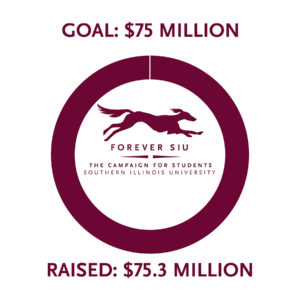 Southern Illinois University Carbondale's student-focused Forever SIU campaign has surpassed its $75 million goal with seven months to go.
More than 26,000 donors have made more than 60,000 individual gifts since the three-year campaign launched in January 2017. Of the $75.3 million raised to date, nearly $40 million supports student scholarships and $33 million has been committed to academic programs. The balance goes toward facilities, technology, faculty initiatives and more. The campaign is scheduled to continue through December 2019.
Chancellor John M. Dunn said the success of Forever SIU: The Campaign for Students speaks to the loyalty of SIU's alumni and friends.
"During our 150th year, we are celebrating the tradition, pride and promise of SIU," he said. "The investment of our loyal donors in our students and our future reflect all three: the Saluki tradition of giving back, pride in our university and the promise of things to come."
Dunn said the university will continue to reach out to donors during the remaining months of the campaign and beyond.
"We view the goal as a floor, not a ceiling," he said. "We will continue to welcome support that will help us attract and retain students and ensure that our academic programs remain strong.
Dan Korte, a member of the SIU Foundation Board who is co-chair of the Forever SIU campaign committee, said the board had several goals in mind when it worked with the university to launch the campaign.
"We wanted to demonstrate our commitment to SIU and the region. We also wanted to make a statement about the university's momentum by launching a campaign that would culminate during SIU's 150th year," said Korte, a 1985 graduate of SIU's College of Engineering. "In addition, many donors and members of the board wouldn't have been able to attend SIU without financial support from donors. We wanted to pay it forward."
Rae Goldsmith, chief executive officer of the SIU Foundation, described the campaign as a partnership between the university, the foundation, and alumni and friends who care about SIU.
"Many people want to contribute to the university's success, but they may not always know where to start," she said. "The campaign helps build those connections. The university's role is to identify and support the needs of its students and programs.  The foundation's role is to connect those needs to the interests and passions of donors. The donors are at the heart of the partnership making a positive difference. Every connection, every gift, matters."
To learn more about the Forever SIU campaign, visit foreversiu.org.
Engage with us on LinkedIn, Facebook, Twitter and Instagram.