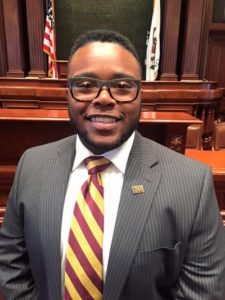 By Rebecca Renshaw
Ryan Gougis is living proof of the adage, "Nine-tenths of education is encouragement." Raised in south Chicago, Gougis did not come from a wealthy background.
"I faced adversity growing up and there weren't a ton of resources in my community to help. But inside my household, my parents encouraged me. They always told me that education is the key to escaping hardship so they were very supportive of me attending SIU Carbondale," he said.
During his junior year at SIU, Gougis came into contact with the Paul Simon Public Policy Institute when someone encouraged him to apply for an internship. He knew it would be a great way to get a feel for the workforce and build up his resume, so he applied, interviewed, and ultimately accepted the Gene Callahan internship.
"The internship involved working at the state capitol in Springfield to gain experience working in state government. From day one, I was thrown into the mix of actual work. I would draft press releases, write letters to constituents, and assist in the process of government before legislation would be sent to the governor. It was eye opening and exciting," Gougis said.
After graduating in May 2016 with a Criminal Justice degree, Gougis accepted a job as a program specialist with the Illinois House of Representatives. "Because of my affiliation with the Paul Simon Public Policy Institute, I am always running into a fellow Saluki in Springfield. It gives me a real sense of connection knowing that I am part of a family."
Besides his parents support, Gougis credits the Paul Simon Public Policy Institute with giving him the keys to opening doors of opportunity for his career.
"There are so many students who are pursuing success but they just don't have the key. Paul Simon Public Policy Institute gave me that key. The people there were and still are supportive of my career. It's like a family model. Once you are a part of them, wherever you are in life, even outside the walls of SIU, they are always there to support you. I still get calls from people like Dr. Baker or Carol Greenlee checking in to see how I'm doing."
Gougis is also active with his fraternity, Phi Rho Eta, a group that promotes the principles of pride, respect, and excellence. Their national program, Mentor Teacher Brother engages youth from single-parent homes or disadvantaged backgrounds and helps mentor them to set the standard of manhood and exemplary positive behavior.
"I really want to pay it forward and give to those who may not have come from the best environment. Because I had encouragement from my family and the Paul Simon Public Policy Institute, I am a living testament as to how philanthropy can change the life of a young man. I would highly encourage donors to give to the Institute."
To learn more about the Paul Simon Public Policy Institute, visit http://paulsimoninstitute.siu.edu/. To learn more about the needs of the Paul Simon Public Policy Institute, visit http://foreversiu.org/colleges-units/paul-simon.php.