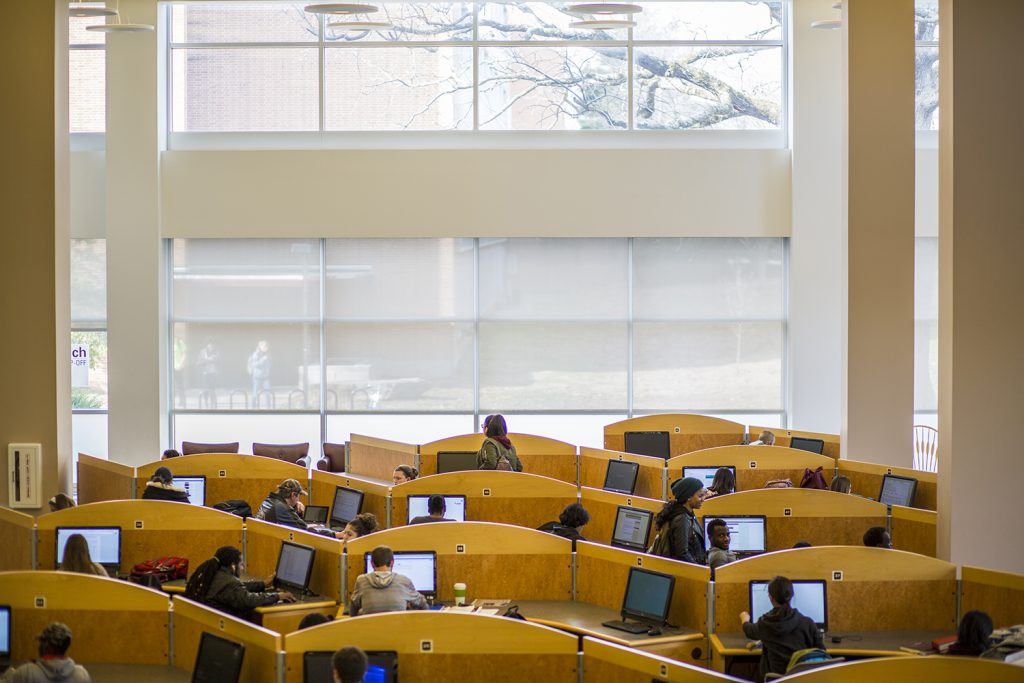 By Jeff Wilson
Morris Library is a bastion of SIU's campus.
For students, its value is obvious, but it's much more than just a library. In fact, the word "library" doesn't mean what it once did.
The library is much more than just books – although there are more than three million of those. Students are looking for high-end technology, spaces to gather and study and opportunities to enrich their experience.
After undergoing major construction about a decade ago, the building accommodates more students and has more things to offer. Still, it lacks some of the upgrades and details students are seeking.
"They redid the building, and they did a fantastic job," Karen Wolf, Morris Library events coordinator, said. "But there are many other important things the library needs to better accommodate students."
A robust library is a selling point for potential students. While many see all the great things Morris Library has to offer, it's also clear some areas need to be upgraded, refurbished or repaired.
There is a major need for new computers. After 10 years, computers are decommissioned for security purposes. Last year, the library lost 20 computers and will lose at least 40 this year.
Computers are missing in areas on the first, third and fifth floors. All of the empty spots are outfitted with power and Ethernet. Furthermore, the library hopes to offer the full complement of Adobe creative programs on at least four computers on the first floor.
"This software would give students from many colleges, with many majors the ability to work with this important creative software in a centralized location on campus," Wolf said.
There is also hope to add touchscreen monitors at the library's entrances. These monitors would share information about library and campus events.
"The library is one of the most frequently visited buildings on campus," Wolf said. "These touchscreen monitors would be helpful for people looking for the location of an event or more information on where to look for information that they may need."
There are also specific areas in need of upgrades. Room 174, which needs to be reconfigured with front-facing tables to accommodate its many users, is one such area.
"Students and instructors would both benefit from this project, as this is the largest computer lab we have in the building that is open for instructor use throughout the semester," Wolf said.
The library also offers two living room-style study spaces, Rooms 550A and 580A.
"Students use these study room extensively throughout the semester and especially during finals week to study," Wolf said. "These particular rooms offer a great place for group work and study sessions."
Unfortunately, the furniture is worn and tearing from so much use, and the walls need to be painted.
The list of needs goes on:
Replacing about 40 red chairs that are in disrepair;
Improving displays in the Hall of President and Chancellors;
Upgrading the Lerner Music Studio, including a larger conference table;
Replacing a broken monitor used for collaborative projects on the seventh floor.
For more information about the Forever SIU campaign, visit www.foreversiu.org. For more information about Morris Library's goals, visit www.foreversiu.org/colleges-units/morris-library.php.