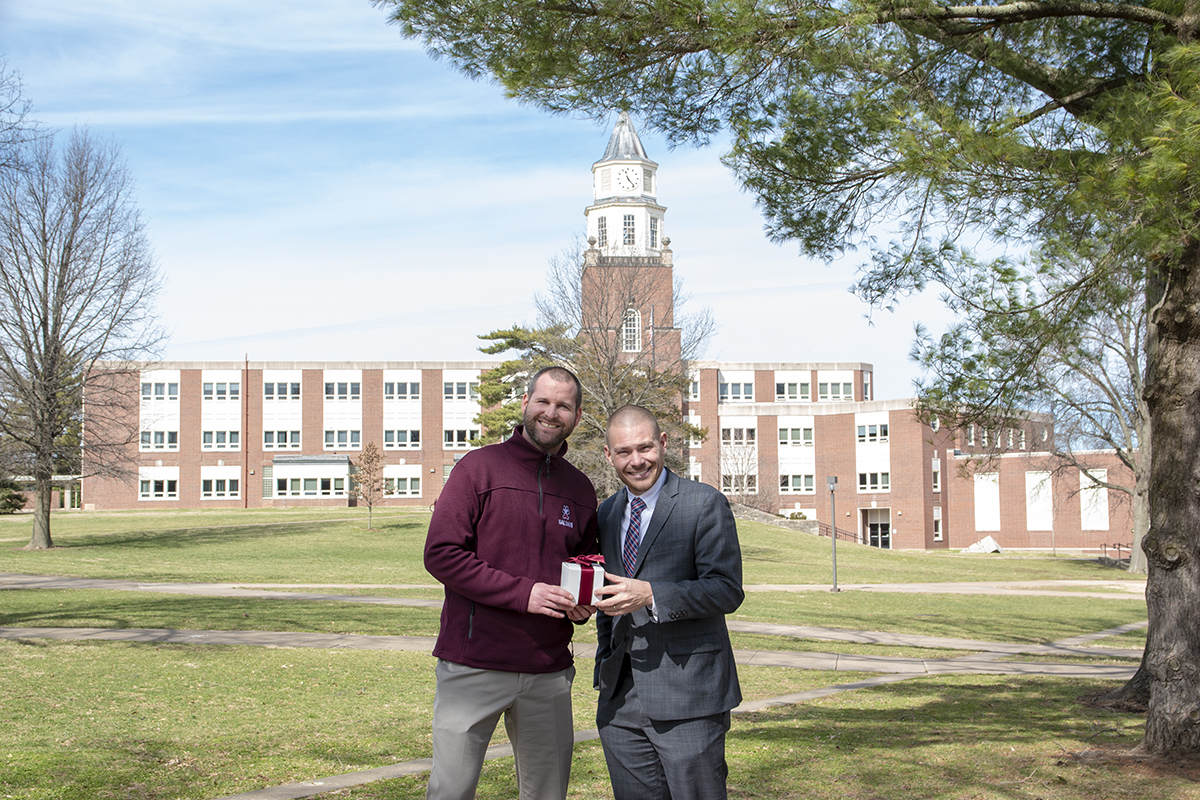 By Jeff Wilson
The SIU Department of Public Safety wants to add one more dog to a campus represented by dawgs, and it's getting some help March 6 during the SIU Day of Giving.
"DPS seeks to acquire a K9 trained in explosives detection," said Chief Benjamin Newman. "The K9 will be utilized during major events on campus. In the past, we've requested assistance from other agencies to provide this service."
Paul Melzer and Ian Reinhart, both SIU alumni and Country Financial representatives, have chosen the department's K9 fund for a Day of Giving matching gift.
Through Country Financial, the pair secured $3,000 in grants to be given to the fund. They're encouraging others to match those dollars as the department attempts to raise $50,000 to fully fund the K9 unit.
"They're a little shy of being able to purchase the dog," said Melzer, who is a veteran of the United States Navy. "Our gift, with the help of those who match it, will get the department that much closer to beginning this process."
Both men expressed the importance of supporting the campus police department.
"Small amounts of money can make a big dent," said Reinhart, who is former law enforcement officer. "This is something that's a little less heralded and deserves funding."
A K9 unit would be utilized during sweeps of Saluki Stadium and SIU Arena before sporting events, areas for special events, other community events and areas subjected to bomb threats.
"An explosives detection K9 would be a benefit for the agency and the university," Newman said. "We are seeking to fund this program specifically through donations."
Melzer and Reinhart will be presenting a check to Chief Newman and providing lunch for the department March 6 on the Day of Giving.
"We believe in this stuff," said Melzer. "They're keeping folks safe. This is a proactive step. They're going above and beyond."
For more information on the fund or to make a gift, visit police.siu.edu/k9.php. For more information about the matching gift and the Day of Giving, visit siuday.siu.edu.
Engage with us on LinkedIn, Facebook, Twitter and Instagram.