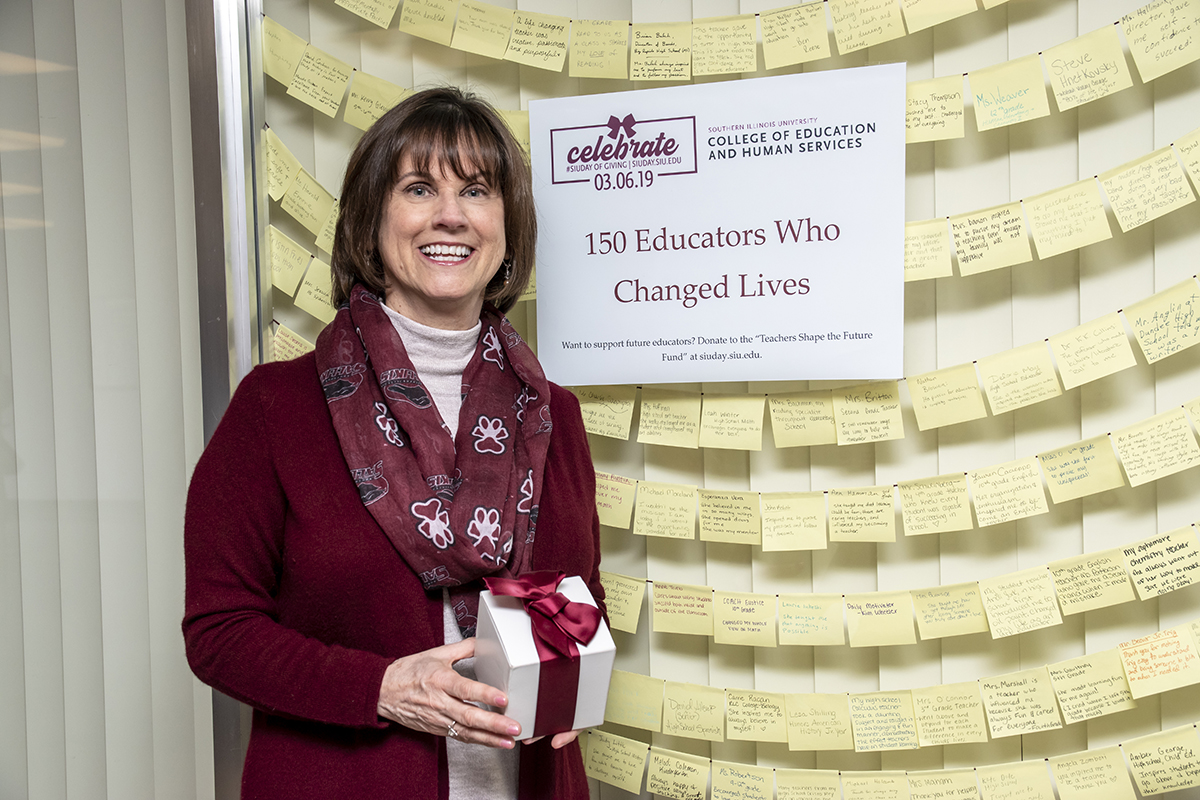 By Jeff Wilson
It may seem obvious to say education is the heart of a university, but at SIU, that statement rings especially true.
That's why Nancy Mundschenk and her husband, Paul, established the Teachers Shape the Future matching fund for the SIU Day of Giving on Wednesday, March 6. They'll be matching donations up to a total of $5,000 to benefit the Office of Teacher Education within the College of Education and Human Services.
"We're so proud of the tradition here, but we're also looking to the future," said Mundschenk, director of teacher education.
With its roots as a normal school, which was the term used for colleges that focused on training teachers, SIU's history is one based in educating educators. As the university celebrates its 150th birthday, Mundschenk wants to put the spotlight on the important role educators play.
When walking past the Office of Teacher Education in the Wham Building, one can't help but notice the Post-it notes filling up the window. On each one, a current teaching candidate has written about an educator that inspired them.
"It's really the rollout of a yearlong celebration," Mundschenk said. "It's a reminder that we're surrounded by educators, and it allows us to demonstrate that in a very personal way."
There are teacher prep programs throughout the university, and teaching candidates in each college would benefit from the Mundschenks' matching gift. The money will help pay for several things, including students' licensure tests, which cost $300.
"Education is a gift," Mundschenk said. "It's fundamental to a democratic society, and SIU plays a critical role in that."
For more information about the Day of Giving or to make a gift, visit siuday.siu.edu/ehs.
Engage with us on LinkedIn, Facebook, Twitter and Instagram.