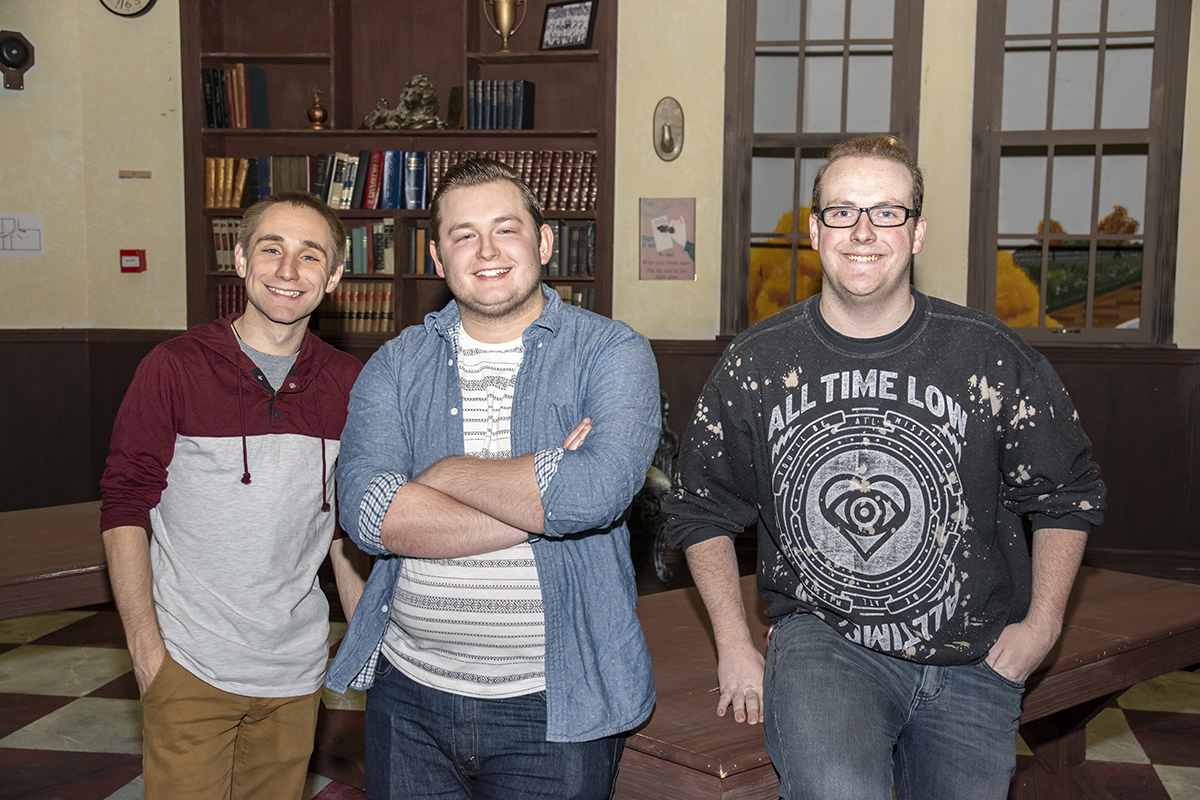 By Jeff Wilson
The students in the Christian H. Moe Laboratory Theater are hard at work.
Sets are being built and painted, lines are being rehearsed, choreography is being perfected, and there's always something more to be done.
"It's a labor of love," said senior Patrick Burke, stage production manager of the upcoming presentation of "Punk Rock."
Scholarships at work
The play focuses on a group of teens in England as they deal with the pressures of their final year of high school. It will feature an all-student cast; all of the production has been completed by students; and even some of the funding has come out of the pockets of students.
"We've received donations from family, the community and set up a GoFundMe page," said senior Kyle Aschbrenner, the play's director. "Some of us have even used scholarship money. We've raised between $1,100 and $1,200."
A recipient of the 2018 Verizon Scholarship and Department of Theater Undergraduate Scholarship, Aschbrenner said he and his fellow students are passionate about their work.
"In this department, we're given a sense of autonomy," he said. "Scholarships are especially helpful in accomplishing something like this."
Christian Boswell, a senior who will portray one of the main characters in the play, is also the fight choreographer. The training he's received while at SIU is a direct result of his DOT Undergraduate Scholarship.
"That's been what has allowed me to attend workshops all across the country and work with groups like the Society of American Fight Directors," he said.
Burke, who transferred to SIU after earning an associate degree at Rend Lake College, is a recipient of the Ronald Naversen Scholarship for Theater Design and Production. Naversen is an emeritus professor of theater and still an active part of SIU's program.
"I could talk about Ron for 30 minutes," Burke said. "Receiving that scholarship was a validation of my ability."
Years in the making
The play was chosen by many of the students during their freshman year. They decided to make "Punk Rock" their senior project, with the hope of starting a new tradition at SIU.
"Being right out of high school, the play definitely spoke to us," Aschbrenner said. "Now, the themes of the play speak to us more introspectively. It's still very relevant to us today."
About 25 undergraduate students have been involved in the process. Even though only a handful are featured on stage, many more are working behind the scenes.
The planning started in February. The physical production work started in early October. Many students have spent long days – and nights – working on the show.
The students are working on much more than acting. They create the sets and secure props and costumes. Behind the scenes, there is woodworking, painting, welding and other disciplines at work.
"There are a lot of aspects to it," Burke said. "We're prepping all the spaces and doing all the work. There's a very fine attention to detail in this production."
See the show
The three performances of "Punk Rock" will be at 7:30 p.m. Friday, Nov. 9, and Saturday, Nov. 10, and 2 p.m. Sunday, Nov. 11, in the Christian H. Moe Laboratory Theater.
Tickets are available online at events.siu.edu, by calling 877-SALUKIS (877-725-8547) or in person at the SIU Arena or McLeod Theater box offices between noon and 4:30 p.m. Friday.
Individual tickets are $18 for adults and $6 for students.