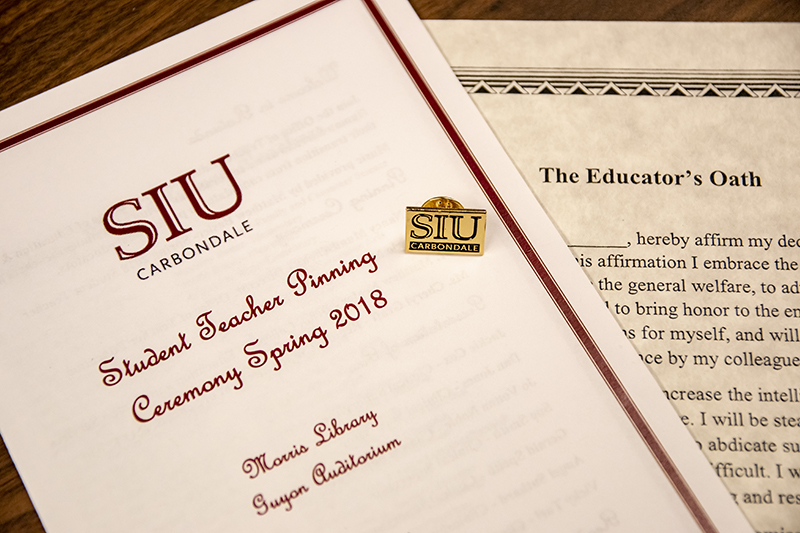 For the 2018 SIU Day of Giving, Nancy and Paul Mundschenk had one simple goal: Ensure all students graduating from SIU's Teacher Education Program had a proper pinning ceremony.
After making a $5,000 gift to the Teachers Shape the Future Fund, they challenged others to do the same.
"Everyone got involved," said Nancy Mundschenk, director of the Office of Teacher Education. "To see the support for our future teachers was incredibly touching."
Mundschenk said the pinning ceremony symbolizes an important milestone for the candidates – the moment they transition from students to professional educators.
"Each teacher candidate was called up on stage in the Guyon Auditorium and pinned by their public school mentor teachers. A personal note about the candidate, highlighting their strengths and sharing how they had matured as an educator during their time as a student teacher was read by their SIU Faculty Clinical Supervisor," Mundschenk said.
After the pinning, the new teachers read the Educator's Oath together, affirming their dedication to the profession.
The money raised during the SIU Day of Giving went toward the expense of the ceremony. The remaining funds will cover some of the cost of the teaching performance assessment, which is a required test that all candidates must pass before receiving their teaching license. The test is $300, and Mundschenk hopes to give at least $100 to each candidate.
"We celebrate the fact that these candidates are preparing to go out and shape the future of some young people. There's no more meaningful profession," Mundschenk said.
One such candidate was Jason Seaman, a COEHS alumnus and Indiana middle school teacher, who garnered national attention for his heroic actions during a May school shooting. Seaman was grand marshal of this year's Homecoming festivities.
The college is already looking forward to the next SIU Day of Giving scheduled for March 6, 2019.