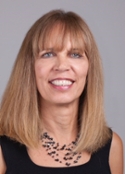 CARBONDALE, Ill. — Southern Illinois University Carbondale served as the launch pad for Clara Kridle's successful accounting career, so when her colleagues created a memorial scholarship in her honor, they and her family chose to help propel future Salukis toward successful careers in the world of business by establishing the Clara J. Kridle Memorial Scholarship Endowment.
"We are triply blessed to honor Clara Kridle through this memorial scholarship," Terry Clark, dean of the College of Business, said. "We are honored because she was one of our own, who came to us and blossomed into a young professional, ready to take on the world.
"Then, after entering into that professional world, we observed her rise among the best professionals on earth at Pricewaterhouse Coopers," Clark added. "But most of all, we are deeply touched and blessed to see the kind and generous affection with which her colleagues at PwC held her in that they chose to honor our Clara Kridle with a scholarship in her name and memory here at SIU's College of Business. This scholarship will make it possible for other young people to be trained up and prepared for success, just as Clara was. Thank you, Clara. Thank you, PwC."
Kridle joined the accounting firm after SIU graduation
Clara J. Rigoni Kridle, originally from Lombard, completed her bachelor's in accounting degree at SIU in 1980 and initially worked for Blue Cross Blue Shield in Chicago before joining what was then known as Coopers and Lybrand in 1984. Through subsequent mergers, the firm went on to become Pricewaterhouse Coopers (PwC).
A CPA, she became a principal of the firm in 1997.
PwC Charitable Foundation Inc. created endowment
Kridle, of Naperville, passed away on May 9, 2017. The PwC Charitable Foundation Inc. has now established the scholarship at SIU's College of Business in her honor and in recognition of her 33 years of service to their firm.
In presenting the $150,000 memorial scholarship endowment, the PwC board of directors and principals recognized Kridle not only for her "considerable contributions to the success of the firm," but also noted that she was held in high regard by her clients, partners and staff, was a leader in mentoring and coaching, exemplified partnership and teamwork and was patient and sought after for advice and help.
"Clara was a credit to her profession and to this firm," the resolution notes. "She will not be forgotten."
Kridle connection to SIU is extensive
The Kridle family's affiliation with SIU has several layers. Clara and husband Kevin, also a 1980 graduate in journalism, first met at the university. They were friends on campus, living in the same apartment building and enjoying long talks when they ran into one another in the hallway.
But, they didn't date. At commencement, she wrote her phone number on the back of the program, but Kevin said he didn't call. All these years later though, he still treasures that book and insists that "Fate played a big part in things."
A few months after graduation, the two happened to meet on the street again in downtown Chicago; Kevin was working as an executive for a publishing company located near her employer. He was actually dating someone else and didn't score points with his girlfriend by promptly comparing Clara to singer/songwriter Carly Simon, a likeness Clara heard about throughout her life. Soon they were dating, then married and the parents of two children – Kristen and Nickolas.
"It was definitely an SIU love story," Kevin said. "If not for SIU, we never would have met. It was meant to be. It was a great marriage."
Kristen is also a graduate of SIU, completing her marketing degree at SIU. She is now an assurance associate for PwC in Oregon. Nickolas is a recent graduate of Indiana University and works in the corporate office of Ford Motor Company in Texas.
Clara Kridle was generous in and out of the office
The Kridles have lived in Naperville for 31 years, raising their children there and being active in the community. Clara Kridle freely gave her time and assistance both at her workplace and in her private life, Kevin said.
She served on the board of directors of CARA, an organization that helps people affected by poverty develop the necessary skills and confidence to obtain jobs; was on the community advisory board for Loaves & Fishes Community Services, an anti-poverty, hunger-relief agency; and was active in her church and supportive of Sharing Connections, an organization that connects families in need with gently used furniture and household items and at which her children volunteered.
At work, too, she cared deeply for her associates, focusing not just on her own success, but mentoring colleagues and doing everything she could to help them succeed, Kevin said. In fact, he said he truly came to realize the profound affect she had had on those around her during the six months she was ill and after her passing, as there was barely a day that went by during which someone didn't reach out and tell via notes, calls, emails, texts, letters, flowers or other means how much Clara meant to them.
He said he and her children are touched and appreciative to PwC for honoring Clara with a scholarship, which he's sure she would be surprised and humbled by.
Will be awarded to a business student annually
It's "only natural" that the Clara J. Kridle Memorial Scholarship be awarded at SIU, Kevin said. "SIU is a special place for us," he said. "Through time, it has grown in a lot of ways we can be proud of."
The endowment from PwC calls for award of a scholarship each year to a junior or senior Illinois business student with a GPA of 3.5 or above and who has demonstrated financial need. The recipient will also have a history of community service or involvement in an initiative illustrating their social responsibility. Juniors who receive the scholarship can reapply for their senior year if they continue to meet the requirements.
Plans call for the first scholarship award from the SIU Foundation in spring 2019.
The College of Business also plans to posthumously present a Gary N. Parish Business Excellence Award to Clara Kridle in spring 2019.