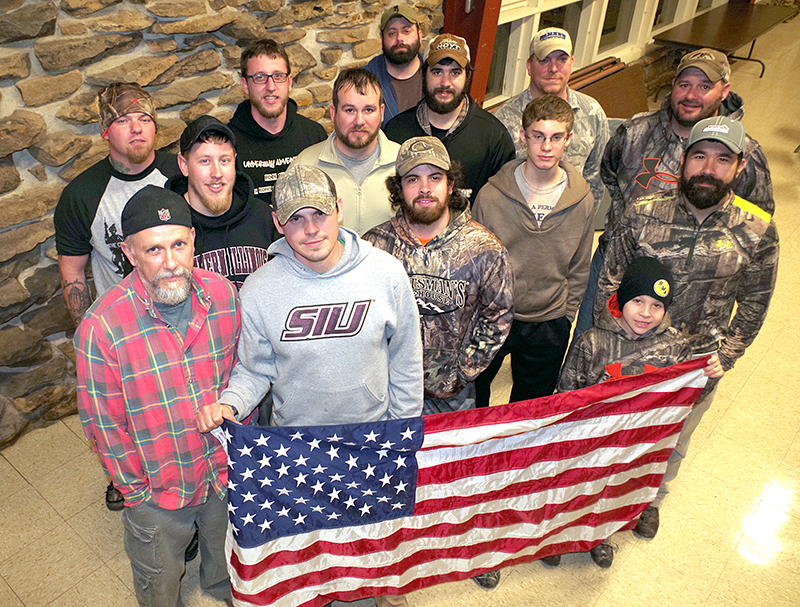 By Jeff Wilson
Shane Brady graduated from SIU in May 2017, taking with him a bachelor's and master's in outdoor recreation resource management. He left behind much more.
Brady, a U.S. Army veteran who served a 14-month tour in Iraq and a 12-month tour in Afghanistan, came to SIU in 2013. In the spring of 2015, he started working as a graduate assistant at Touch of Nature Environmental Center.
While there, Brady spearheaded the creation of the Veteran Adventures program. Offering outdoor activities to post-9/11 veterans, the program has become a huge success.
"Veteran Adventures was born out of the idea that there needed to be a program that brought veterans together in hopes of easing the transition from military life to civilian life," he said. "Getting out of the military can be a very challenging life event. For veterans who are going to college for the first time it means trading your support group for a group of strangers and an experience that is completely new."
The program includes a number of activities, most of which take place near SIU. There are pheasant and deer hunts, hikes, backpacking trips and recently a whitewater rafting excursion in Tennessee.
"These are deeply discounted or cost-free programs," J.D. Tanner, director of Touch of Nature, said. "They can help relieve a little bit of the stress these veterans can face."
Early on, most of the funding for the program came from community-level fundraising. This included profit-sharing promotions at local businesses. In September, Touch of Nature received a $30,000 grant to fund the hiring of a graduate assistant to run the program.
Most of the trips include 10 to 12 veterans, but Tanner said he hopes to expand the program to larger groups, more trips and a wider array of activities.
Tanner and Brady are both hopeful that the importance of both Touch of Nature and the Veteran Adventures program won't go unnoticed during the Forever SIU campaign and upcoming Day of Giving on March 7.
"Since its inception, Touch of Nature has been an important part of SIU and to the Southern Illinois region as a whole," Brady said. "It has done, and continues to do, amazing things for SIU and the community."
The next Veteran Adventures event is a backpacking trip along Southern Illinois' River to River Trail. It begins March 10 and is free of charge. To register or learn more, visit http://ton.siu.edu/program-areas/veteran-adventures/trips/.
For more information about the Forever SIU campaign, visit www.foreversiu.org. To make a gift benefiting the SIU Day of Giving, visit siuday.siu.edu.
Engage with us on LinkedIn, Facebook, Twitter and Instagram.