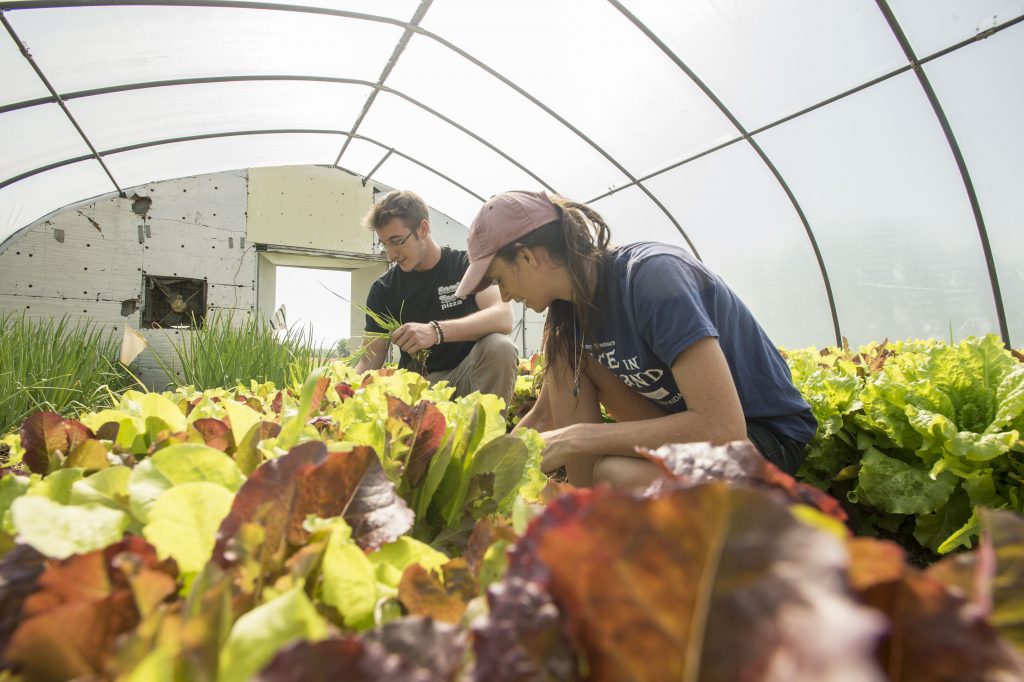 SIU's University Farms greenhouse had a problem two summers ago: too many plants and not enough space.
Over the years, a separate teaching greenhouse had fallen into so much disrepair that the department had to consolidate activities in the University Farms greenhouse. The cramped conditions put a crimp in teaching and research efforts, and no funds were available to fix the problem.
Karen Jones, chair of SIU's Department of Plant, Soil, and Agricultural Systems, determined that if the department could grow plants by vertically laying them above the ground, it could ease space issues. To do this, she realized the plants would require light-emitting diodes, commonly referred to as LED lights.
The next problem Jones faced was how to pay for the lights. Determined to find a solution, she turned to SIU's network of alumni and students for help.
Jones and her team launched a fundraising project on SIU's new SalukiFunder, a crowdfunding web platform for campus organizations that is administered by the SIU Foundation, and set a goal of raising $3,000.
They met their goal – and then some. Alumni and other supporters gave $3,105, which helped to buy several new LED lights.
"We were really surprised," said Matt McCoy, director of constituent relations for the SIU Foundation, who spearheaded this first-ever effort of raising funds through crowdfunding. "I don't think any of us appreciated how effective fundraising through a crowdfunding platform would be. We definitely were pleasantly surprised to meet and achieve our goal so quickly."
Since SalukiFunder launched in May 2016, 14 groups have raised more than $42,000. The money has supported a variety of causes, such as the Touch of Nature mountain bike trails, the Strong Survivors program for cancer survivors and caregivers, the National Association of Black Journalists Convention and the SAE International Saluki Baja team.
A growing number of universities have launched crowdfunding platforms similar to SIU's, which works like this: once an organization's application to participate has been chosen, the group meets with a mentor from the foundation's Development and Alumni Relations office to develop project descriptions, social media posts and emails. Campaigns usually run between 30 and 45 days.
Each group posts a description of its project on the SalukiFunder site, along with a video clip or photo. The group then promotes the project through social media and emails to supporters. With just a few clicks, supporters can make their donations directly to the causes they most care about.
McCoy said that a big benefit of crowdfunding is that it gives students, faculty, alumni and the community a way to connect.
"It's an opportunity for donors to connect with a cause or project they believe in," he said. "Instead of donating to a general fund, donors can choose a specific project and see exactly where their donations are going."
Dave Baer, a 1975 SIU graduate, donated through SalukiFunder to the College of Agricultural Science's LED lighting project. As a loyal Saluki and major contributor, Baer said he makes a point of promoting SalukiFunder when he's talking with other alumni.
"I'm a big Saluki fan," he said. "It's a great way to support students directly, and that is really what so many alumni are trying to do: help the next generation succeed."
Check out current SalukiFunder projects: https://salukifunder.siu.edu/
Engage with us on LinkedIn, Facebook, Twitter and Instagram.