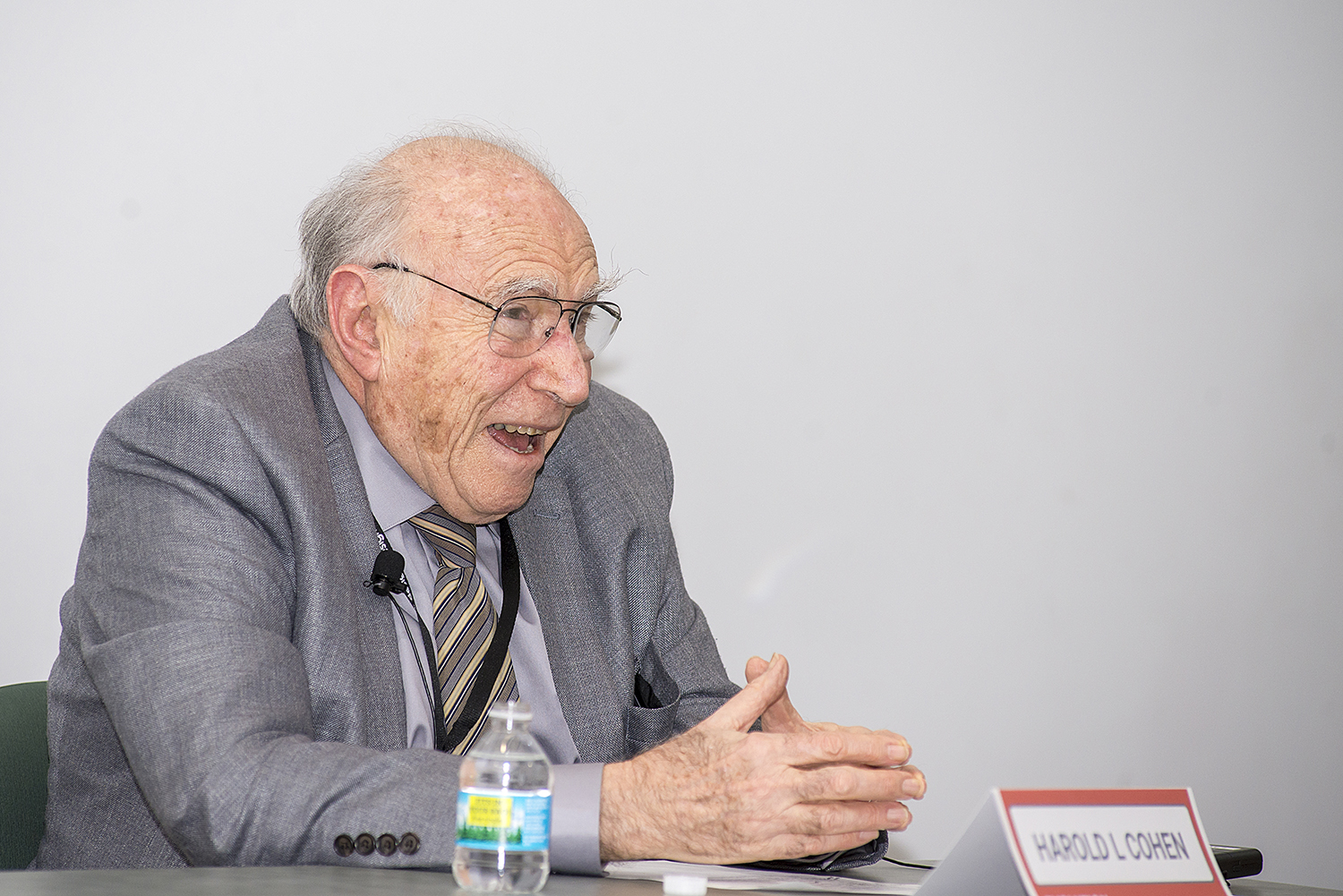 By Jeff Wilson
Harold Cohen had a tremendous impact on SIU. He founded the design department, was responsible for bringing Buckminster Fuller to Carbondale and left the SIU Foundation with one of its most profitable patents.
During this year's Design Days, Cohen brought something else to the university – a message of inspiration and a call to action.
Recruited by Burnett H. Shryock, the first dean of the School of Fine Arts, Cohen came to SIU in 1955. The decision to bring Cohen on board was ultimately made by President Delyte Morris.
Cohen accepted a position at SIU saying he wanted the university to have a design department separate from art. He wanted students to feel empowered and unafraid of failure.
"The university is a greenhouse," he said April 7 in Morris Library's Guyon Auditorium. "There are many seeds that can grow."
When he first arrived at SIU, he had no office. So, he set up shop in a broken women's bathroom in Allyn Hall. Still, it wasn't long before he earned the trust of President Morris and urged him to hire Fuller as a research professor.
Cohen was instrumental in connecting other notable artists and designers, such as Ray and Charles Eames, Josef Albers, Kenneth Snelson, Harry Callahan and Chermayeff, to the university.
While at SIU, Cohen designed housing, modular buildings and furniture. He also directed the Experiment in Higher Education project and started many influential design courses.
Before leaving the university in the mid-1960s, Cohen planted a seed of his own. He, along with Isaac Shechmeister, were awarded a patent for a disposable animal cage. This patent went on to be one of the foundation's most profitable.
Now 92 years old, Cohen passed bits of wisdom from his experiences, both in teaching and life.
"Design is a process of thinking, a very powerful method of thinking," he said. "We are great manipulators of the Earth's resources. You have to recognize your own creativity."
Cohen went on to teach at John Hopkins University and the Institute of Behavioral Research in Maryland and was later the dean of the School of Architectural Planning and Design at the University of Buffalo, The State University of New York.
Engage with us on LinkedIn, Facebook, Twitter and Instagram.