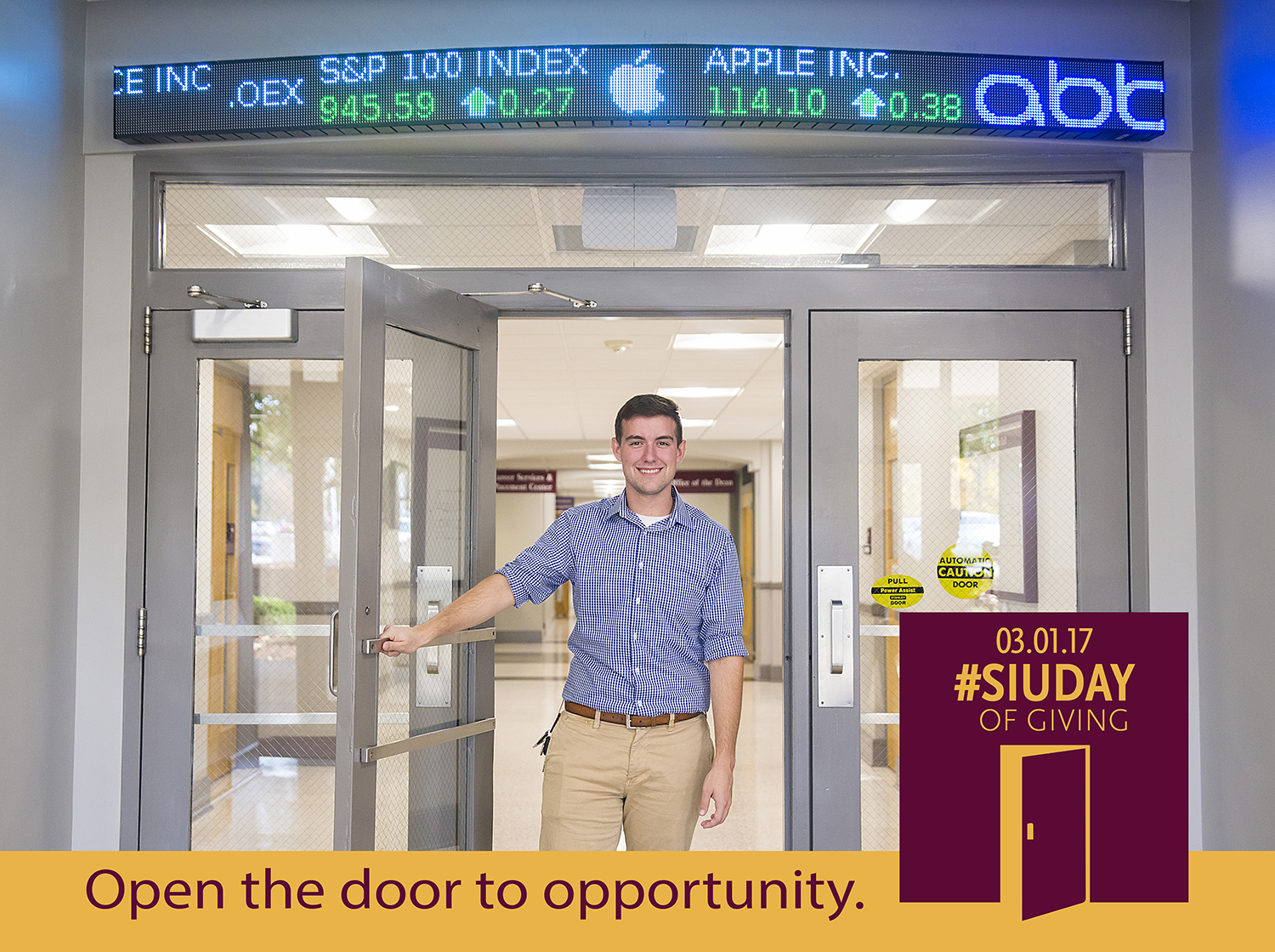 William Schefelbein is a junior from Peoria, Illinois. He is a student at SIU College of Business specializing in management. 
Why did you choose SIU? My father is an alum of SIU and his degree has gotten him places. Also, the College of Business is in the top 5% of accredited business schools. I knew I would get a great education here.
What inspired you to choose your area of study? I knew that I wanted to help others and be a servant leader. I did not know how to do that effectively. So, I chose management. I knew that with accomplished and experienced faculty and staff within the college, I would be able to learn how.
What achievement in your life are you most proud of? I am most proud of my admittance into the Boeing Business Intern Program. I have applied for two years to get admitted into the program. In the fall of 2016, I got admitted for the summer of 2017. I will move to Seattle, WA at the end of May for a project management internship.
Why should someone consider donating to the College of Business? The College of Business is a college of potential, a college with vision, a college with goals, and a college with aspirations. The college is constantly striving to provide students with professional development and opportunities. This is why someone should consider donating. Donations will further this in the college. When you instill these values in students, they pass it on.
Do you have a message you would like shared with a potential donor?
Dear potential donor,
I hope you see SIU in the same way I do. SIU is my home, and it is the foundation of my career. The College of Business is a college that promotes diversity, encourages alumni partnerships, and fosters student achievement. I hope that your education and my education shows how pivotal the College of Business is and was to furthering ourselves. Thank you for your interest in the college, and if you can't donate at this time, I encourage you to partner with the college of business in internships and externships.
If you had $1,000 to donate to the College of Business, what would you like to see that money benefit? If I had $1000 to donate to the College of Business, I would further the Career Placement Center and internship partnerships. This is a part of the foundation of the College of Business. This center is how students gain experience, and it has benefited me greatly.
You can support SIU College of Business during SIU Day of Giving on Wednesday, March 1: https://siuday.siu.edu/giving-day/1003/department/1376