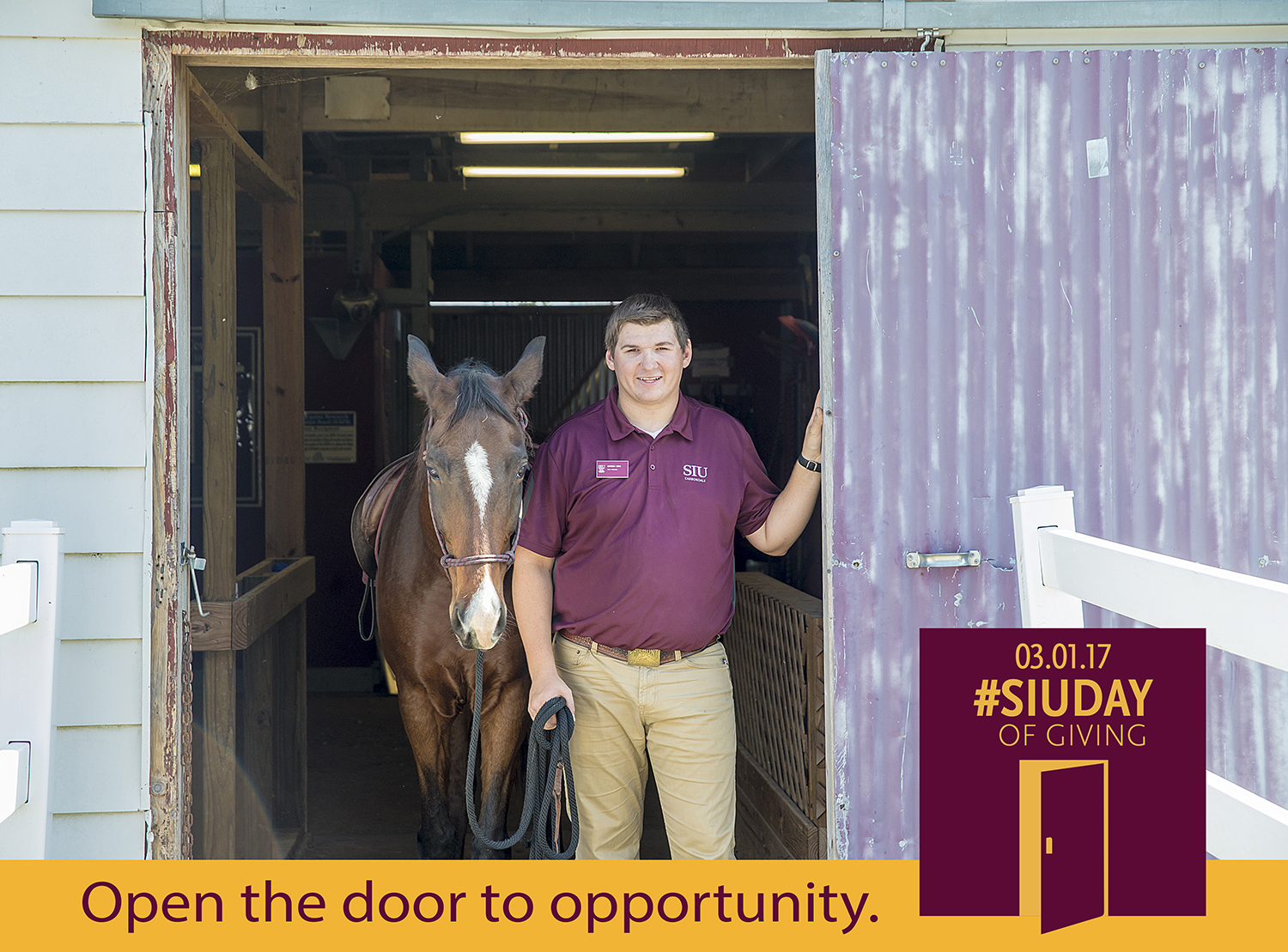 Graydon Baima is a junior from Collinsville, Illinois. He is specializing in Animal Science – Production.
Why did you choose SIU? I choose SIU because the faculty made me feel like I was more than just a number. When I came to visit campus as a junior and senior in high school, I spoke with Dr. Atkinson and Peter Dirks. They showed a genuine interest in what I wanted to study, and made sure I signed up for the right classes during orientation. Peter made sure I was able to get a tour of the university farms even though the weather was horrible that day. They made me feel like I was family.
What inspired you to choose your area of study? I fell in love with the idea of working with livestock when I was in the Boy Scouts. I was taking Horsemanship Merit Badge and I loved every second I was around the horses. When I learned about Animal Science as a major, I was ecstatic.  I quickly learned through our introductory classes that working with cattle and horses was my ideal career. I focused on beef production and equine sciences.
What achievement in your life are you most proud of? I am most proud of achieving my Eagle Scout rank in the Boy Scouts. This rank took many years of dedication and hard work to achieve. I recognize that many of my skills such as public speaking, professionalism, and hard work all had their foundations built in the Boy Scouts. Since enrolling at SIU, I have been able to build upon these skills and use them in day-to-day life. I would not be where I am at today without the opportunities and experiences I had while earning the rank of Eagle Scout.
Why should someone consider donating to SIU College of Agriculture Sciences?The world must eat. No matter what economy we are in or what state the world is in, everyone must eat, and someone has to produce that food. In the College of Agricultural Sciences, we are the next generation of farmers, researchers, and conservationists. We are going to be the ones, 10 years down the road, in charge of making sure that there is food, natural resources, and sustainability. Our programs are always looking to be on the cutting edge of technology. Any donation would help provide the students with the most up-to-date information, and the ability to research new ideas.
Do you have a message you would like shared with a potential donor? One of my favorite quotes is by a popular horse trainer Ray Hunt, he said, " In difficulty, there is opportunity." Right now, the university and state are in a difficult budget situation, but this creates a great opportunity for donors to really make a difference. Your donations help the college expand our programs and open new doors with new opportunities for students. When you are donating, you are not just giving to a college, you are fulfilling a student's passion to do research, or you are allowing a student to do more hands-on activities during class. You are not donating to an institution… you are investing in the future of agriculture.
If you had $1,000 to donate to the College of Agricultural Sciences, what would you like to see that money benefit? I would like to see that money benefit the University Farms. The farms have been a major part of my education and have given me so many opportunities. I want the farms to continue to offer great programs for future generations of Salukis. Our farms are unique in that they are so close to campus and there are countless projects and opportunities for students to gain real world experience. I currently spend 4 to 5 days a week at the farm and I hope that never changes. The farms are always looking to improve upon what is already in place, and I know that the donation would be used to greatly benefit students.
You can support SIU College of Agricultural Sciences during SIU Day of Giving on Wednesday, March 1: https://siuday.siu.edu/giving-day/1003/department/1377