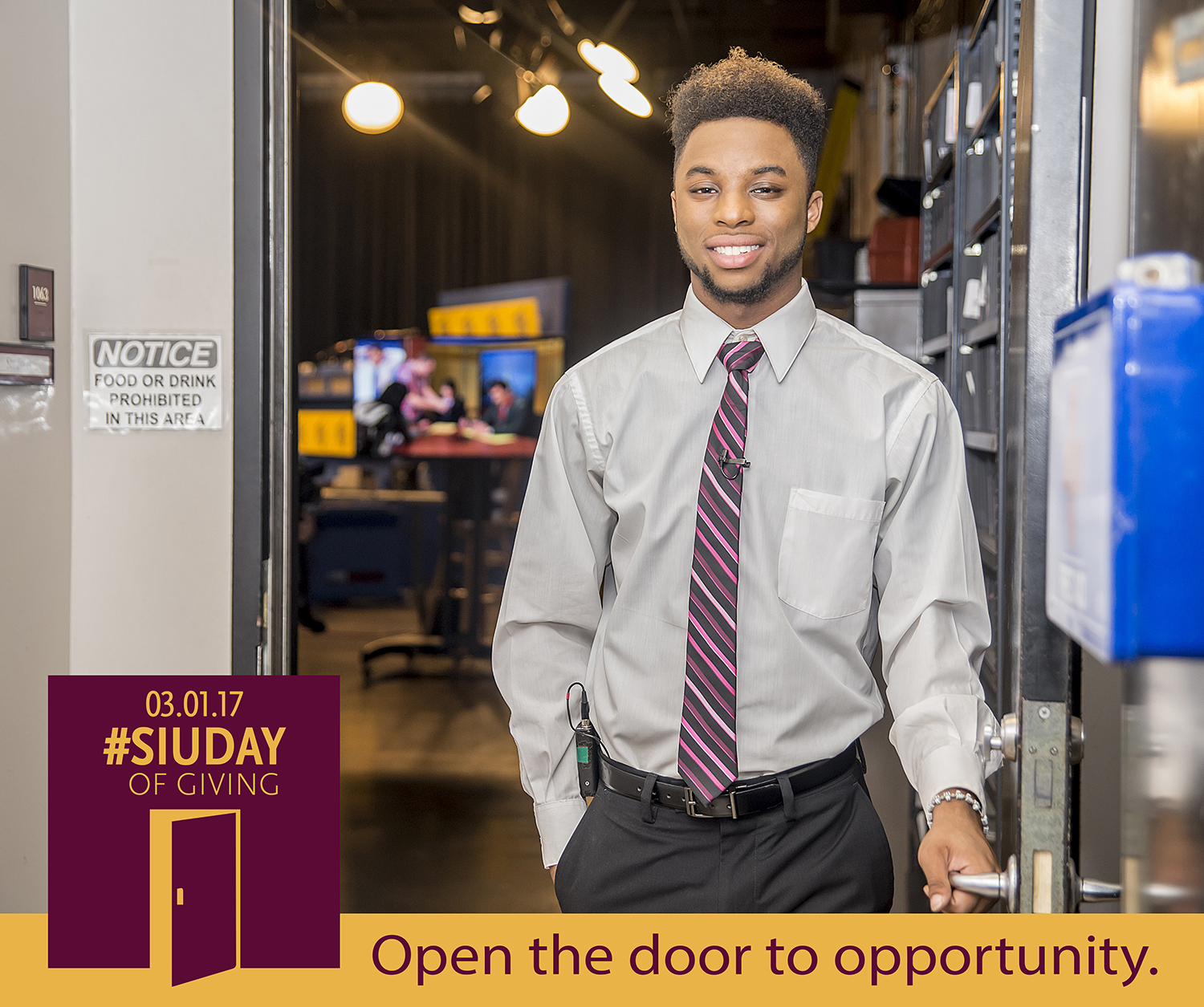 Jordan Taylor is a junior from Morton Grove, Illinois. He is specializing in Radio, Television and, Digital Media.
Why did you choose SIU? I chose SIU because of the television department and all that it had to offer its students. I also was accepted to my number one choice media based school, but after touring SIU and hearing all the great things the college of Mass Communication and Media Arts provides, it was a no-brainer.
What inspired you to choose your area of study? I've worked in live television since I was in 7th grade. I worked for my church, New Life Covenant Southeast, where we broadcast four services live and it's streamed to audiences all over the world. Working with this team really opened my eyes and allowed me to see that this is something I would like to make a career out of.
What achievement in your life are you most proud of? I can't say there's one achievement that I'm most proud. Over the course of my career, I have done so much to be proud of. I have directed shows with award-winning gospel recording artists. Just before classes began this school year, on August 18th I was hired at WSIL-TV 3 as their weekend morning show Newscast Director and a couple months later I won an award for Best TV-Weathercast in the state of Illinois. These are some of the accomplishments that I will always remember as my career continues to grow.
Why should someone consider donating to the College of Mass Communication and Media Arts? Anyone who has benefited from this college in anyway should consider donating. Mass Communications and Media Arts not only provides a classroom where students can learn and put their hands on some equipment that's used in the business world, but it also provides the opportunity for students to put those skills they've learned to the test. This college gives students the ability to work in professional environments they would more or less encounter when they're out in the real world.
I can say from my personal experience, the College of Mass Communication and Media Arts gave me a ton of knowledge and hands-on experience that enabled me to get a director's position for WSIL-TV 3, an ABC affiliate station. This is only because students are given the chance to put on live student run newscasts each week with updated cameras and control room technology. Given the equipment that we use, the faculty and staff that assist students hold our level of work to those of professional newscasts and that only makes students strive to do their best.
Do you have a message you would like shared with a potential donor? It's a fact that the College of Mass Communication and Media Arts produces outstanding results when it comes to students acquiring jobs right out of graduation or even while they're still in school, like myself.
I stay in touch with many graduates from this college who are now working full time in their professions. One thing I've noticed in all of them and even in myself, was the advantages taken while they were students. This is because all of these opportunities were in the palms of our hands and that's all thanks to generous donations by so many alumni.
If you had $1,000 to donate to the College of Mass Communication and Media Arts, what would you like to see that money benefit? Instructors and faculty do an amazing job bringing in people from around the country to show and tell students what we need to do to dominate in our fields. Last year, an award winning news videoagrapher, Lester Rose of CBS News, came in and held a two-day seminar showing us everything that has made him one of the best in the business. I thoroughly enjoyed every second of it.
I say this because I would like to see that money benefit more events like this one. Bring in more people who can do what Mr. Rose did for us. I think those who attended this event improved their storytelling in news, in their shooting, as well as their editing of these stories. Learning from people who have been in the business for a long time is a great teaching tool and is something I think should be used a lot more throughout the year.
You can support SIU College of Mass Communication and Media Arts during SIU Day of Giving on Wednesday, March 1: https://siuday.siu.edu/giving-day/1003/department/1381