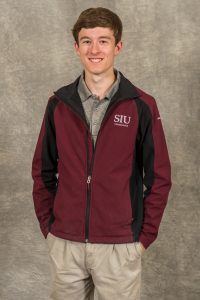 Luke Shaffer is a freshman from Michigan studying music education.
Why did you choose SIU? I had a wide college search of universities in the Midwest. I wanted a public 4-year university with my program of study, Division I sports programs and a marching band. Part of me wanted to move states, and still have a campus I could call home. When I visited SIU as a guest of the Marching Salukis for a football game, I instantly saw myself as a Saluki. I loved campus, including the music buildings Altgeld Hall and Shryock Auditorium. I also liked that SIU is a big enough school to be Division I, but not so big that it seemingly swallows me. Being from Michigan, I don't think of myself as an Illinoisan but I am, without a doubt, a Saluki.
How did you feel when you received notification that you received the scholarship? I was very relieved. Money was an issue for me going to school. I'm very glad I got the assistance I needed. Even though I still need to budget and watch my finances carefully, the scholarship gives me the boost I need to be able to have a zero balance every semester.
What does the scholarship mean to you and how has it enabled you to pursue your goals? It means I'm able to go to college. I'm not sure I would be at a Division I school like I wanted if I had not received this scholarship. Without my college degree, I could not be able to pursue my goal of being a music educator.
What inspired you to choose your area of study? Music has been the thing I have devoted my life to. I have been studying since I was 8 and put in hard work for 10 years. I had been unsure of my major until halfway through my senior year. I had been told by professors at Blue Lake Fine Arts Camp that music could be a possible career choice for me. During my freshman session at the academy, I outperformed 57 other percussionists and was awarded the top spot.
What achievement in your life are you most proud of? I'm most proud of my acceptance letter from SIU School of Music. I had put my whole life into music and in that letter saw the possibility of making music for the rest of my life. The letter was the doorway from "before college" to get to "after college".
Do you have a message you would like shared with your donor? Thank you so much for not only creating the scholarship to help college students in need but also for choosing me to receive it. It warms my heart to know that somebody believes in me and thinks that what I'm pursuing is worthwhile.
Hear more from scholarship donors and recipients from our SIU Academic Scholarship Brunch in this video.