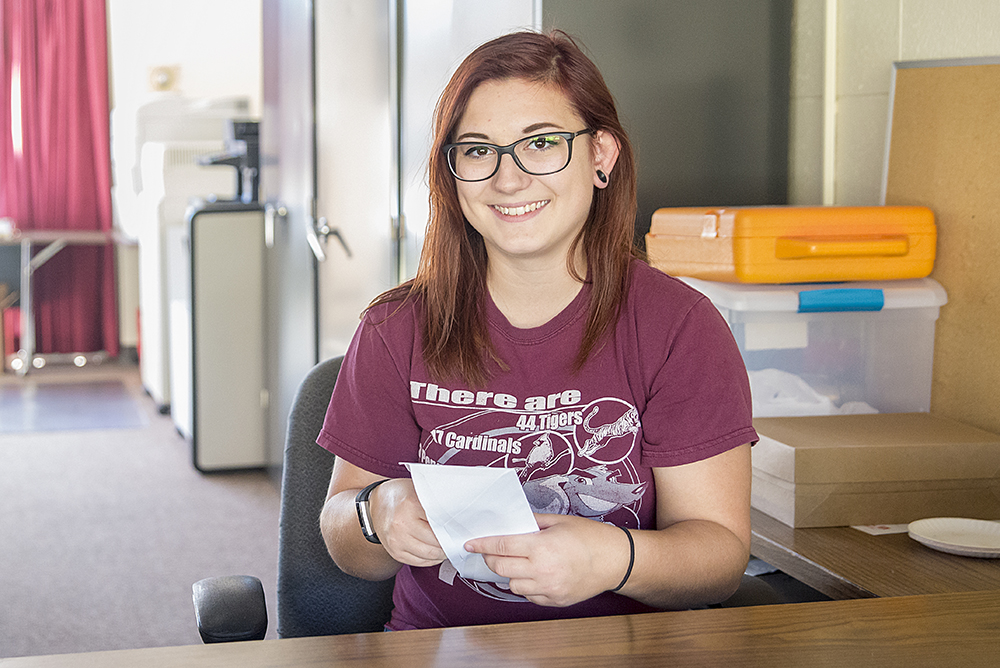 The SIU Foundation has a team of dedicated students who call alumni in hopes of raising support for a variety of college funds. Although this challenging job is a group effort, there are opportunities for students to achieve individual milestones during their employment. Melissa Hull is one of those students.
After two years with the SIU Foundation, Hull has successfully raised $25,000. She began as a student caller in 2014 and worked her way to a student supervisor role last year. Her supervisory position keeps her busy as she is responsible for a lot of different tasks.
"As a student caller, I am responsible for making calls to different groups of alumni in hopes of raising money for different college funds," Hull said. "However, when I am working as a supervisor my job gets a bit busier. I send out the pledges that are collected the night before during calling, I update alumni information in our systems, and also speak with certain alumni that are unreachable during the day. During calling shifts, I will help supervise the callers by answering questions and looking up any information they may need during their calling."
The student callers have a different perspective of the university since they are connecting with alumni on a regular basis and Hull has been a part of many positive conversations with alumni who loved their time at SIU.
"The best part is reaching out to alumni that loved it here, who can't wait for your call, and love to hear about upcoming and new developments on campus," Hull shared. "It really makes you realize how great being in college is and the memories and relationships you obtain here."
Hull remembers her first $1,000 pledge from an alumnus. They talked on the phone for over forty minutes. During this time, he shared stories from his time as a student, his current employment as well as other interests they found to have in common.
"I had a great time talking to him and he really made me love my job. On top of that I got a great donation for the university that I knew would help out students that needed it."
Hull was very excited once she hit her $25,000 milestone. The pledge was from a generous alumnus who loved SIU and wanted to give even after his retirement. He was so happy to contribute support to students especially with the current state budget crisis.
"Every call I have like that impacts my view on the university and always makes me very proud to be a Saluki. Hitting $25,000 made me feel like I really helped to make a difference at SIU and help those who needed it most."
Melissa Hull is a senior majoring in Zoology with a specialization in Pre-Veterinary Medicine and a minor in Chemistry. She has plans to attend veterinary school to receive her DVM. Her focus is on small companion animals and dreams of working in a no-kill animal shelter after completing her education. It was a scholarship opportunity that brought her to SIU. With access to a more affordable education, Melissa understands the value each gift makes in the life of a student.