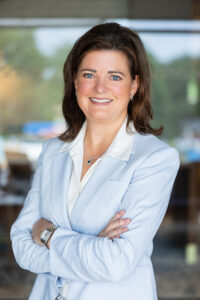 Diane Compardo, president of the SIU Foundation Board of Directors, plans to emphasize the value of consistent support during this year's Saluki Women's Weekend.
A 1991 alumna, she is a member of the College of Business and Analytics Hall of Fame and the SIU Women's Leadership Council. The council connects Saluki alumnae to current female students and offers guidance and mentorship as they study and prepare for life beyond college.
Compardo, a CPA and CERTIFIED FINANCIAL PLANNER™ is the founding partner of Compardo, Wienstroer, Conrad & Janes at Moneta, which is a presenting sponsor of the second annual Saluki Women's Weekend from Oct.  4-7 in the SIU Student Center. Compardo will speak during the Women in Philanthropy Luncheon, which begins at 11:45 a.m. Friday, Oct. 6.
"The SIU Foundation's goal is to help drive the university forward, and the Saluki Women's Weekend is a terrific example of how it does just that," Compardo said. "I'm excited to meet new people and learn from their experiences at this inspiring event."
In recent years, Moneta has put an increased focus on diversity, equity, and inclusion. Moneta's Diversity, Equity, and Inclusion Council was founded to support the company's mission to "empower people to navigate life's path and protect what they cherish." The council aims to achieve this by continually striving for an equitable, inclusive culture that encourages valuing, respecting, and celebrating the differences of Moneta's employees, clients, and all whom it encounters.
"The goals of SIU's Women's Leadership Council and the Saluki Women's Weekend align with what Moneta is doing internally," Compardo said. "It takes organizations being intentional about values and empowerment to cultivate an inclusive and positive culture."
As president of the SIU Foundation, Compardo is focused on sharing the philanthropic message with current alumni and future generations of Salukis.
"I'm passionate about philanthropic goals and giving back is an essential part of my life," Compardo said. "Part of our job is to ensure the university continues to thrive. One way we do that is by emphasizing the importance of paying it forward after you graduate."
For more information about the Saluki Women's Weekend, visit siuf.org/salukiwomen.