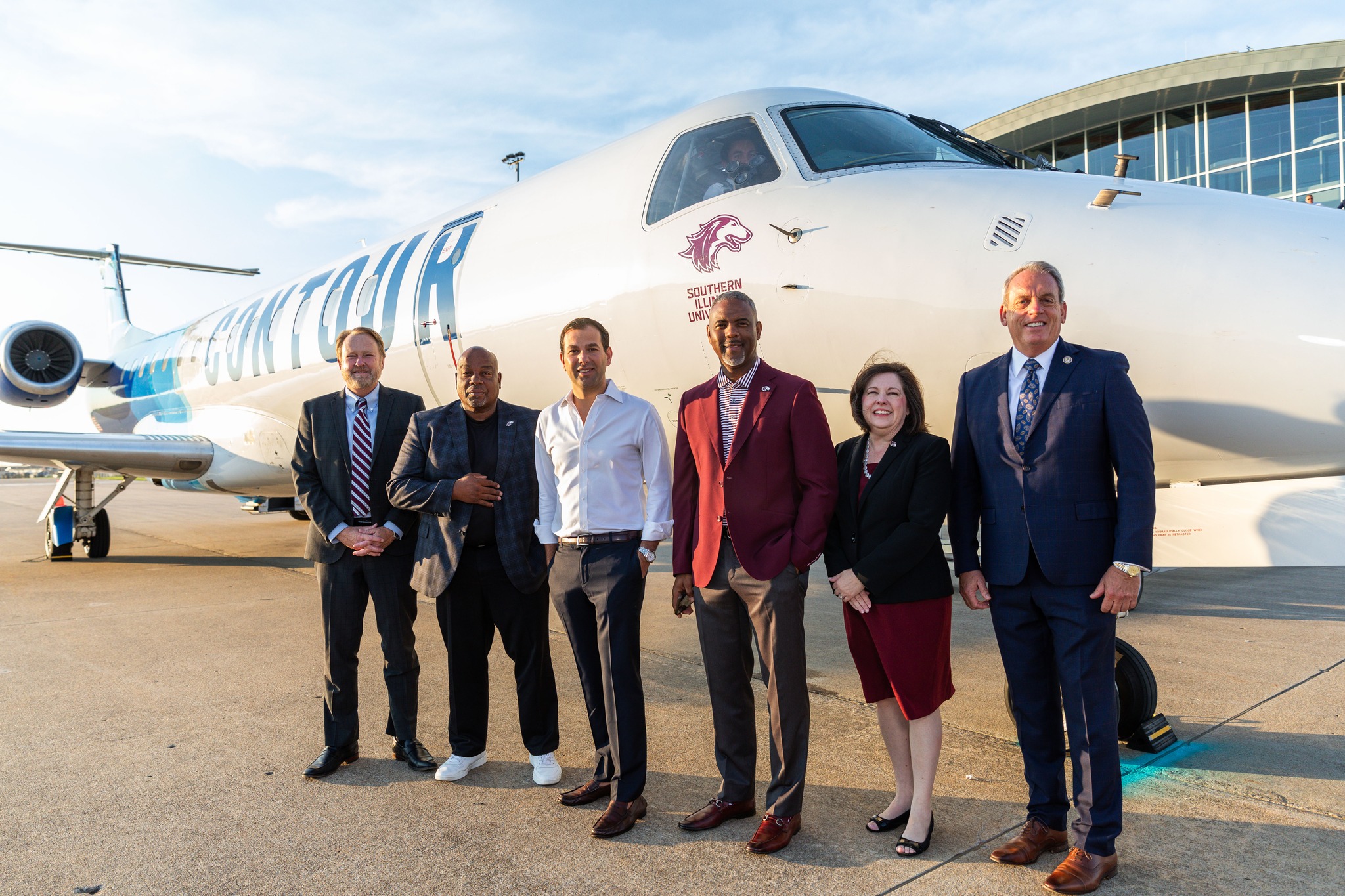 Bright and early on the first day of August, the distance between Chicago and Southern Illinois got a little shorter.
That morning, Chancellor Austin Lane, state Sen. Dale Fowler, and others from SIU and the region boarded the first Contour Airlines flight from Veterans Airport of Southern Illinois to O'Hare International Airport in Chicago.
"It's an area we recruit. Our students that are from Southern Illinois are able now to get to Chicago," Lane said before the flight on Aug. 1. "This is a game changer for the university as we continue to grow the enrollment."
These daily flights can take up to 30 passengers from Marion to Chicago in about an hour, cutting travel time by about 80 percent compared to driving to the Windy City.
"There are around 45,000 SIU alumni around the Chicago area. This makes it much easier for us to engage with them, and it makes it more likely that they will come visit SIU," said Matt Kupec, vice chancellor for development and alumni relations and CEO of the SIU Foundation.
In recent years, the SIU Foundation has hosted multiple outreach events in and around Chicago, including the Saluki Takeover Tour last fall and Saluki Ball, a fundraising event this spring.
This year's Saluki Takeover Tour in Chicago takes place from Wednesday, Sept. 6, through Saturday, Sept. 9. The cornerstone event will be the Chancellor's Reception from 6 to 8 p.m. Thursday, Sept. 7, at the Chicago Firehouse Restaurant. The takeover will conclude with an alumni tailgate and Saluki Football game against Northern Illinois University in DeKalb. To register for these events and many others, visit siuf.org/chicago.
"SIU is making its presence felt in Chicago, and the response to these events has been overwhelmingly positive," Kupec said. "These flights are a catalyst for more engagement with Salukis in Chicago and beyond."
Beyond the Chicago-to-Southern Illinois route, O'Hare has connecting flights across the country and around the globe. With about 250,000 alumni located all over the world, it has never been easier for alumni abroad to visit their alma mater.
"If you get on one of these flights, you're going to see Salukis," Kupec said. "Between university representatives and general alumni, they're going to be full of maroon shirts."
Tickets start as low as $59 per flight and can be purchased at contourairlines.com.