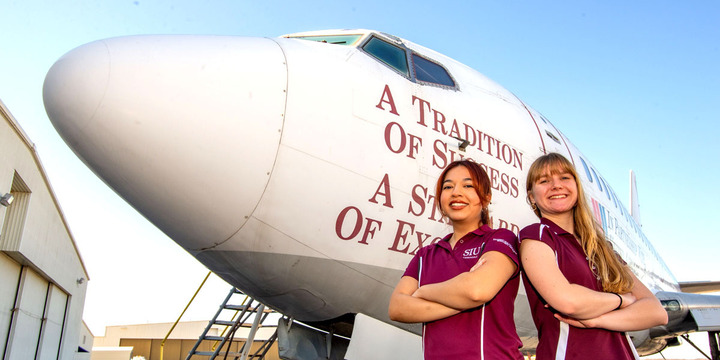 by Pete Rosenbery
CARBONDALE, Ill. — Southern Illinois University Carbondale's nationally recognized aviation program recently received a donation from The Boeing Company to further enhance offerings to its students.
Boeing's latest gift of $50,000 will be used toward scholarships and enabling students in aviation-related student registered organizations to attend conferences where they gain additional knowledge and network.
"Partnerships with outstanding aviation organizations, like The Boeing Company, play a pivotal role in assisting the School of Aviation in acquiring the funding and equipment resources necessary to educate and develop the finest aviation industry workforce in the world," said José R. Ruiz, professor and interim director.
Ruiz said the funds will be used to subsidize aviation education costs. Each of the three programs within the School of Aviation — aviation flight, aviation management and aviation technologies — will receive $10,000 in student scholarship funds. The remaining $20,000 is earmarked to support aviation-related RSOs and aviation outreach programs, such as Girls in Aviation, which introduces girls ages 6-13 from local communities to aviation, engage in aviation activities and explore the vast career possibilities. A portion of the funds will also be used to host a diversity luncheon in April with speakers focusing on diversity within the industry.
Strong SIU supporter
Since 2016, Boeing and its employees, through the assistance of the Boeing gift match program, have provided more than $344,000 to the Southern Illinois University Foundation.
"Boeing remains committed to ensuring that students of all backgrounds have access to globally competitive learning and are equipped with skills for the modern workplace," said Randell Gelzer, Boeing senior director of state and local government operations. "Our partnership with the SIU School of Aviation will provide safe and inclusive learning environments and professional development opportunities for students from underrepresented communities, women and military veterans. This program is a key contributor to economic growth and talent development for our local aerospace industry."
Student organizations will benefit greatly
Leslie Duran, a senior in aviation flight, is president of SIU's chapter of the Women in Aviation (WIA), and Valarie Meyer, a senior who is in her second year in aviation flight and management, is the SIU chapter president of the National Gay Pilots Association (NGPA). Both emphasize Boeing's gift is critical to the activities their organizations sponsor.
Meyer said the gift allowed chapter members to attend the NGPA Industry Expo in Palm Springs, California, earlier this month.
"This conference is one of the biggest gatherings of aviation companies, airlines and aviation enthusiasts. This event will allow our students to network and create lasting career connections," said Meyer, of Salem, Wisconsin, who will graduate in spring 2024. "Attending this conference allowed many of our past members to secure jobs, create lasting friendships and solidify their place in aviation. We are so grateful to have the opportunity to connect even further with the aviation community."
The Women in Aviation chapter will have six of its 40 members attend the WIA conference, Feb. 22-25, in Long Beach, California, including five members whose trips will be fully funded. Including this year, a total of 12 members will have attended the last two years.
Fell in love with SIU's opportunities
In high school, Meyer was part of a program that allowed her to build and then fly an experimental aircraft. The program introduced her to mentors who guided her toward an aviation career and SIU, said Meyer, who wants to become a professional pilot for a Chicago-based corporate flight department.
Duran, a first-generation transfer student from Elgin, Illinois, had "zero aviation history or knowledge" after attending community college and considered pursuing a career as a flight attendant. Duran is in her second year at SIU and said participating in the RSO is one way to encourage other women. She wants to work for an airline after she graduates.
"I had never considered becoming a pilot because it was not catered to women," she said. "The more I researched, the more I got excited and fell in love with the possibility. SIU became the answer to achieving this dream when I realized I could earn a bachelor's and fly! SIU became home when it recognized me not only as a first-generation Latina woman but as a pilot."