By Jeff Wilson
NASHVILLE – Salukis are everywhere, and the leadership at SIU is out to engage as many of them as possible.
The latest stop for the Saluki Takeover Tour was Nashville, Tennessee. After a week's worth of meetings at seven high schools and Nashville State Community College, the week was capped with two events with Nashville-area alumni and a Saluki Women's Basketball game against Belmont.
On Saturday, Jan. 21, the SIU Alumni Association hosted an event at Bakersfield, a restaurant in downtown Nashville. Alumni gathered to share stories and enjoy light appetizers and drinks.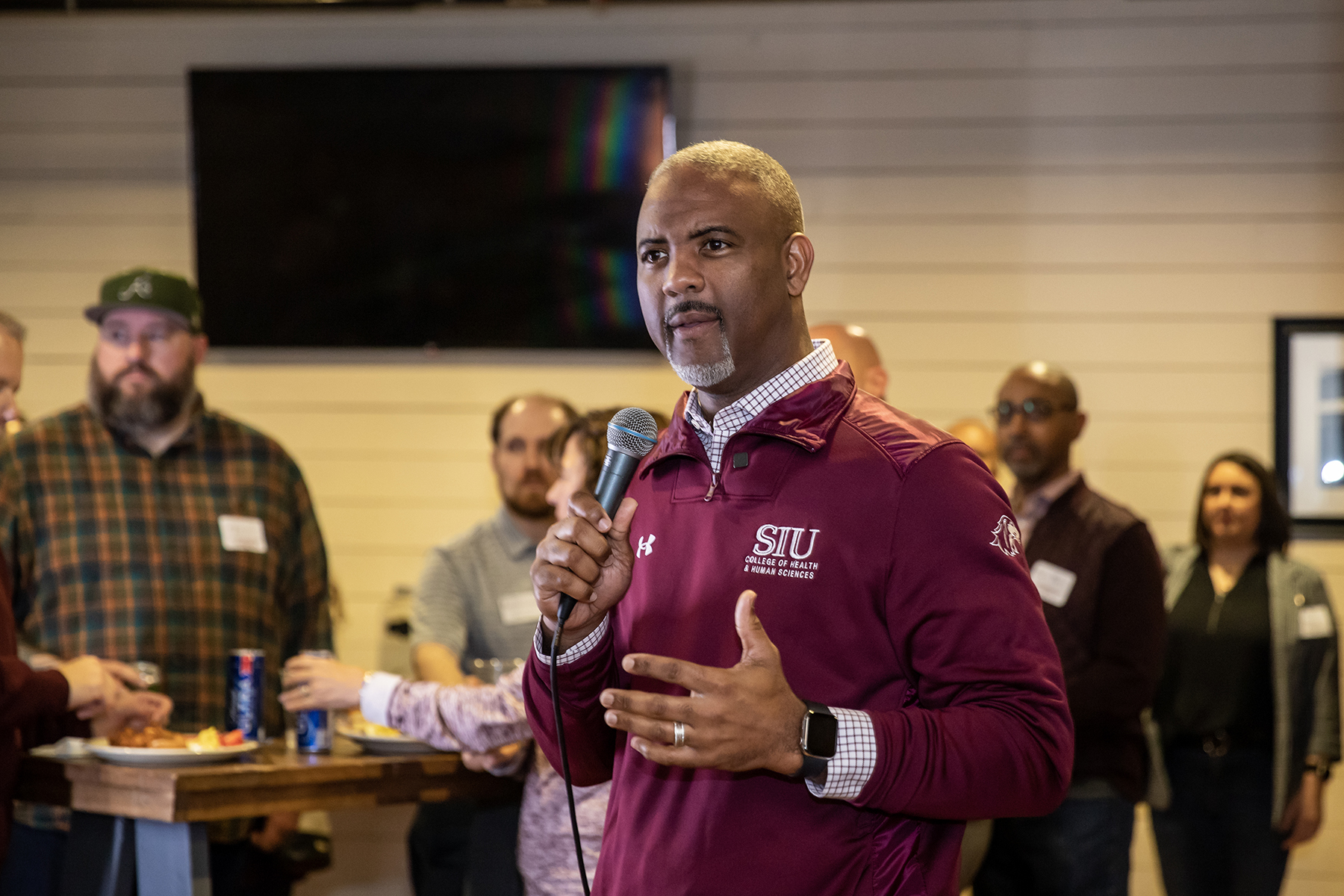 The keystone event for the Saluki Takeover Tour in Nashville was the Chancellor's Reception at Martin's Bar-B-Que Joint on Sunday, Jan. 22. More than 60 alumni and friends enjoyed food and drinks as they celebrated Saluki spirit and prepared for the women's basketball game that afternoon.
"We're rolling out the red carpet for our alumni," Chancellor Austin Lane said. "That's what this is all about, connecting with Salukis all over the place."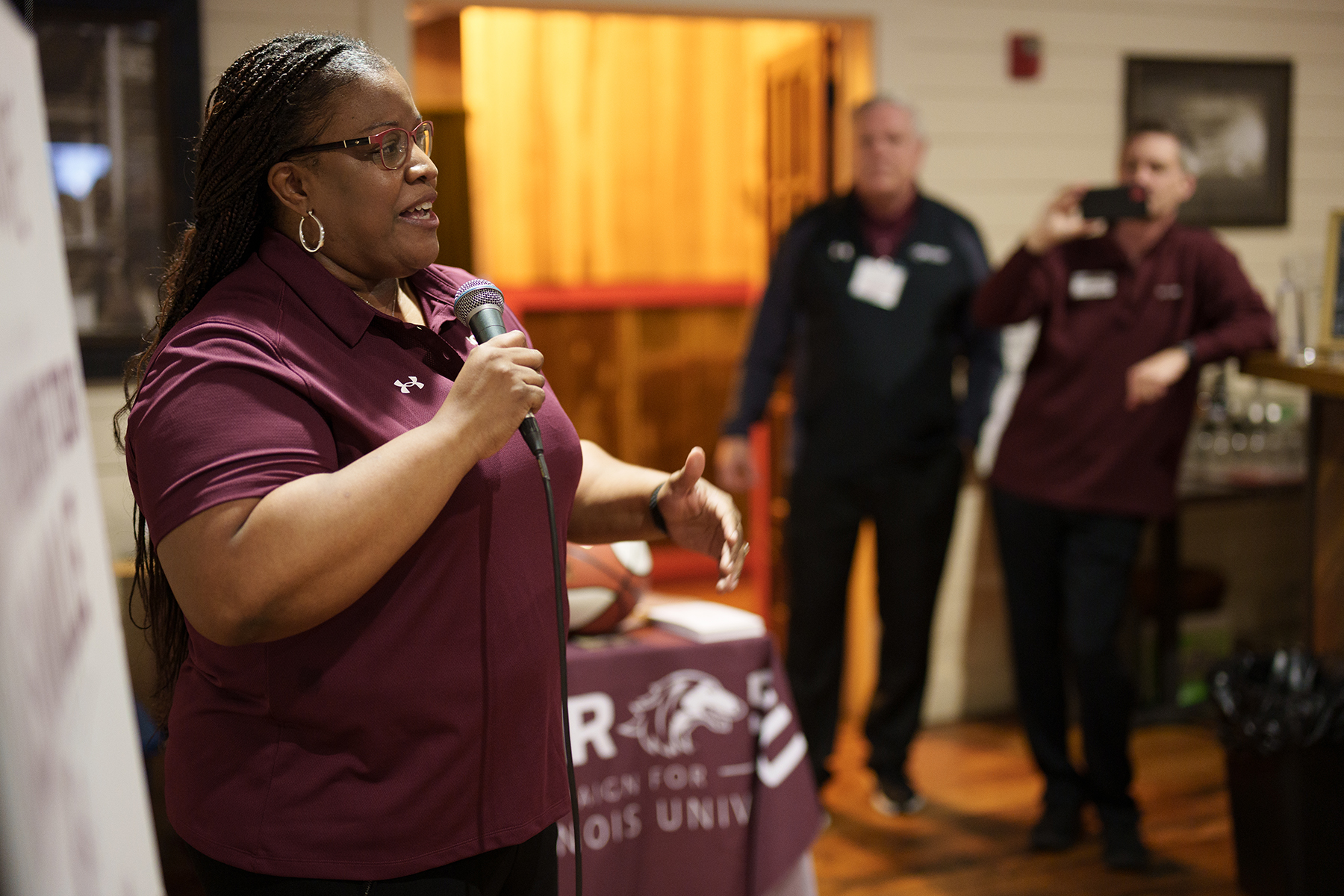 The group was joined by many university leaders and a guest appearance by Saluki Women's Basketball coach Kelly Bond-White. Chancellor Lane emphasized the importance SIU alumni play in the university's goal of raising enrollment and fulfilling the goals of the Imagine 2030 strategic plan.
"We need our alumni to spread the word about SIU," he said. "I knew Dawgs were here, and we're going to be in your backyard recruiting like crazy."
After the event, dozens of the guests headed to the Curb Event Center Arena to watch the Salukis take on Belmont. While the game didn't go in SIU's favor, the weekend was a wonderful way for alumni and friends to connect with the university.
More to come
The SIU Foundation and SIU Alumni Association have hosted Saluki Takeover Tour events in Chicago and St. Louis. With Nashville now added to the rotation, there's no sign of slowing down. Next on the calendar is the Saluki Takeover Tour in Florida, which is set for Feb. 15-17, and a return to St. Louis during the MVC Tournament, March 2-5.
"These events are how SIU plants its flag in the ground and let's everyone know that Saluki country is all around," said Matt Kupec, vice chancellor for development and alumni relations and CEO of the SIU Foundation.
The Florida takeover will take place in three cities – The Villages, Tampa, and Naples. The schedule is as follows:
5 p.m., Wednesday, Feb. 15, Savannah Recreation facility, The Villages
Noon, Thursday, Feb. 16, Seasons 52 restaurant, Tampa
6 p.m., Friday, Feb. 17, Naples Yacht Club, Naples
For the St. Louis takeover tour, the Chancellor's Reception will take place at 6:30 p.m. Thursday, March 2, at the Loews Hilton. More events will be added to the St. Louis event, so be on the lookout for more information as it becomes available.