by Emily Britton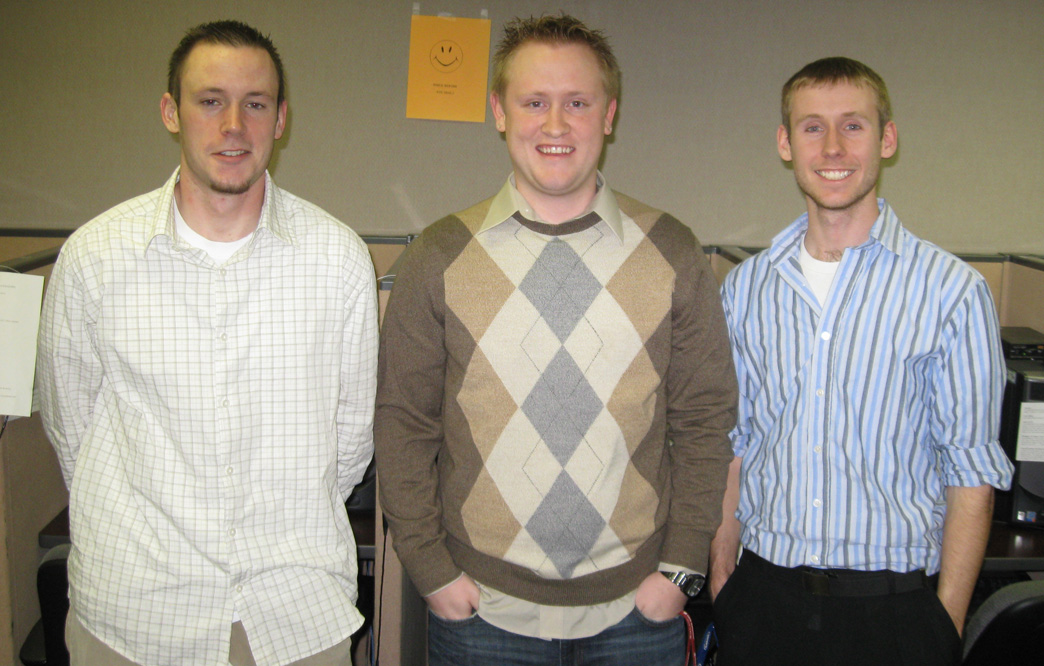 Student callers — Helping the SIU Foundation solicit support for its Annual Fund are, from left, Patrick Conway, Blake Frank and Joshua Fielder. (Photo provided)
CARBONDALE, Ill. — According to several student callers for the Southern Illinois University Foundation, the lessons learned at this part-time job have been nearly as valuable as those learned in the classroom.
"This position requires persistence and patience, both of which will help me tremendously when I start full-time employment," Blake Frank, who raised $35,000 for the Foundation, said. "The training that was provided to me has helped me gain valuable skills that will serve me well in my professional career."
Frank, a senior from Rockwell City, Iowa, majoring in aviation management, is one of 80 SIUC students who solicit support for the Foundation's Annual Fund. The fund is designed to generate revenue to support various scholarship opportunities, academic departments, programs, and facility upgrades at the University. Students are assigned records based on specific segments of the alumni database. They perform their duties year-round with the exception of the University's Thanksgiving and Christmas holiday breaks and all other public holidays.
"As a radio-television major, this job has helped me improve my communication skills," says Jonathan Iaccino, a junior from DeKalb. "I realize that my communication and interaction with alums has a tremendous impact on the advancement of Southern."
Joshua Fielder, a senior from Carbondale majoring in music, also knows his success as a student caller will help him in future endeavors. Iaccino raised $28,000 during his time as a student caller. Fielder, who raised $25,000, supervised calling sessions during the summer.
"The life skills that I have gained from my work at the Foundation will surely carry through and stay with me," Fielder says. "Supervising the calling sessions was a great learning experience for me because it allowed me to realize my strengths and recognize the skills I need in order to be successful."
According to Philip Sanders, a junior from Kankakee majoring in economics, the job also strengthens the student callers' connections with Southern's alumni.
"As a student caller, I reach out to our alumni," says Sanders, who raised $26,000. "Not only do I keep them abreast of all the current issues on campus, but I also tell them why their support is critical to individual colleges and scholarship programs."
Establishing a connection with alumni is important to the program's success, says Nanditha Balasubramanian, director of annual giving, who, along with Amber Kinkelaar, the assistant director, trains and mentors the student callers.
"The Annual Fund allows students to make a personal connection with our alumni," Balasubramanian said. "These conversations help the students become educated about the University's history, and give the alumni an opportunity to learn more about current activities at Southern."
The student callers are essential to SIUC's fundraising efforts, says Rickey N. McCurry, vice chancellor for institutional advancement and chief executive officer of the SIU Foundation.
"The Annual Fund is crucial in moving Southern forward, and the efforts of the student telefunders are vital to our success," McCurry said. "Not only do the students assist in obtaining support for their University, but they also learn the importance of giving back once they have graduated."
Patrick Conway, a senior from Normal majoring in information systems technologies, said his experience as a student caller has helped him see how important private support is to Southern's future. Conway collected $81,000 during his time as a telefunder.
"I truly understand the impact that donor support can have in making a difference in the lives of current students," Conway says. "When I graduate, I hope to give back to this institution and would encourage others to do the same."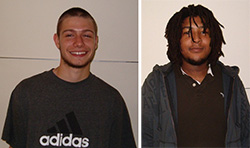 Photo caption: Pictured are Jonathan Iaccino (left) and Philip Sanders (right)