by Emily Britton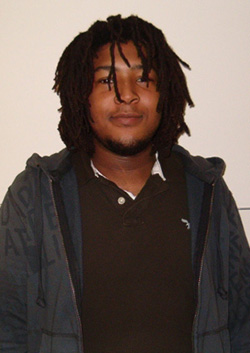 CARBONDALE, Ill. — For the second time in Southern Illinois University Carbondale's history, a student supervisor is the recipient of a scholarship to attend the RuffaloCody Users Group Conference.
Philip Sanders, a junior from Kankakee majoring in economics, was one of two students nationwide to receive the scholarship. According to AJ Pennington, senior manager of recruiting and training operations at RuffaloCody, the recipients were chosen based on their dedication to a call center and their interest in pursuing a career in fundraising.
The funding provided by RuffaloCody will help Sanders take a step toward his career goal. RuffaloCody is a consulting firm that offers strategic fundraising and enrollment management services. The conference, scheduled for July 26-28 in Minneapolis, will allow Sanders to make connections with others in the field of institutional advancement. During the three-day event, Sanders will attend roundtable discussions and lectures focusing on issues facing fundraising institutions today.
Sanders is one of 80 students who solicit support for the SIU Foundation's Annual Fund. As a student caller, he has raised $26,000 for the fund, which is designed to generate revenue to support various scholarship opportunities, academic departments, programs, and facility upgrades at the University. Students are assigned records based on specific segments of the alumni database. They perform their duties year-round with the exception of the University's public holiday breaks.
"Our telefunders are vital to the Foundation's success. It is important to have high-caliber students reaching out to our alums in order to advance our institution," said Jeff Lorber, associate vice chancellor for institutional advancement. "This award demonstrates how dedicated Philip and his fellow student callers are to improving their University."
Sanders says his time as a telefunder has also prepared him for a career in fundraising.
"This position has taught me how to work under someone with expectations and certain goals for me, and I think that will be important in my chosen career field," Sanders says. "I am also given enough freedom to be able to make mistakes and learn from them. When I see the same situations in the future, I will know how to handle them."
Nanditha Balasubramanian, director of annual giving for the SIU Foundation, said that Sanders' award speaks highly of the Foundation's recruiting and training.
"The mentoring he received both as a caller and student supervisor, especially the training with the CampusCall system, helped him tremendously in gaining an edge over candidates from other institutions," Balasubramanian says. "Last fall, Philip assisted me with supervision of student callers during the calling sessions. This gave him the confidence not only to learn the calling system better, but it also provided a chance for him to demonstrate his skills supervising students,motivating the student callers, responding to questions from the students and ensuring that they do their best in communicating with our alumni and friends. Since the annual giving program is the foundation of our development operations, it is vital that we uphold the highest standards inrecruiting, training and evaluation of our student callers."
Balasubramanian said she recognized Sanders' exceptional work as a student caller and supervisor and encouraged him to apply for the scholarship. For that, Sanders is grateful.
"Throughout the last few semesters I have learned about responsibility and leadership from the mentoring I've received as a student caller. Nanditha Balasubramanian and (Assistant Director) Amber Kinkelaar have helped me become a better caller and supervisor as well as a better student through the principles of fundraising that they have taught me," Sanders says. "Above all, this position has given me a sense of purpose, in that I am helping SIU become the best university it can be."