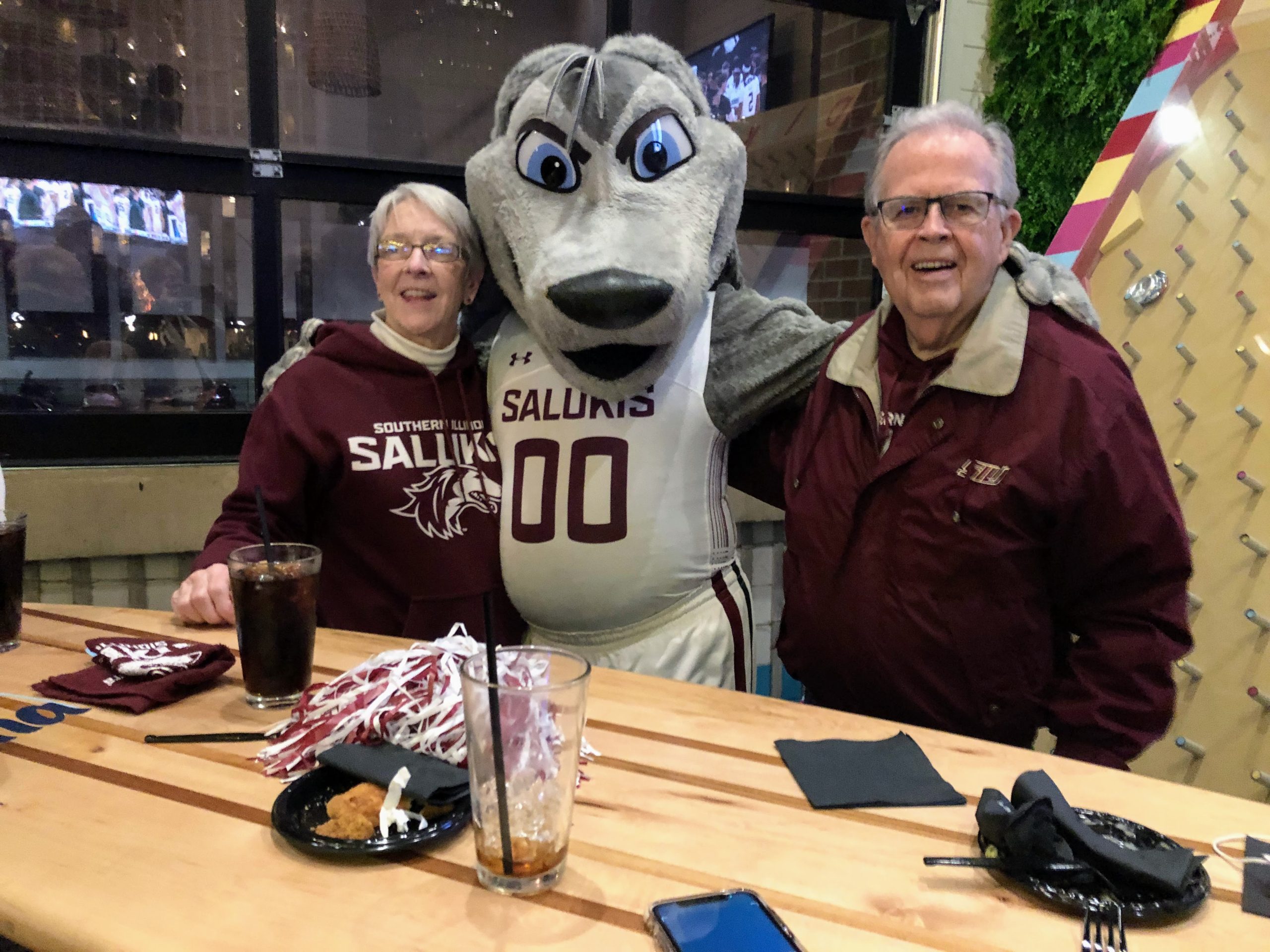 When Rob Jensen retired from SIU in 2005 after 24 years of service, it was no surprise that over 300 people showed up to pay their respects at his retirement ceremony. Throughout his rich career, Rob served as a positive influence to many people at SIU and has always done so with a servant's heart.
"When I walked into Corker Lounge for the reception, I could not believe the number of people who came to say goodbye," Jensen said. "The Chancellor and the system President were there along with my colleagues and friends from over the years. I will never forget that special day."
As a member of the SIU Foundation's Board of Directors, Jensen is highly respected by his peers on the Board.
"Dr. Jensen provides the Foundation with a deep institutional understanding of SIU," said Matt Kupec, CEO of the SIU Foundation. "We are grateful to have his guidance in our outreach and fundraising efforts."
Rob came to SIU in 1981 as an Assistant Professor after teaching for six years at University California, Irvine and conducting research in their Department of Psychobiology.
"I knew that southern California just wasn't the right fit for me with too much traffic and pollution," he said. "SIU came calling and, with its strong psychology department and outstanding academic track record, I knew it was the right fit for me."
At SIU, Jensen specialized in studies of the biology of memory and changes that occur in the brain when new information is learned. He was particularly interested in the modulation of memory and trying to gain an understanding of why some memories are stored better than others.
"I was fortunate to have an excellent research career at SIU. I received grants from NSF, NIH, and the Office of Naval Research. This external support allowed me to maintain an active research laboratory, to publish, and to support outstanding graduate assistants. I was also appointed to the position of  Associate Dean for Budget, Personnel, and Research for the College of Liberal Arts, where I served for nine years under Dean John S. Jackson," he said. "After that, I served two years as Dean of the college and ended up in Anthony Hall as Associate Provost. During my time in administration, I was still able to run my lab and publish over 40 peer-reviewed articles with my colleagues and students. In retrospect, the combination of the two made for a really satisfying academic career."
Jensen's interest in fundraising blossomed when he joined the Friends of Morris Library – the very center of academic life on the SIU campus. Since 1960, the Friends have contributed to the improvement of facilities; purchased books, journals, and library equipment; supported historical art restoration; preserved existing materials; and sponsored numerous community events.
"When we began a campaign to build a patio on the southeast corner of the library, I came up with the slogan, 'Essential Extras.' There are a lot of essential items that departments, faculty, and students need that state allocations just can't provide. We ended up raising around $130,000 from generous donors and by selling engraved bricks to build that patio and that's when I realized what a positive impact philanthropy can have on campus life – and how donor support can make the university as a whole a much better place," he said.
Rob and his wife Melissa are also active donors to SIU Athletics, the School of Music, and the Summer Music Festival.  Additionally, they've made a commitment through the Foundation's planned giving program.
Rob has served on the SIU Foundation Board since 2018 and said he is honored to play a part in supporting the foundation and promoting its work.
"What some may not know is the extent the SIU Foundation plays in providing essential extras across the university. It makes me proud to be a part of an organization that is actively making a difference," he said.
Since retiring in 2005, Rob and Melissa have traveled extensively around the world. "We have visited over 80 countries since our retirement. We've had marvelous adventures together. We slid down glaciers on our fannies in Antarctica, participated in a tea ceremony in Japan, and explored the Galapagos Islands. We have been extremely fortunate to maintain good health as the years have gone by, and are looking forward to further adventures together," Jensen said.