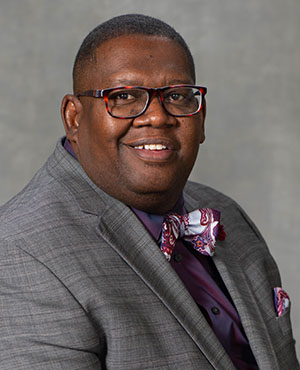 My name is Dr. Paul Frazier, and I have been a part of the SIUC family for one year. I consider it to be an honor and a privilege to serve as the vice chancellor for diversity, equity, and inclusion. I hope that we can engage new alumni and continue to support our Saluki family members.
One of the five pillars of the Imagine 2030 strategic plan encompasses our work in and around diversity, equity, and inclusion. The Office of the VCDEI is composed of the Office of Affirmative Action, the Office of Equity and Compliance, the Student Multicultural Resource Center (SMRC), and the Offices of TRIO Programs.
Our team is growing, and we have recently welcomed new leaders, including Sherrica Hunt, development officer for diversity, equity, and inclusion; Dr. Renada Greer, executive director of the SMRC; and Christina Castillo, program director for DACA (Deferred Action for Childhood Arrivals).
We are dedicated to working with students, staff, faculty and collaborating with all our community partners. We have designed Unit Effectiveness Plans to assist in advancing research, academic achievement, and student engagement. This will impact retention, persistence, and graduation rates. We will make new strides by committing ourselves to creating a sense of belonging for every Saluki.
I am excited about what lies ahead as we recruit, retain, and engage individuals from diverse backgrounds and experiences that will become a catalyst for and a role model for other institutions regionally and statewide for inclusive excellence.