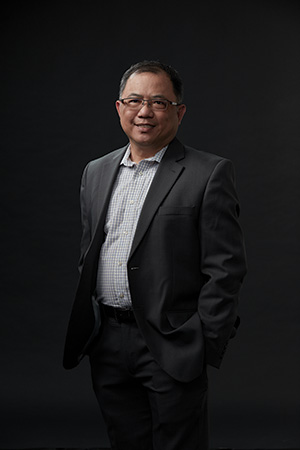 By Jeff Wilson
Henry Ong has lived and worked all around the world, but he hasn't forgotten the role SIU played in his life.
"I had an enjoyable experience at SIU and the wonderful outdoor experiences in Southern Illinois," he said. "That was some of the best times of my life."
After receiving his bachelor's degree and MBA from the College of Business, Ong spent many successful years working for Whirlpool. Then, in the mid-90s, he made a career change and began to focus on education.
"I wanted to create resources that would align with 21st Century learning concepts," he said. "I have always been good at mathematical games. I started working with an educational supply company. I learned about the educational system."
From there, he decided to develop his own mathematical competitions and founded the Singapore International Mastery Contests Center (SIMCC).
"We started in 2006, and it has grown quickly into one of the largest academic competitions in the world," he said. "We're now in 38 countries."
Working with SIU's Center for International Education, Ong has established two endowed scholarships for international students, and the SIMCC recently entered a partnership with SIU. The university will host future competitions.
"Beyond simply competing, we created a pathway for students to win awards through competition," he said. "There are more than 200,000 students who take part in these competitions worldwide."
A long journey
Like all young men from Singapore, Ong was required to serve in the country's military. After that, he spent a year teaching and applied to SIU. He was accepted and came to Carbondale in January of 1982. It was then that he applied for and received a scholarship for international students.
"That helped me finish my degree," he said. "SIU was very generous to me."
He had a job offer from Whirlpool when he graduated but had to wait on his visa to be approved. For six months, he worked as an intern in the university controller's office. Once he started working for Whirlpool, he rose through the ranks quickly.
Ong transferred from his U.S. position to a position in Hong Kong and later become managing director for Whirlpool in Malaysia and Singapore. He ended his career with the corporation as Asian Audit Director and took a job developing new appliances with a mentor of his in San Francisco.
"Not long after that, I decided Asia was much more attractive, so I moved back to Singapore to distribute products in Asia," he said.
A few years later, he transitioned to the world of producing educational resources. Since founding the SIMCC, he's seen the power of the academic competitions and is excited about bringing them and scholarships to SIU.
"We're looking forward to this partnership," he said. "I hope these students can also enjoy the same fantastic experience I had at SIU."