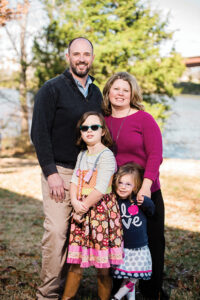 Mark and Laura Ford, '02 and '01, have pledged $40,000 to the SIU College of Business and Analytics. The money will be split between the dean's general fund and paying for upgrades to the technology used by the Saluki Student Investment Fund.
The Saluki Student Investment Fund gives undergraduate students hands-on experience in portfolio management and investment research. The SSIF is modeled after real investment management firms, and the students are focused on making the best investment decisions possible on behalf of their primary client, the SIU Foundation. Mark was a member of the Saluki Student Investment Fund during his time at SIUC.
The students now work on Bloomberg terminals, which are computer software systems that enable students to access Bloomberg Professional Services and monitor and analyze real-time financial market data and place trades on the electronic trading platform.
"When I was a member of SSIF in '01-'02, we did our research and made our stock trades through a low cost online brokerage account set up for the fund. It is exciting to see now how far the program has come over the past 20 years, and now under the direction of Tim Marlo. To have its own current technology and trading platform, that can also be used for a number of different business courses, is a very important asset to SIUC, COBA, and SIUC students," added Mark. "I'm very thankful for Dr. Peterson, and for what the SSIF program did for me developing real life experience. It was important to me to pay that forward, and to make sure future students are offered the same opportunities that were made available to me through the dedication of the SIUC staff, and the financial contributions of those alumni that came before me."
"For regular investment firms, it would cost about $24,000 to pay for the software for just one terminal," said Tim Marlo, faculty advisor for the SSIF and a clinical investment assistant professor. "Our students rely heavily on these terminals and use them daily. Fortunately for our group, they will only charge us $24,000 to upgrade all four terminals."
Marlo, who has advised the group for five years, has watched students build their confidence and presentation skills and says the experience prepares the students for real-world applications.
"We manage about $2.7 million for the SIU Foundation, and we fall into the top 10 percent of mid-managers," he said. "Most of our students receive job offers before they even graduate, so it is donors like the Fords who really step up and make a difference in the lives of these students."
Strengthening bonds
Mark and Laura Ford credit much of their success to SIU, which made it important to them to lend a helping hand to the current students.
Mark, a Senior Vice President of First Horizon Bank in Nashville, TN, specializes in providing banking services and financial advice to clients in the music industry; primarily artists/musicians, publishing companies, record labels, royalty collection societies, and event production/festival companies. Throughout his 15-year career, Mark has worked closely with internationally known musicians, major music companies, professional athletes, and NASCAR drivers/team owners.
"I was raised in Du Quoin, Illinois, and grew up attending SIU sporting events and concerts from a really young age," Mark Ford said. "SIU really opened doors of opportunity for me once I started college, and it is in Carbondale where I met my wife and where I found my interest in finance."
Mark Ford said the SIU College of Business and Analytics has a great reputation and shared his admiration for the professors and administrators, especially Dr. Mark Peterson and Dean Terry Clark.
Laura Ford started attending college at University of Illinois but found it wasn't a good fit for her. She became introduced to SIU when she visited friends who were studying in Carbondale.
"I loved the campus and how beautiful it is," she said. "When I found out that SIU had a zoology department, I just really fell in love with it. I had great professors and discovered my niche was in medical research. We're having conversations with the College of Science as well to find ways of supporting students and programs."
After graduation, Laura worked for Vanderbilt University doing medical research on cancer until 2016.
"I learned a lot during my time at SIU, and I hope students who are there today just keep their eyes open for opportunities, work hard and respect your peers. You will be surprised at how far you can get in life with that outlook," she said.
The Fords enjoy spending their time living in Nashville, Tennessee, and raising their two daughters, Adelyn, 9, and Kiley, 4. Mark serves as a member of the COBA Dean's Advisory Board, as well as the Advisory Board for the School of Analytics, Finance, and Economics.
Engage with us on LinkedIn, Facebook, Twitter and Instagram.