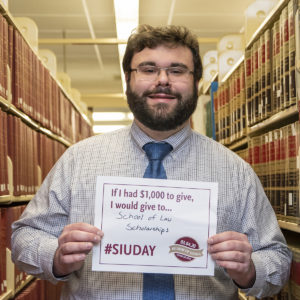 Chase Rich
Originally from Mattoon, Illinois, Chase Rich chose SIU for his undergraduate studies because he received a University Excellence scholarship. Rich earned an undergraduate degree in paralegal studies and immediately set his sights on a law degree from the SIU School of Law. Now a third-year law student, Rich does not regret his decisions.
"The SIU School of Law makes getting a law degree affordable without graduating with a $100,000 in debt," he said. Rich also likes how the professors treat students. "I have found the professors treat the students extremely well. They are here to help and not to humiliate," he said.
Rich hopes people will give to the School of Law during this year's SIU Day of Giving. "There are several funds people could support, such as a student scholarship fund or moot court fund," said Rich.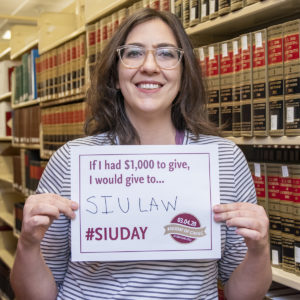 Patricia Pfeiffer
Patricia Pfeiffer, a second-year law student and a Carbondale, Illinois native, appreciates the financial help she received from the School of Law Strategic Excellent Fund. "As a single parent of a 13-year-old and an 8-year-old, the scholarship I received really has made all the difference," said Pfeiffer.
"The financial support has lessened my student loan burden, helped pay for babysitters and overall helped me be a better parent and law school student," said Powell.
"I remember when I was presented with the scholarship, I looked over at my children and I could see their beaming faces. They were so proud and happy for me, "she said.
Pfeiffer encourages everyone to give to the SIU School of Law initiative of their choice during the SIU Day of Giving.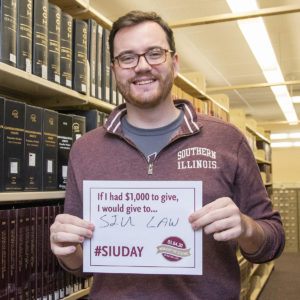 Logan Wallace
Logan Wallace, a second-year law student from Homestead, Iowa, says receiving financial aid was the driving force in his decision to attend SIU School of Law. "It really made all the difference. I'm so glad I chose SIU because I've grown to love this university and this school," he said. Wallace says he hopes donors will give back to help other students like him. "I wouldn't be here if it wasn't for the financial help I received," he said.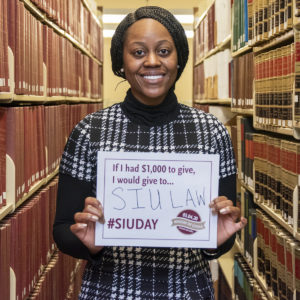 Deidre Powell
Deidre Powell is also a second-year law student and is a non-traditional student. Powell would recommend the SIU School of Law to other students.
"SIU School of Law is very welcoming and warm. I also like that the student to professor ratio is low," said Powell. She received several scholarships to attend law school, one of which was the SIU Alumni Textbook Scholarship.
"That SIU Alumni Textbook Scholarship, along with others I received, helped me pay for the books I need and just eased my overall worry about my finances. I really appreciate the assistance I have received," she said. Powell hopes that after graduation she can find a job in estate or tort law.
Make a gift online for SIU Day of Giving on Wednesday, March 4, 2020: siuday.siu.edu