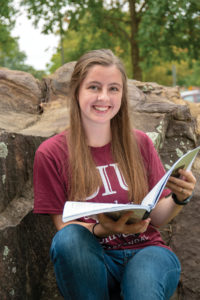 Welcome to a series of stories celebrating SIU's 150th anniversary.
LilyAnne Poole is a senior from Maeystown, Illinois, studying zoology.
Why did you choose SIU?
I chose SIU because it was relatively close to home, had the major I was interested in and was more affordable than some other universities in the area. I also love the atmosphere on campus and the opportunities available through SIU that other universities did not offer.

What inspired you to choose your area of study?
I have always wanted to work with animals. As a kid, I would do all of my school projects on different animals and visit the St. Louis Zoo as often as possible. Over the summer, I shadowed at a veterinary clinic and I knew that I wanted to focus in pre-vet and make that my career path.
What was your reaction when you received the Bertrand scholarship?
I was extremely happy. It gave me hope that I would be able to manage the financial cost of my education.
How will the Bertrand scholarship help you make a difference in society?
I would not be able to help animals in the future without an education and the Bertrand scholarship has helped make it possible that I get an education.
Do you have a message that you would like to share with Mr. and Mrs. Bertrand?
I am extremely grateful for being a recipient of the Bertrand Scholarship. Thank you for your generosity, I am very appreciative of your willingness to help students such as myself.
Why should donors consider establishing a scholarship fund for students?
The cost of tuition is extremely high and continues to rise, a scholarship fund for students helps to lower that cost. Many students cannot afford to attend college without scholarships.
Has receiving this scholarship inspired you to give back to SIU in the future?
I hope to be able to give back to SIU in the future in order to help other students afford college in the same way the Bertrand Scholarship has helped me.
Engage with us on LinkedIn, Facebook, Twitter and Instagram.