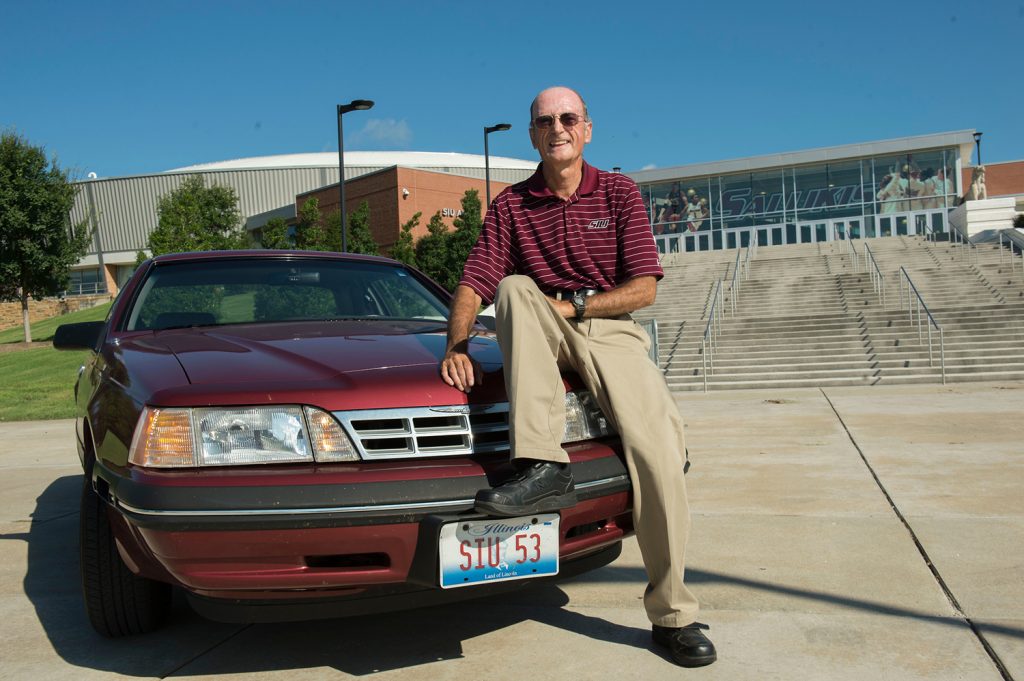 Welcome to a series of stories celebrating SIU's 150th anniversary.
By Rebecca Renshaw
Sports statisticians are fascinated by streaks. For example, Joe DiMaggio's 56- game hitting streak with the New York Yankees is often touted as the one baseball record that will never be broken.
So far, so good on that one.
Before Joltin' Joe, however, there was another baseball record that the record-keepers swore would never be broken. That was the amazing accomplishment of Lou Gehrig (another Yankee), who played in 2,130 consecutive games between 1925 and 1939.
But Cal Ripken Jr. of the Baltimore Orioles proved them wrong. He competed in 2,632 consecutive games over a 16-year span to eclipse the mark set by baseball's "Iron Horse."
At SIU, Tilden "Tim" Parks (a '76 Saluki alumnus) has a little streak of his own going on.
In fact, Parks just might own the record for the longest streak in sports ever – by a fan, at least. Parks officially started keeping track of his Saluki sports attendance in 1978, and he's proud to share that, to date, his unblemished attendance streak stands at 207 home football games and 519 men's home basketball games. That's no misses for 40 years. When this streak began, Jimmy Carter was president of our country – and gasoline sold for less than 85 cents a gallon.
"Believe me, there were a few times I didn't think I was going to make it, with a couple of ice and snow storms we had throughout the years," he said. "But I've always had a passion for sports, and for SIU."
"One of my favorite memories was when the SIU football team won the Division 1-AA championship in 1983. That season, students took down the goalposts at McAndrew Stadium and carried them down Illinois Avenue."
Over the last five decades, Parks has seen such greats as Joe Meriweather, Mike Glenn, Ashraf Amaya and Darren Brooks grace the basketball court at SIU Arena. In the SIU football stadium, he has witnessed such Saluki football legends as Brandon Jacobs, an NFL running back for the New York Giants and San Francisco 49ers; Deji Karim, a running back who played for four NFL teams; Carl Mauck, a former NFL player and NFL coach; Bart Scott, an NFL linebacker; Sam Silas, a former NFL lineman; and Terry Lee Taylor, another former NFL player.
"I remember my dad bringing me to my first SIU basketball game back when I was in eighth grade," he said. "From then on, I was hooked – on basketball, football and on SIU."
Parks graduated from John A. Logan College in 1973, then transferred to SIU and graduated with a degree in journalism in 1976.
"The country was going through an interesting time during the 1970s, what with the Vietnam War and Kent State," he said. "It was a great time to feel as if I was making a difference."
It was Parks' parents, especially his father, who encouraged him to go to school. As a first-generation student, Parks saw how hard his father worked. The senior Parks quit school in seventh grade at age 12 to go to work as a timber cutter. He also bought his first animal, a hog, for $15 when he was 12 years old. Park's uncle was a cattle trader, which intrigued him, and he eventually became one of the most successful cattle brokers in Illinois. Like his father, Parks is extremely generous, philanthropic and quick to help people in need.
Parks recently established several memorial scholarships in honor of his parents. These scholarships are dedicated to helping student workers at Morris Library, the School of Journalism and Animal Science – and, of course, the Saluki Athletic Scholarship Fund.
So the next time you're at a Saluki football or men's basketball game, cup your hands and yell as loud as you can, "Are you here, Tim Parks?"
We know what the answer will be.
Engage with us on LinkedIn, Facebook, Twitter and Instagram.