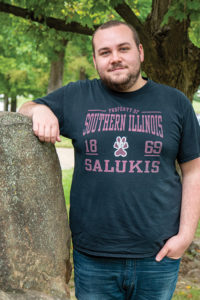 Randall Grider is a senior from Johnston City, Illinois, studying sociology.
Why did you choose SIU?
I chose SIU because I had firsthand experience with the campus environment while growing up in the area. I really enjoyed the feel of the campus, not too small and not too big, which is something I didn't find at any of the other universities I visited.
What inspired you to choose your area of study?
I really enjoy studying the social world and trying to understand our current social problems. Studying sociology has definitely been the right major for doing this.
What was your reaction when you received the Bertrand scholarship?
I was extremely grateful. Going to school full time while also working can be very stressful, so receiving this scholarship lifted some of that burden.
Do you have a message that you would like to share with Mr. and Mrs. Bertrand?
I would just like to thank them for their generosity. Not everyone is as kind or generous as the Bertrands are, and this truly makes a difference in so many students' lives.
Why should donors consider establishing a scholarship fund for students?
Donors can truly impact so many people's lives by establishing a scholarship fund.  From the student's perspective, receiving a scholarship is so helpful.
Has receiving this scholarship inspired you to give back to SIU in the future?
I have worked with the Johnston City Music Alumni Association in giving scholarships to local high school seniors each year, who mostly go to SIU.  But I would definitely like to set up a larger scholarship fund in the future if I am able to.
Engage with us on LinkedIn, Facebook, Twitter and Instagram.